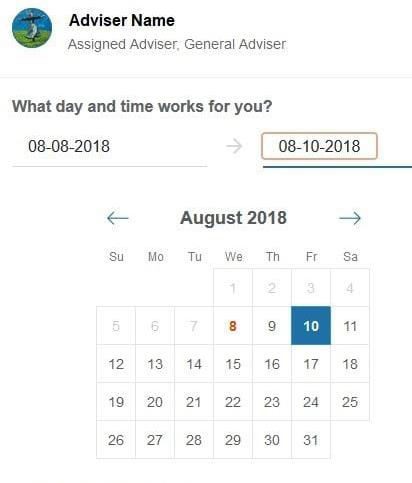 Students attending Abington College are either assigned to a professional adviser or a faculty member. (Hint: this information is also available in LionPATH on the bottom right of the Student Center).
To schedule an appointment with your assigned professional adviser:
Log into Starfish
In "My Success Network" click on the arrow next to your advisers name and select "Schedule"
Click the drop down arrow and select a reason for the meeting
Select a meeting day (Note: You can change the dates to look further into the future. If you are on a computer, adjust the date range first, then select a date on the calendar.)
Select a date and time from the choices available
Type a detailed description of what you're hoping to accomplish during your scheduled appointment
Click confirm
You will receive an email with the appointment details and it will be listed on your Dashboard
To cancel the appointment:
Click the "x" in the upper right of the appointment block on your Dashboard.
If you do need to cancel, please do so well in advance and give your adviser some reasons why the appointment is being canceled.
To schedule an appointment with a faculty adviser:
Follow the procedures above to access the "My Success Network" navigation pane.
For most faculty, online scheduling is not available.
Use the provided email address to contact your faculty adviser and arrange a day and time.