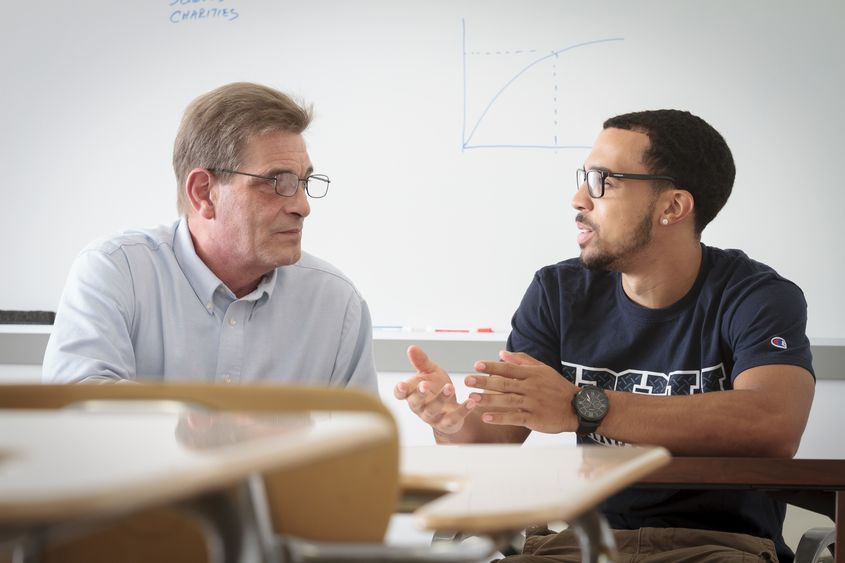 Nonverbal cues and body language can help establish trust, resulting in stronger relationships at home, work and school, according to a Penn State Abington faculty member.
An article posted on rd.com quoted Carla Chamberlin-Quinlisk, professor of applied linguistics/communication arts and sciences at Abington.
Chamberlin-Quinlisk, known as "Dr. Q" on campus, suggests:
Come out from behind your desk. Furniture creates physical and mental barriers and can cause others to erect their own walls, Chamberlin-Quinlisk said. She sits at a table with her students to encourage participation. "I want them to tell me if there's something they don't understand," she said. "I want them to say if they don't agree with me."
Nod and smile when someone talks, indicating interest. "It's a really good indicator of listening when we give good nonverbal feedback," she said. But don't overdo because it risks seeming insincere.
Sit at the same level as others. A higher seat indicates dominance, a clear negative when trying to build trust. Choose a seat near the middle of a conference table instead of at the end, and people may be more open to sharing ideas.
Make sure copious not-taking doesn't get in the way of eye contact. "Having a clipboard and taking notes makes the other person feel uncomfortable and like, 'Why are they writing that down?'" said Chamberlin-Quinlisk.
Chamberlin-Quinlisk's current research examines mass media discourse as it portrays second language learners and bilingualism in the United States. She works with school districts and community leaders to create professional development for educators. She also teaches in the ESL Specialist Certificate Program, a state-approved program that prepares K-12 educators to work with English language learners.
She is co-coordinator of the Center for Intercultural Leadership and Communication (CILC) at Abington. It provides research-based training and consulting to the college community as well as to regional organizations that wish to create, sustain, and enhance an inclusive working or learning environment.