New facility provides area entrepreneurs with no-cost business startup training, space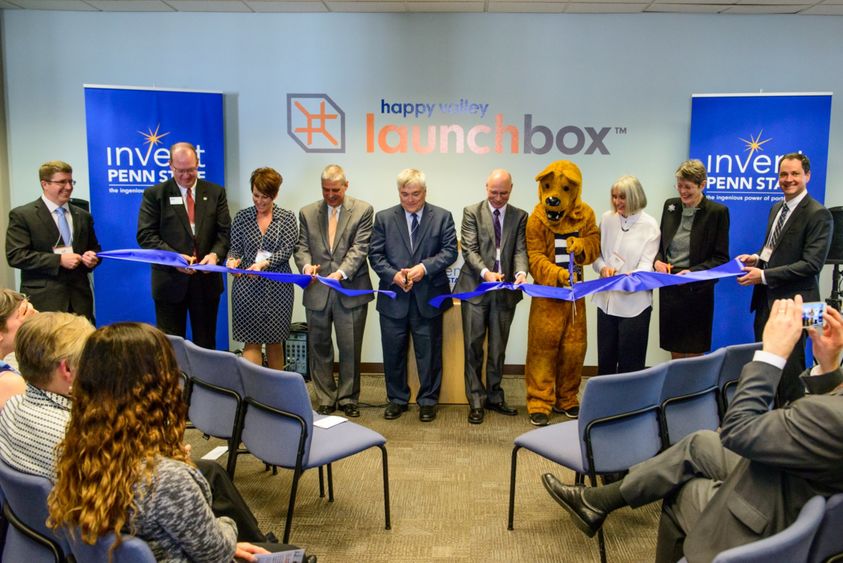 STATE COLLEGE, Pa. -- Penn State President Eric J. Barron hosted a ceremonial ribbon cutting and dedication Thursday (March 31) at Happy Valley LaunchBox, 224 S. Allen St., in downtown State College.
The University's new no-cost business pre-accelerator is a signature program of the Invent Penn State initiative. Happy Valley LaunchBox has piqued the curiosity of students and community members alike since the seven-foot geometric lighted logo was hung on the former Verizon Building earlier this month.
"While this project has a bricks and mortar component the vision is grounded in the need to nurture an entrepreneurial mindset. We are fortunate to have a wide range of collaborators and consultants who are providing services to Happy Valley LaunchBox startups," said Penn State President Eric Barron.
Barron was joined by the University Vice President for Research Neil Sharkey, State College Mayor Elizabeth Goreham, Borough Manager Tom Fountaine, Chamber of Business and Industry of Centre County President Vern Squire, Pennsylvania Economic and Community Development Deputy Director Sheri Collins and other community members, University officials and local entrepreneurs.
"LaunchBox is important to the diversity of our own downtown in helping to create a climate for young professionals with talent that includes housing, restaurants, entertainment and more," said Goreham.
In January, the first five business startups began working in Happy Valley LaunchBox. Teams complete ten weeks of business startup training, have access to no-cost legal and marketing consulting and enjoy free co-working space that's available 24-hours daily for up to nine months.
"Project Vive would not be where it is today without Invent Penn State," said Project Vive co-founder Mary Elizabeth McCulloch, who was selected as one of the inaugural cohort to work in Happy Valley LaunchBox. Project Vive is developing a device that assists individuals with verbal speech challenges.
At full capacity, Happy Valley LaunchBox can host up to 30 startups a year, Penn State estimates.
"One of the most valuable assets Happy Valley LaunchBox offers startups is access to the plethora of Penn State faculty and area entrepreneurs who provide mentorship," Sharkey said.
In addition to Happy Valley LaunchBox, Invent Penn State provided seed grant funding for six additional entrepreneurship center programs at Commonwealth Campuses across the state, including Abington, Behrend, Harrisburg, Lehigh Valley, New Kensington and Wilkes-Barre, bringing the number of University-affiliated entrepreneurship and incubation center locations to 14.