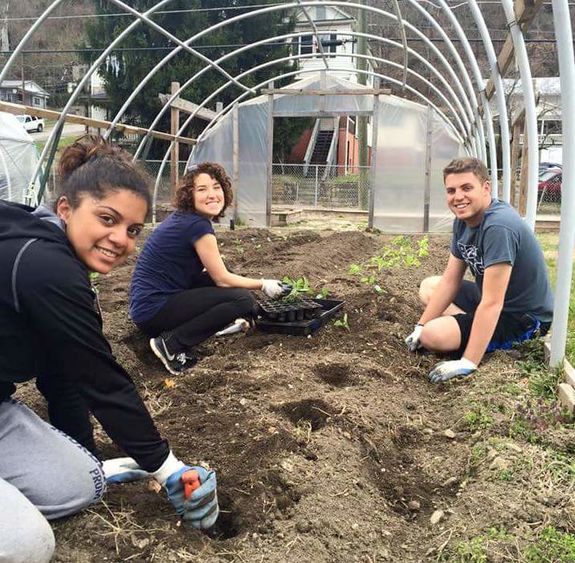 A former mining town in the far reaches of West Virginia and the hectic District of Columbia are unlikely spring break destinations. But Penn State Abington students compete for service learning placements in these diverse locations each year through the Alternative Spring Break (ASB) program. 
Dillon Costantini, a student at Penn State Abington who spent the week in D.C., shared the value of the ASB experience.
"I learned about diversity and to think about the other side of the spectrum," he said. "I appreciate ASB for allowing me to open myself up, giving me a foreign strength, and permitting myself to employ what I love to do ... help." 
Williamson, West Virginia
"I learned about leadership and the power of teamwork and so much more."

-- Dania Benoit, student
Abington students focused on sustainability and food poverty issues by working at community gardens and farms and helping reclaim old mines for agricultural use. They also had time to meet local residents, exposing them to new perspectives. 
"Our decision to attend ASB has unequivocally impacted our lives for the better," Justin Brouse, a corporate communication major, said.
Washington, D.C.
The Abington team in the nation's capital focused on hunger and homelessness, working in shelters, food banks, soup kitchens, and on outreach runs.
"I was graced with friendship, knowledge, hope, a purer heart, understanding, growth, and a broadened horizon, but so was every misfortune-stricken individual we helped."

-- Dillon Costantini, student
"I have to stop and zoom out. It's not about me. Other people are in need of my help."

-- Alternative Spring Break participant
"Most of us went into this with stereotypes about homelessness, but stereotypes were broken and transformed."

-- Melanie Sears, student
The Abington Alternative Spring Break (ASB) places teams of students into experiences that help them clarify values, plan future academic work, or solidify career goals. The objectives of ASB include: 
engage with new communities though direct service work;
gain awareness and in-depth education around social justice issues;
learn the value of the reflection process and connect with others on a deeper level.