Credit success to coach, student-athlete lifestyle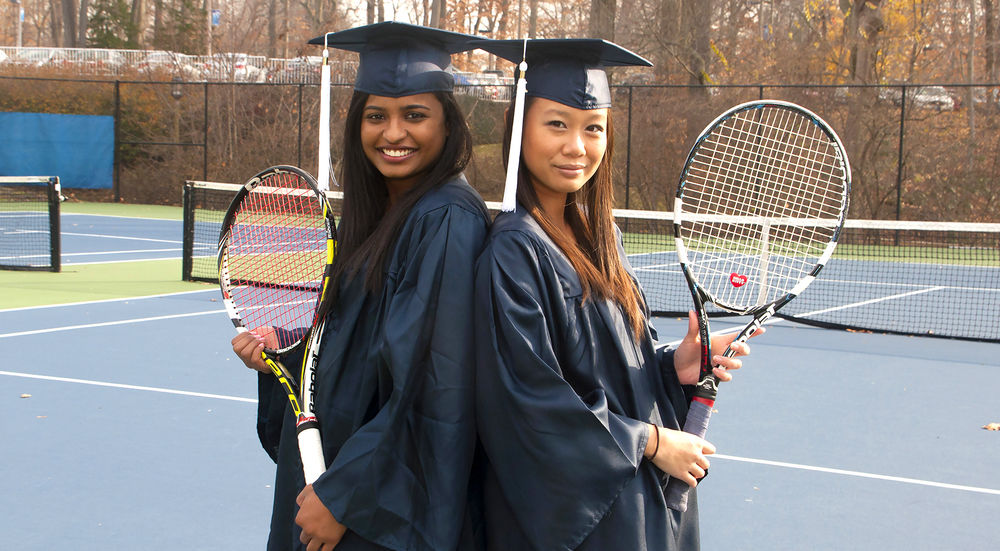 Two key Penn State Abington tennis players graduate this week after a whirlwind seven semesters. The women credit earning their degrees early to the disciplined lifestyle of student-athletes and the unwavering support of their coach and faculty.
Sheena Philip and Souriya Honestee Sphabmixay agreed that focus and balance are critical to success. 
"One semester, I tutored IST students, took 21 credits, and played tennis. It seemed crazy, but that's where balance comes in," Philip, an information sciences and technology (IST) major, said. 
Sphabmixay, a business major and two-time tennis team captain, added that three-hour practices and the inevitable win-loss cycle built up her mental and physical stamina.
"It taught me to overcome my doubts, fears, and tackle obstacles and failure through perseverance," she said. "Failure allows us to learn, improve, and move closer to our goals." 
These challenges transformed into motivation and determination that "rolled over into the classroom," Sphabmixay said. "I strived for more inside and outside of the classroom."
Tennis coach David Sheaffer devotes himself to working with all of his players, but he said Philip and Sphabmixay possess the drive to accomplish their goals.
"Early on, if things weren't going Honestee's way on the court, she would get visibly rattled, but she broke through that barrier and produced some of the biggest wins," he said. 
"Sheena," Sheaffer continued, "became one of our toughest doubles players ever at Abington. Her quiet demeanor hides an incredibly competitive and very skilled athlete."  
"Tennis taught me to overcome my doubts, fears, and tackle obstacles and failure through perseverance. ... And it rolled over into the classroom."

-- Honestee Sphabmixay, Class of 2015
Philip said two Abington faculty members impacted her. Joe Oakes, senior IST lecturer, motivated her to chose the IST major. 
"I took his IST110 class, and it opened my eyes to the IT world," she said. "I learned so much from him, and he is someone that I highly respect."
The onetime biology major also served as a teaching assistant to biology instructor Joyce John, whom she refers to as her "second mom." 
Off the court, the women kept up their game by gaining professional experience. Philip's summer co-op building a website for the Abington Hospital Emergency Trauma Center extended into this fall. She now works as a consultant in Health Information Systems at the hospital. 
She also boosted her research and presentation skills through Abington College Undergraduate Research Activities, investigating the impact of solar flares on radio communication. 
Sphabmixay interned at a marketing and promotions firm, working directly for its president. And she shared her love of tennis with children as an instructor.
With commencement just a few days away, Sphabmixay wanted to offer advice for incoming college students:
Do things that scare you and push your limits. You won't regret it.
College forces you to discover your capabilities and how to develop into the person you aspire to be.
College is an opportunity for academic growth, but don't forget it's also a chance to learn about yourself and what you love.