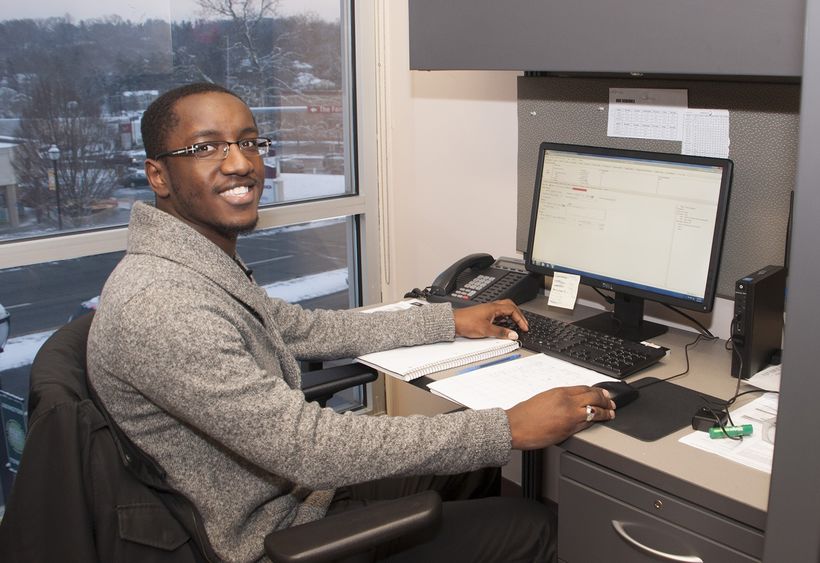 Cadman Herbert's passion for cars led him to earn a certificate in automotive engineering technology along with his high school diploma. So it seemed like fate when the Penn State Abington student connected with The Faulkner Organization, which owns 19 auto dealerships, at the campus career expo.
Cadman impressed Faulkner's recruiter, who wasn't about to let him park his skills elsewhere. She promptly offered him an internship at the firm's Nissan sales center.
His knowledge of cars and ability to connect with people were evident while he shadowed the sales staff and learned the intricacies of sales, leasing, financing and trade appraisals.
When the internship ended, Faulkner didn't let the talented Abington student drive away. They retained Cadman with a part-time position as Internet sales coordinator while finishing his degree in psychological and social sciences at Abington.
The Brooklyn native works 32 hours each week responding to online sales inquiries, qualifying customers and setting appointments for sales consultants. He even earned a license to sell cars.
"I try to get potential customers in the door so they can work with a sales consultant," he said. "My job is to push them off the fence."
He said juggling coursework and his job isn't difficult because he loves the challenge.
"I'm networking, making money, dealing with a lot of different personalities, and adapting and learning to do things on the fly," he said. "It's a lot of fun."
The Abington career expo, where Cadman first connected with Faulkner, offers opportunities for networking and lining up internships and jobs.
Students and alumni said working with the Abington Career Development Center is key to a successful experience at the fair. The staff will advise you on researching and targeting specific companies and developing a resume and talking points.
Appropriate dress for the career fair is another area of expertise for the Career Development staff. Ethel O'Dea, who organizes the twice yearly events, doesn't sugarcoat it when students arrive. Polo shirt? No admission. Forgot a suit jacket? Head around the corner and borrow one from the student service organization ENACTUS, which provides loaner pieces.
Many firms make the Abington spring and fall career fairs regular stops in their recruiting outreach, and the spring event attracted a record 80 companies. O'Dea credits the increase in part to the flourishing Abington alumni network, which led a number of Abington graduates to return to campus and recruit last week.
Learn more about services for students and alumni provided by the Abington Career Development Center at www.abington.psu.edu/career-development.