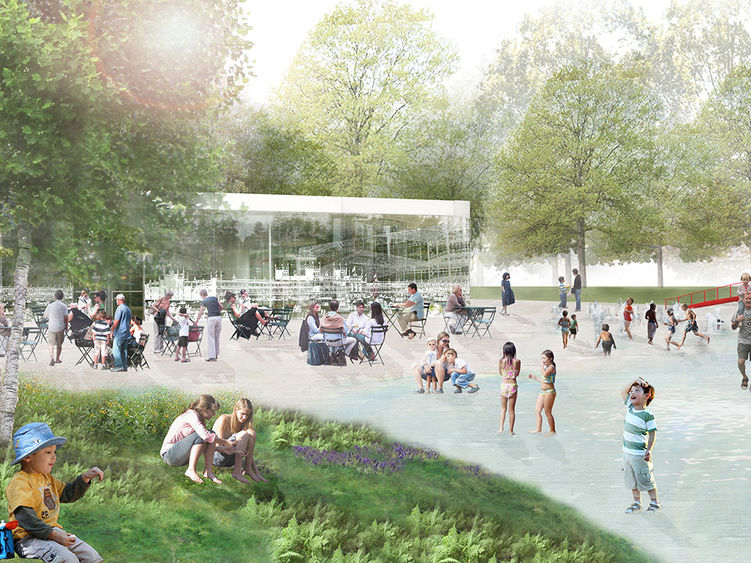 UNIVERSITY PARK, Pa. -- Penn State faculty members and students will play an important role in a Philadelphia park renovation project by studying the impact renovations will have on visitors and the neighboring community.
Over the course of two years, Andrew Mowen, associate professor and professor-in-charge of honors programs, and Benjamin Hickerson, assistant professor, both with the Department of Recreation, Park, and Tourism Management, will assess park use, visitors' experiences and local residents' perceptions of a Philadelphia neighborhood park, both before and after major capital renovations.
With a grant from the William Penn Foundation, Mowen and Hickerson, who are at the University Park campus, will work with Jacob Benfield, assistant professor of psychology at Penn State Abington and with Fairmount Park Conservancy, to conduct community and visitor surveys as part of a systematic evaluation of renovations at Fairmount Park's Centennial Commons, just a short distance from the Philadelphia Zoo and Please Touch Museum.
"As a type of public space, neighborhood parks are critical assets for shaping Philadelphians' quality of life perceptions and an important aspect of community revitalization efforts," Mowen and Hickerson said. "While significant park renewal projects have been undertaken and are being planned over the next decade, the extent these investments yield important park user and neighborhood resident outcomes are unknown. The current valuation system of park investments, both nationally and locally, relies heavily on anecdotal information. Thus, there is a need to scientifically assess the impact of park renovations and determine what works, what doesn't and why."
The Centennial Commons renovation plan, designed by Studio Bryan Hanes, will include a new youth area building, climbing walls and nets, swing field, wet meadow, winter skate circuit, summer water play area, and restoration of the Smith Memorial. The renovation will also include measures to enhance park access and pedestrian safety.
The scope of the Penn State research study will include development, testing, and implementation of evaluation tools to assess the effects of the park renovation among visitors and nearby residents.
"The Centennial Commons renovation is an important project for the Philadelphia area and the neighborhoods surrounding the park." Benfield said, "It's an opportunity for visitors and locals to not only inform the development of park projects, but to see the benefits that can come from such a large-scale change to a neighborhood asset."
Benfield's role in the project is to bring in expertise on environmental psychology to assess whether residents' sense of park ownership and attachment increase as a result of the changes. Benfield will recruit undergraduate students from Penn State Abington to oversee the park visitor data collection effort. Fairmount Park Conservancy will be responsible for collecting park perception data from local residents. RPTM graduate students, Nick Pitas and Jaehyun Kim, will assist in training data collection staff and in data analysis/report preparation.
"University Park graduate students will receive publishable data from a real world, natural experiment while Abington's undergraduates will receive firsthand experience developing skills that will better prepare them for evaluation jobs, graduate school, or careers in community organizations," Benfield said.
Mowen and Hickerson have conducted a similar evaluation of Allentown's Cedar Creek Parkway Renovation and are currently conducting a park renovation study in Pittsburgh's Hill District.
"More and more, health professionals and neighborhood revitalization organizations are recognizing the potential of parks in shaping positive individual and community benefits," said Mowen. "Our research will assess whether investments in neighborhood parks contribute to these important outcomes."
About the William Penn Foundation
The William Penn Foundation, founded in 1945 by Otto and Phoebe Haas, is dedicated to improving the quality of life in the Greater Philadelphia region through investments that increase educational opportunities for children from low-income families, ensure a sustainable environment, foster creativity that enhances civic life, and advance philanthropy in the Philadelphia region. Since inception, the Foundation has made nearly 10,000 grants totaling over $1.6 billion. The Foundation's assets exceed $2.3 billion as of Nov. 30, 2014. For more information, visit www.williampennfoundation.org.
About the Fairmount Park Conservancy
The Fairmount Park Conservancy exists to champion Philadelphia's parks. Its mission is to work as a collaborative partner to lead and support efforts that preserve and improve Fairmount Park, and smaller city parks, to enhance the quality of life and stimulate the economic development of the Greater Philadelphia Region. For more information, visit www.myphillypark.org.