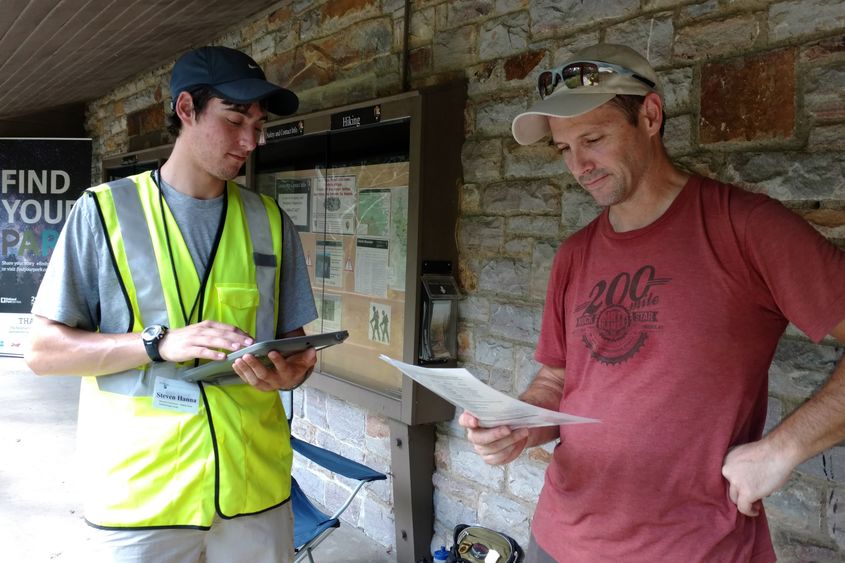 UNIVERSITY PARK, Pa. — A team of Penn State researchers is helping the National Park Service measure and improve its impact on people's health. According to Derrick Taff, assistant professor of recreation, park, and tourism management (RPTM) in the College of Health and Human Development, although many people think parks provide health benefits, there is very little empirical evidence to support that notion.
"We must improve our understanding of what aspects of nature, and in what doses, and in what contexts, provide for wellbeing," Taff said. "Empirical evidence regarding the role of parks and nature on human health provides the necessary arguments to leaders and policy makers who play a key role in conservation."
With this in mind, Taff created a working group of experts from across Penn State whose mission was to advance the understanding around this topic. It includes researchers from multiple disciplines, including RPTM, kinesiology, landscape architecture, nutritional sciences, geography, biobehavioral health and psychology. Researchers from Harvard University, University of Montana and North Carolina State University also participated in the project.
Mallika Bose, associate professor of landscape architecture in the College of Arts and Architecture, said the project's interdisciplinary examination of how parks impact physical and environmental health had a clear connection to her interest in place-making.
"Knowing how users relate to and are impacted by landscape features and park facilities will help us design and plan parks more effectively and allow us to create parks that help users to achieve a better quality of life," Bose said.
Funding for the project came through a health and the environment seed grant from the Institutes of Energy and the Environment at Penn State, which fosters and facilitates interdisciplinary scholarship and research to positively impact important energy and environmental challenges.
"Our project was a good fit for this grant," Taff said. "Additionally, it was great timing to work with the National Park Service because they wanted to understand the health resources that parks provide."
Diana Allen is chief of the Park Service's Healthy Parks Healthy People Program, which was established to reframe the role of parks and public lands as health resources, as well as promote the health of people and the environment.
"The interdisciplinary research that Derrick Taff is leading at Penn State to support Healthy Parks Healthy People is invaluable in helping to better understand and act on the role of parks in promoting health," Allen said.
Taff and his team conducted the research at two Park Service units, Gettysburg National Military Park and Catoctin Mountain Park.
"We had park visitors complete a short survey that has a variety of health indicator questions," Taff said. "It included a wide range of questions, including topics such as nutrition, emotional response and general health."
Once the survey was completed, the visitor was given a GPS tracker that documents information such as location and travel speed.
"When they return with the GPS unit, the visitors were given a post-visit survey to discover what state of emotion and health had changed," Taff said. "So we have data that ties location back to an emotional response in a visit."
Taff said that the group also tested health messages in the parks.
"Using simple signage, researchers explored if signs with health messages would affect behavior," Taff said. "Visitors who read the sign were offered a healthy activity to participate in."
For example, at Gettysburg, visitors were encouraged to walk Pickett's Charge, a mile-long grassy battlefield.
"Penn State's research at Catoctin Mountain and Gettysburg is providing us with information that can be directly applied to management decisions in our parks to promote parks as health resources," Allen said. "We want to optimize strategies, actions and practices that can promote parks as places for people to derive health benefits."
A central aspect of this is understanding the behaviors and perceptions of the visitors themselves, Allen said.
"One key finding is how a seemingly very small change in communications with park visitors can encourage people to take a walk in the park," Allen said, referring to the Pickett's Charge messaging. "The impact of this message in promoting physical activity in the park and having a quality experience interpreting the significance of the battles that took place at Gettysburg is something that has application for many of our parks and how we can help develop fun, educational and healthy visitor experiences."
Additionally, the group's work is informing the Park Service's Health Parks Healthy People Criteria Tool, which will be used by parks and protected-area managers in the U.S. and internationally to assess their own efforts to effectively manage parks as health resources for visitors and employees.
"The tool will provide set criteria and standards for 'What is a Healthy Park' and a means to identify practical approaches for managing and protecting park health resources," Allen said. "We have already received expressions of interest from park authorities, governing bodies and nongovernmental organizations in the U.S., Mexico, Canada, Colombia, Brazil, Australia and New Zealand."
"Our hope is that other parks will employ similar strategies in the U.S., as well as other protected areas globally," Taff said.
In addition to Taff and Bose, the Penn State researchers who are members of the working group are Jacob Benfield, associate professor of psychology at Penn State Abington; Mellissa Bopp, associate professor of kinesiology in the College of Health and Human Development (HHD); Xiang Gao, associate professor of nutritional sciences in the College of HHD; Brian King, associate professor of geography in the College of Earth and Mineral Sciences; Andrew Mowen, professor of RPTM in the College of HHD; Peter Newman, department head and professor of RPTM in the College of HHD; Joshua Smyth, distinguished professor of biobehavioral health and medicine in the College of HHD and Hershey Medical Center; and Heather Costigan, an RPTM graduate research assistant.