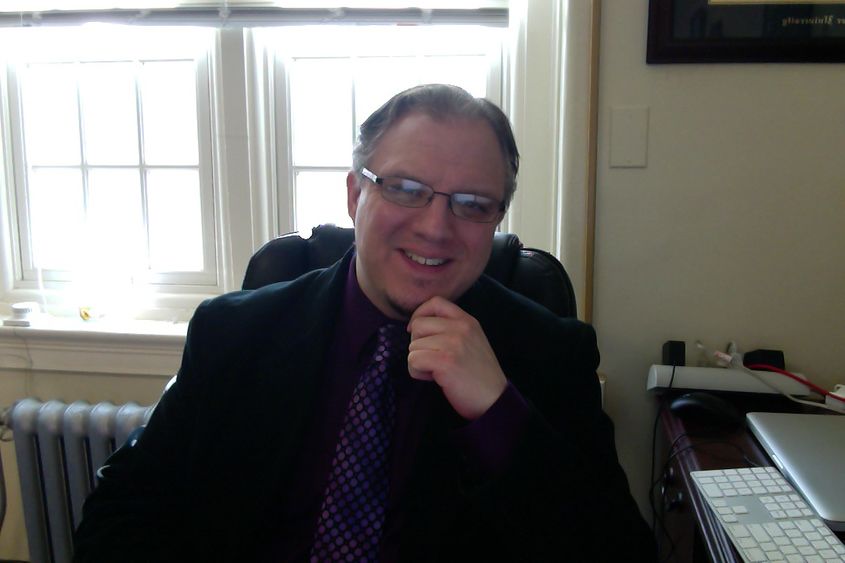 Communication students at Penn State Abington are benefiting from the addition of streaming video content in their redesigned hybrid courses.
Ron Costello, senior instructional designer and lecturer of communication at Penn State Abington, has been redesigning his COMM 100 The Mass Media and Society and COMM 150 The Art of the Cinema courses. Costello said he has been incorporating streaming video content through the SWANK Motion Pictures Digital Campus database, courtesy of the University Libraries.
Through the Swank Digital Campus database, Costello can get almost any feature film he needs for his courses and link the films in ANGEL.
"I think one of the great things about streaming is that it allows better use of class time," Costello said. "If I'm teaching hybrid, or even if I'm not, if I'm just doing web enhancement, I think the class time is best spent with interpersonal interactions. As an instructor, I don't really see much of a point to all of us being quiet and staring at a screen together in a classroom."
Costello, who has been using streaming video in his courses for about two years, said his courses are always in a state of redesign to improve the hybrid learning experience for students. The current redesign for COMM 100, which is taught during the spring and summer semesters, took the whole fall semester to develop.
This semester, in addition to using documentaries involving the role of media and its effects on society, Costello is teaching via Canvas as part of the learning management system pilot to replace ANGEL. Since Canvas combines with third-party blogging platforms, Costello's students do a weekly reflective blog post about the films they watch, which he said is working out pretty well through Tumblr.
"(I wanted) to give them some options — I think that where we're going in education is giving students a lot of different options," Costello said about why he redesigned the courses. "People, when they ask about what I do, they'll ask, 'Oh well, do you think all online (courses) are the future or do you think MOOCs (massive open online courses) are the future? Or do you think assessment-based education is the future?' None of these ways represents the future of education. There is no silver bullet. Rather the future is offering students a variety of options, so they can choose the one that works for themselves."
In COMM 100, Costello said his students watch a couple of feature films in addition to many great documentaries that are available through the Libraries. One such documentary is "Sexy Baby," a film that follows a young girl's journey of exploring social media and media exploitations of women. In the film, the girl becomes addicted to social media and starts to put herself out on social media in provocative ways.
"It really brings about interesting discussions with the students, where we'll talk about things like, what age is an appropriate age to be on Facebook, what are the positives and negatives of social media in your life and the lives of people around you?" Costello said.
Teaching COMM 150, an introductory film course Costello offers in the fall and summer semesters, has gotten easier as well thanks to all of the streaming resources available through the Libraries. Costello said that he is really excited about teaching the course online this summer, as he will be able to use some of the newer films that just came out.
According to Costello, who has been teaching hybrid courses since 2009, students really appreciate having the courses in a hybrid format. The hybrid format allows for more flexibility for students to watch the films on their own time, considering it is a commuter campus and most students work.
A recent study conducted by Costello on student satisfaction and campus acclimation revealed that the average hours worked per week were 18.6. Working hours ranged from 10 to 50 hours per week.
Some students do find hybrid courses to be a struggle if they do not have a specific place to be at a certain time. According to Costello, students sometimes fall behind because of this, but he does offer two extra credit assignments in case students miss any assignments.
"When you're doing an online class, I think the challenge is staying on top of it and meeting deadlines," Costello said. "In the end, I think that's one of the reasons why employers look for college graduates, because it proves they can do work on a timeline and meet deadlines and be responsible. So I think that's one of the things that we're responsible for teaching our students."
When redesigning a course from face-to-face to hybrid format, Costello said it typically takes him about a semester. Taking small steps is important, and doing one week online is a good way for instructors to see how they like the hybrid format.
"Give yourself plenty of development time," Costello advised instructors interested in changing their classes to a hybrid format. "The big mistake is thinking you can kind of put all this together in a couple weeks before the semester starts."