University announces micro-scholarship pilot program with Northeast High School, the city's largest public school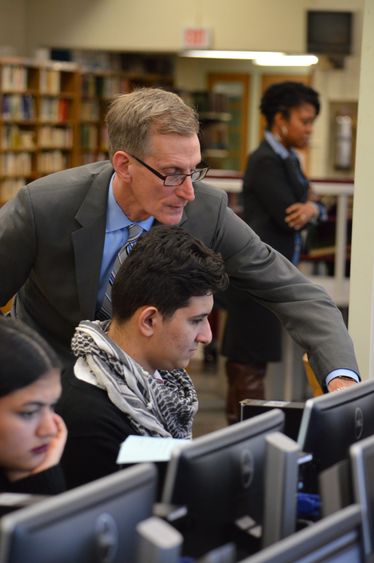 A partnership to support students from Philadelphia's largest public high school as they apply to Penn State yielded impressive results in three years: Applications from Northeast High School students spiked 33 percent, resulting in an 18 percent hike in acceptances and a 15 percent increase in enrollment.
And yesterday (Dec. 17) the University announced it is expanding its efforts with Raise Scholarships, a pilot program that allows Northeast students to accumulate up to $16,000 towards Penn State tuition.
The amount of the micro-scholarship is determined by success factors set by Penn State, including top scores in core coursework, improvement in grade point average and enrollment in honors, advanced placement or international baccalaureate courses. According to Steven Mostert, director of enrollment management and retention at Penn State Abington, activities and college entrance preparation also add to the funds.
The partnership is based on an alliance formed by Northeast High School, the Philadelphia Mayor's Office of Education and Penn State, including Abington and University Park campuses and Philadelphia Recruitment Center locations. They identified needs and planned interventions that produced change despite the financial crisis that caused drastic cuts in city public schools.
"Everyone demonstrated what is possible in this climate," Sharon McCloskey, principal of the 3,000-student high school, said. "They creatively leveraged existing resources to help students."
Among the initiatives the partners developed:
An annual panel discussion that provides college readiness information for families.
A financial aid event for parents and students with a return visit in the spring to review individual aid packages.
Professional development workshops on student success indicators for Northeast teachers and staff facilitated by Norah Shultz, Abington senior associate dean, and Tanya Furman, associate dean of undergraduate education at University Park.
Meetings with Schreyer Honors College staff to review the benefits of honors education and selection criteria. The effort led to more Northeast students earning admission to Schreyer.
Frequent visits by Abington and Philadelphia Recruitment Center admissions staff to walk students through the application process, waive fees for qualified students and support students as they prepare to enroll.
Bus trips to Abington and University Park each spring for interested juniors and seniors.
McCloskey said the partnership has enhanced the culture at the high school.
"We knew that this was a great opportunity to provide direct help to students who want to go to Penn State. Penn State brought their abilities, persistence, and support to the table," she said. "But we also realized that this would reinforce and build on the going-to-college culture at Northeast."
The seeds for the partnership began with Terri White, higher education adviser in Philadelphia Mayor Michael A. Nutter's Office of Education.
"I wanted to pair up the largest high school in Philadelphia with the largest higher education institution in the state, Penn State," White said. "It's a simple model that I hope will be replicated by other colleges and high schools to prepare more students for entrance into college."
"Penn State has committed a lot of time and energy and resources and supported our goals," she added.
Yesterday, following an applications session in the school library, several hundred Northeast students and key partners celebrated the success of the program with Mayor Nutter.
"The partnership between Northeast High School and Penn State University is a unique and innovative program to support students throughout the college application and financial aid processes and to offer students a closer look at what Penn State has to offer and the college-going experience," said Mayor Nutter.
Northeast senior Qwadrick Sims, a student government officer and National Honor Society member announced his acceptance by Penn State.
"The dreams I have are inching closer. Northeast teachers try passionately to prepare us for the future and for university life," he said. "We value our partnership with the mayor and with Penn State."
To learn more about admission to Penn State, go to http://admissions.psu.edu.