Penn State pioneered priority registration for vets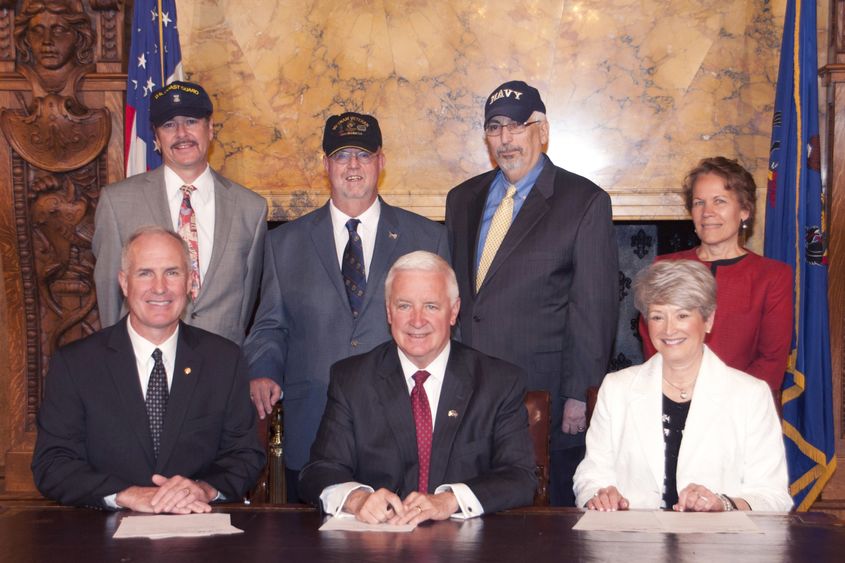 Marble, heavy draperies, and ornate carved panels give the Governor's Reception Room a daunting air of formality. But it didn't stop three proud military veterans from topping off their suits with baseball caps emblazoned Navy, Coast Guard, Vietnam. The trio of Penn State Abington faculty beamed as Gov. Tom Corbett signed a new law that traces its origins to their goal of 'contributing forevermore' to educating veterans.
The legislation, mandating priority registration for vets, is rooted in a policy enacted first at Abington and then throughout the University. The new law requires state colleges and universities to offer priority registration to vets, whose education benefits under the federal GI Bill are only available for a limited time. Otherwise, if required classes are full, the assistance may expire before student veterans complete their education.
James Ulinski, who teaches Human Development and Family Studies, said after the ceremony that he personally invested 1,500 hours of his time making hundreds of calls, holding meetings, sending emails, and using his own money on the statewide effort.
"As a Vietnam veteran with a 20 percent service-connected disability, I can appreciate the opportunities the GI Bill provided for me and my family," he said. "This legislation is another step in showing our appreciation for the sacrifices they have made."
This legislation is another step in showing our appreciation for the sacrifices veterans have made.

James Ulinski

Abington faculty
Peter J. Capelotti, professor of anthropology, credited Ulinski's "dogged work" for the bill's passage.
"Jim went above and beyond by driving to Harrisburg to stand outside the state capitol as a private citizen and, in the most gentlemanly Marine Corps way possible, gain the personal attention of as many senators as he could," Capelotti said.
Ulinski said faculty partners Capelotti and Navy vet Nicholas Santarone, who introduced the motion in the Abington Faculty Senate, were staunch supporters of his statewide efforts.
"Pete and Nick helped me in a major way with personal phone calls, emails, and lots of advice as veterans in this venture," he said.
Capelotti added that the law's origins are atypical.
"It is unique in my experience that a motion from the Abington Faculty Senate or any college faculty senate now has the force of law," the Coast Guard Reserve vet said in Harrisburg. "This is something to acknowledge and celebrate as are the combined efforts of veterans on our faculty and across the state to make this happen."
Recently retired University President Rodney Erickson emailed Capelotti when he heard about the new law.
"Thanks to you folks at Abington, this will be a reality around the state," Erickson, also a veteran, wrote. "I'm grateful that your efforts helped position Penn State as a leader in this arena."
Abington Chancellor Karen Wiley Sandler praised a fourth Abington faculty member for his assistance.
"I want to acknowledge the tireless work of Dr. Tramble Turner who moved the motion through the University Faculty Senate committee structure and was eloquent advocate," she said.
State Rep. Thomas Murt, an Army reservist for nearly 20 years, co-sponsored the bill and joined Gov. Corbett and Abington faculty as the legislation was signed.
"The best part of my job is when someone brings me an idea, and we can see it through to the finish line," Murt said. "That's exactly what happened with this bill."
Now, Ulinski said, it's time to go national. Pennsylvania is only the fifth state to make this provision for vets. He is personally working with the nation's largest veterans organizations to ask Congress to pass the proposed Student Veterans Priority Enrollment Act.

Abington supports its growing population of student veterans with programs and services and welcomes the diverse experiences they bring to the community. To learn more about student veterans at Abington, go to http://news.psu.edu/story/288508/2013/09/20/academics/military-friendly…