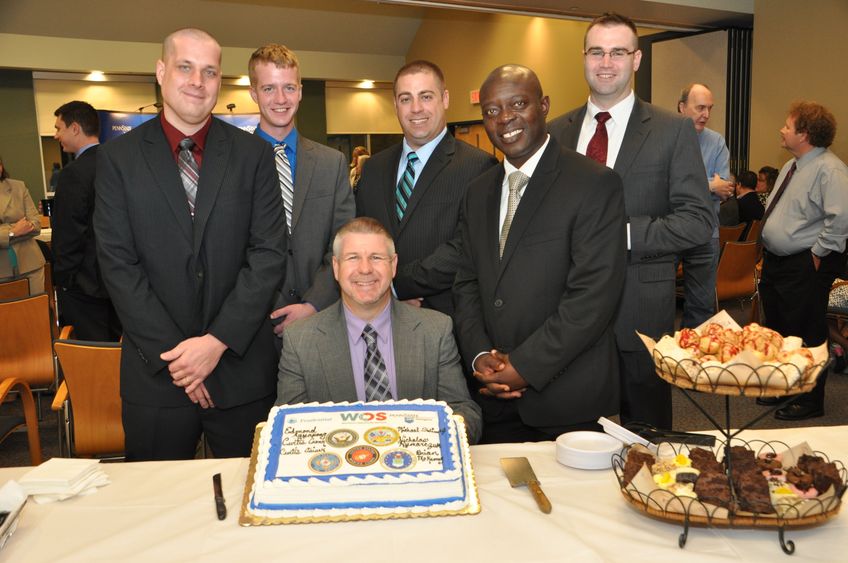 Six post-9/11 veterans have successfully translated their "failure is not an option" military mindset into a valuable new career path. They earned academic certificates in project management last week from Penn State Abington, the final step in completing a work-study initiative through a partnership between the college, Workforce Opportunity Services (WOS) and Prudential Financial.
The six men - Edmond Agyapong, Curtis Cronk, Brian McKerney, Curtis Osisek, Michael Selinsky and Nicholas Rymarczuk – completed their first mission, a rigorous screening process conducted by WOS, about a year ago. They then applied the military's mission-oriented skills set, which is critical for effective project managers, and balanced working full time at Prudential while attending classes at Abington.
"For a major university to do something nontraditional such as this is very special."

-- Arthur Langer, CEO
Regular meetings among Prudential management, veteran participants, Abington faculty and administration, and WOS kept the dialogue flowing. Now, the vets have earned the opportunity to work at Prudential.
The military culture makes many veterans a natural fit for careers in project management. Combined with Abington's strong project management curriculum, the program made sense to all three organizations, according to Eva Klein, who coordinates the academic portion of the program at the college.
"Project management is very marketable and adds value to a person's career immediately," she said.
Donald Metz, vice president at Prudential, praised the cooperative effort. "Vets can appreciate a career associated with a mission so this is a bridge to moving into next phase of their lives," he said.
Arthur Langer, founder and chairman of WOS, praised Abington's involvement. "For a major university to do something nontraditional such as this is very special," he said.
Abington first partnered with the nonprofit WOS last year. Another group of veterans will begin its coursework at Abington later this fall while working at a pharmaceutical company.
Abington Chancellor Karen Wiley Sandler congratulated the veterans and their supporters during a brief ceremony where they received their certificates. "You are now part of our Abington family," she said.
For more information about the project management programs at Abington, which are open to nonveterans, go to www.abington.psu.edu/continuing-education/project-management