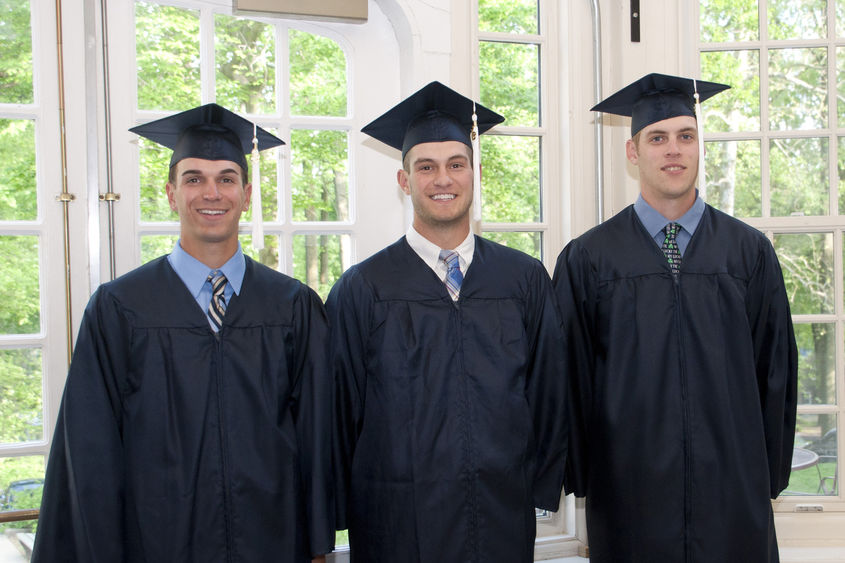 After years of successfully balancing academics and athletics, three Penn State Abington student athletes missed last month's commencement due to a post-season baseball tournament in Washington, D.C.
But their disappointment was quickly mitigated by the thoughtfulness of Abington Associate Dean for Academic Affairs Norah Shultz and Joe Pavlow, Abington head baseball coach. Armed with Pavlow's idea, Shultz approached Abington Chancellor Karen Wiley Sandler, who quickly agreed that Connor MacFarlane, Dustin Kology and Patrick Moran should not be denied the excitement -- or the photo opportunities -- that accompany commencement.
MacFarlane, Kology and Moran traded their uniforms for caps and gowns several days after commencement and ushered their families into Sandler's office. Sandler and Assistant Dean Samir Ouzomgi were dressed in the academic regalia they reserve for commencement, and they officially congratulated the trio and posed for photographs.
Shultz, a passionate baseball fan, discovered the problem several months ago.
"I was talking with one of the parents at a game earlier in the season and found out about the conflict with their tournament play and commencement," she said. "I talked to Joe Pavlow and the chancellor, and we set up this opportunity prior to the spring athletic banquet."
Shultz attends games and interacts with student-athletes in her capacity as the Faculty Fellow for the baseball team. The goal of the Faculty Fellows at Abington is to strengthen the ties between a student's academic and athletic pursuits. They also act as a resource for the student-athletes, coaches, administrators and faculty to help resolve specific issues.