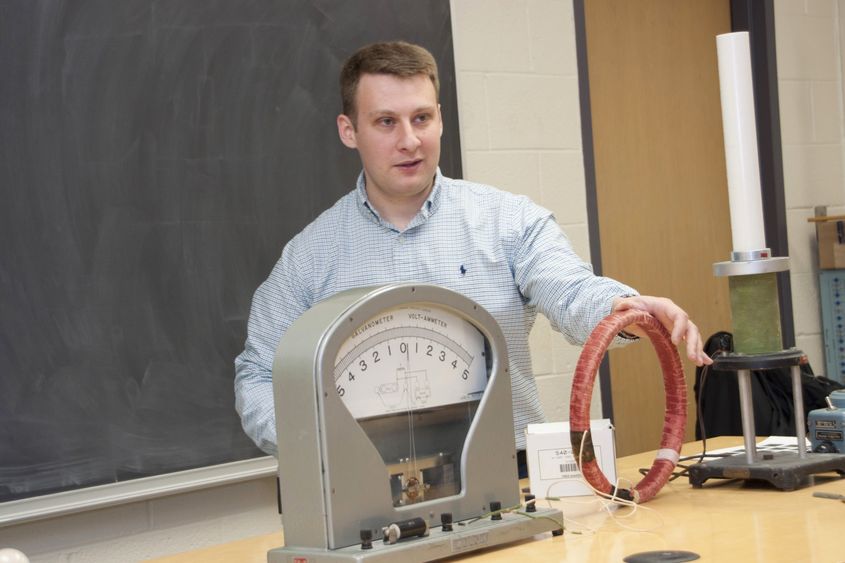 Penn State Abington Assistant Professor Mikhail Kagan prefers to focus on his students. But the self-described passionate physics professor has had to adjust being in the spotlight recently.
Last month, Kagan was presented with the 2013 George W. Atherton Award for Excellence in Teaching by University President Rodney Erickson. Kagan was one of only six faculty members university-wide to receive the honor for teaching at the undergraduate level. And last week, his colleagues recognized his achievement at the annual Abington Faculty Research Symposium.
But Kagan said students are his priority.
"My aim as a teacher is to excite my students' enthusiasm for scientific discovery, to make them eager to learn and explore, and to be there for them when they need friendly guidance from someone as curious as they are," he said.
He taught at middle and high school levels until he arrived at Abington in 2008. Two years later, Kagan implemented the investigative science learning environment curriculum and philosophy in his physics classes. And it seems he has found his intellectual home at Abington.
"At Abington, I discovered a whole new world of creative people and their activities," he said. "I am a member of a small physics department so I meet many Abingtonians from other disciplines and divisions. This certainly made my academic life much richer."
"I meet most of my students virtually every day, I know everyone by name, and we get to know each other very well," he continued. "Every year, I have met really bright young people. With some of them we did Abington College Undergraduate Research Activities (ACURA) projects, which resulted in a few peer-reviewed papers and both poster and oral presentations at Penn State, national and even international conferences."
Outside of the classroom, Kagan has developed a series of game show-like competitions called Fysics is Phun, Kemistry is Chool and Biology is the Bomb for science and engineering students.
Kagan's impact in the classroom was made clear by one student who nominated him for the Atherton award: "Dr. Kagan not only helped me overcome my fear of physics, he also helped me find my true passion."