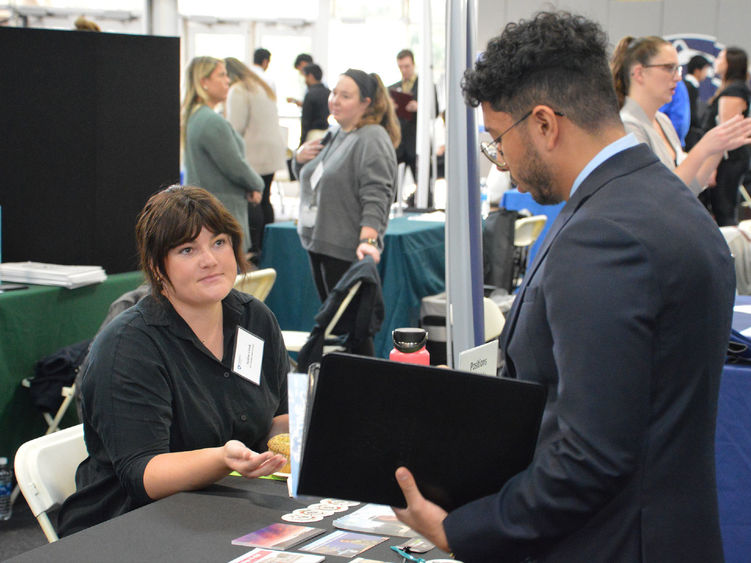 ABINGTON, PA. — Almost 400 Penn State Abington students met with recruiters from more than 80 companies and organizations at the annual Fall Internship and Career Fair, organized by the campus experts in career and professional development (CPD). 
Students networked with representatives from employers such as Comcast, partner sponsor Enterprise Holdings, the Commonwealth of Pennsylvania, the City of Philadelphia, law enforcement agencies, and hospitals and health systems including Temple, Fox Chase Cancer Center, Jefferson Health and Main Line Health. Northwestern Mutual sponsored a professional photographer to take headshots of the students.  
"I had great conversations with a lot of employers about how to connect with them and about my resume. Interacting with them today was really helpful," said a first-year student, who came to the career fair to develop his professional networks. 
In the run up to the career fair, CPD invited all students to a variety of workshops to help prepare them for success. Career Week, which is held the week prior to the fair, immerses students in networking practice and resume reviews with alumni and other volunteer professionals and offers them the opportunity to select professional attire at no cost through the campus Career Closet. 
Students who attended these events reported positive interactions with recruiters at the fair, including one student who refined and retooled her resume after attending a workshop. 
"We had so much preparation for the fair," she said. "I went to Resumania, and they taught me how to make my resume more robust, and it boosted my confidence. I highly recommend using the career resources on campus."
Many firms make the annual Abington spring and fall career fairs regular stops in their recruiting outreach, and the professionals in CPD, led by director Tina Vance-Knight, advise students on researching and targeting specific companies and developing effective talking points.
"Career development is about preparation, and when met with a little luck, you find success," she said. 
CPD provides services to current students and alumni searching for full- and part-time positions as well as internships and co-ops. 
About Penn State Abington 
Penn State Abington provides an affordable, accessible and high-impact education resulting in the success of a diverse student body. It is committed to student success through innovative approaches to 21st-century public higher education within a world-class research university. With more than 3,100 students, Penn State Abington is a residential campus that offers baccalaureate degrees in 25 majors, accelerated master's degrees, undergraduate research, the Schreyer Honors College, NCAA Division III athletics and more.