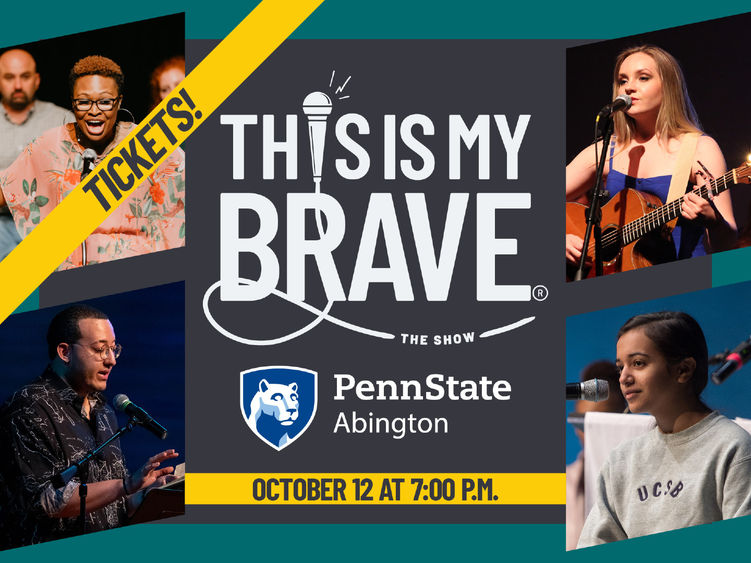 ABINGTON, Pa. — Penn State Abington will present This Is My Brave - The Show on Oct. 12, featuring original performances by community members who are fighting stigma due to mental health conditions, substance use, eating disorders, or being part of vulnerable populations. The 10 storytellers will share their original music, monologues, poetry and spoken word pieces, along with comments from experts and others who are passionate about reducing stigma. 
Glenn Sterner, assistant professor of criminal justice at Abington, is bringing the performance to the community through his relationship with the national This Is My Brave nonprofit organization. 
"I consider this to be an intervention that disrupts stigma. I see this as an incredible opportunity to give people the skills and abilities to regain their power. It takes a long time to break down the walls around stigma, and people need to work through their own perspectives if we are hoping for change," he said. 
"There are ways we can have an impact on our society, and one of them is by hosting This Is My Brave at Penn State Abington. Penn State is a land-grant institution, and it's not enough to host educational experiences. We need to take our work and use it to improve society," Sterner continued. 
Sterner and the executive director of This Is My Brave recently spoke about their motivations and advice for reducing stigma and how live performances are an effective way to jump-start difficult conversations. Read the interview here. 
This Is My Brave – The Show at Penn State Abington is supported by the Division of Social Sciences, Business, and Education; the Penn State Fund for Abington; Dr. Moylan C. and Barbara D. Mills Endowment for Cultural Arts at Penn State Abington; the Penn State Criminal Justice Research Center; and a Penn State Abington Faculty Development grant. 
About This Is My Brave - The Show at Penn State Abington 
Date: Thursday, Oct. 12, at 7 p.m. 
Location: Sutherland Auditorium, Penn State Abington, 1600 Woodland Road, Abington, PA 19001 
Admission: General public $10; senior citizens $5; free for Penn State Abington faculty, staff and students
Tickets are available in advance and at the door.
About Penn State Abington 
Penn State Abington provides an affordable, accessible and high-impact education to its diverse student body. It is committed to student success through innovative approaches to 21st-century public higher education within a world-class research university. With more than 3,100 students, Penn State Abington is a residential campus that offers bachelor's degrees in 25 majors, undergraduate research, the Schreyer Honors College, NCAA Division III athletics and more.