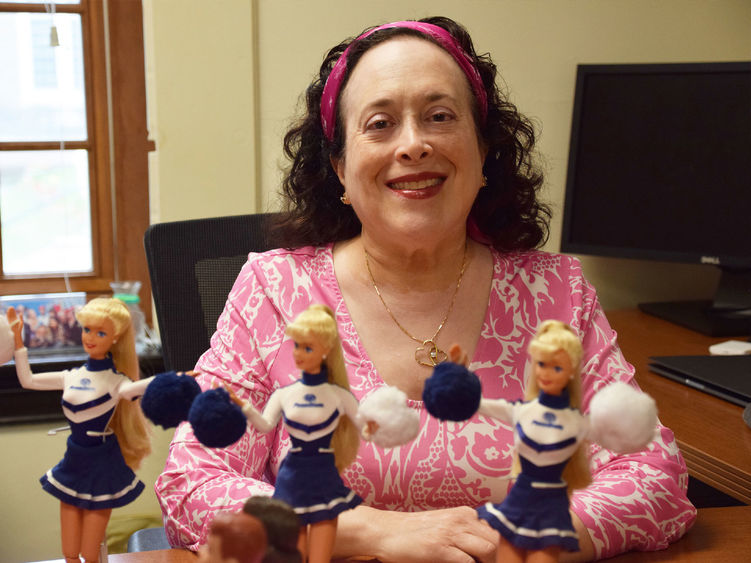 ABINGTON, Pa. — As the director of academic services at Penn State Abington, Eva Klein plays a crucial role in the success of students. Her portfolio includes managing areas such as disability resources and academic advising.  
When she isn't supporting students, Klein pursues a lifelong interest in collecting dolls and accessories from the world of Barbie. The runaway success of the "Barbie" movie this summer makes this administrator, who has amassed almost 500 dolls plus accessories, currently one of the hippest people on campus. 
Klein said she is thrilled with the resurgence of interest in the dolls, especially since she thinks people should reconsider how Ruth Handler, the creator of Barbie, revolutionized the toy industry — and its impact on women. 
"For years people have said that Barbie gives girls unrealistic expectations of their bodies and of women. What people fail to realize was that before Barbie, little girls played with baby dolls and they could pretend to be mommies. Ruth Handler changed all of that by creating a blank canvas," she said. 
"For me, and for other little girls, Barbie was a blank slate. She could be and do anything. The only limit was my imagination," Klein said.
In the "Barbie" movie, all the characters are professional women, which echoed Klein's experience, she said. Growing up, Klein's family and teachers encouraged her to be independent and thoughtful about her future, so each of her dolls had a career, as doctors, lawyers, news anchors, ballerinas and even opera singers.
"My value as a girl and then as a woman was directly impacted by my family and by my teachers. I was always told that I could be and do anything I set my mind to. This is the message I hope all children receive growing up and a message that resonated with me after watching the movie," Klein, who went on to earn bachelor's and master's degrees in chemistry, said. 
For me, and for other little girls, Barbie was a blank slate. She could be and do anything. The only limit was my imagination.

—Eva Klein , Director of Academic Services
Klein and her husband — whose name is Ken — saw the movie the weekend it opened and rated it four out of five stars. 
"As a vintage collector, I was disappointed that there weren't more vintage dolls in the film," said Klein. "The Midge in the film was from 2002. There were many Easter eggs in the film that for Barbie collectors were a lot of fun, so I plan to see it again."
Klein's Ken, who presented her with an exclusive bridal Barbie when they got married, and their son encourage her treasure hunts. Her son collects vintage PEZ dispensers so he also appreciates the thrill of the chase.  
Most of Klein's collection is pre-1974, but she purchases newer dolls, too, and she is always on the hunt for the elusive, mint-in-the-box, brunette, bendable leg Midge doll.  
"It is fun to hunt for bargains, but with the movie now out, it is harder to find bargain dolls. Everyone thinks that they have a rare doll worth $20,000!" she said. 
Although Klein kept her childhood dolls for sentimental reasons, she didn't start acquiring new ones until 1996 when she came across a magazine for adult Barbie collectors. She was hooked, she said.
"I am a completist and need to get all the things that I collect; I decided I would collect all Midge variations and accessories. I do collect Barbie and her friends, but I have all the Midge variations, cases, a Midge watch, Midge lunchboxes, paper dolls, and anything that has Midge's name on it," said Klein, who treasures a hand-me down Midge from her childhood.
The rekindled interest in all things Barbie thrills Klein, but her hobby has brought her personal satisfaction as well. 
"I belong to several Barbie Facebook groups, and I am actively meeting other doll collectors through Facebook and Instagram. I have met some very lovely friends this way," she said.
About Penn State Abington
Penn State Abington provides an affordable, accessible and high-impact education to its diverse student body. It is committed to student success through innovative approaches to 21st-century public higher education within a world-class research university. With more than 3,100 students, Penn State Abington is a residential campus that offers bachelor's degrees in 25 majors, undergraduate research, the Schreyer Honors College, NCAA Division III athletics and more.