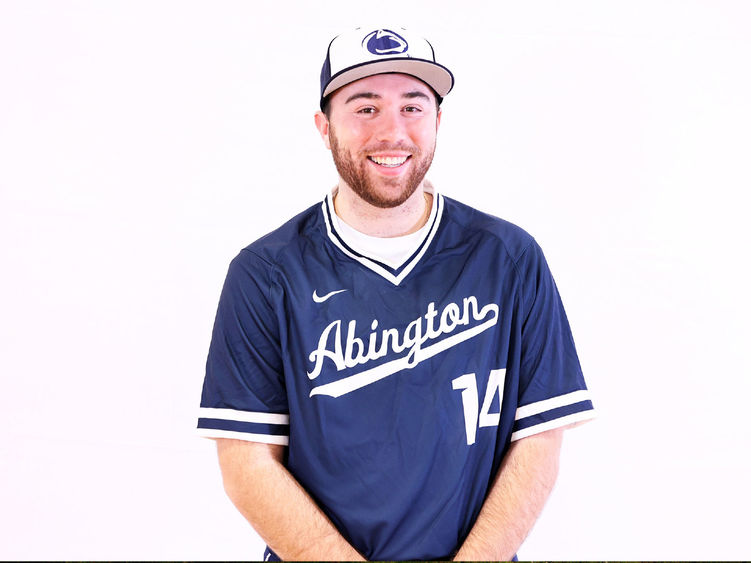 ABINGTON, Pa. — Growing up two miles down the road from Penn State Abington, Joe DiMaria realized that the college's NCAA Division III student athlete experience was the perfect fit for his passions.
"I chose Penn State Abington because I wanted to major in elementary education, I was recruited to play baseball here, and I love the community of Abington. The campus feels like home to me, and there's no place like home," he said. 
DiMaria graduated this month with a degree in elementary and early childhood education, balancing academics with pitching for the Abington baseball team. He was confident and thoughtful as he reflected on the last four years. 
"When you look at baseball and teaching together, you see that one size doesn't fit all. It's about adjusting your game plan or teaching strategy, so everyone understands. You have to differentiate for every child, and you have to make sure everyone is staying up to speed," he said. 
DiMaria completed his student teaching assignment this spring in a kindergarten class at nearby Rydal Elementary School in the Abington School District. 
"With kindergarten, you can make a positive impact at such a young age because everything is so foundational. You get them interested in school and build critical thinking skills," he said. 
"The best part about teaching is the relationships you build with the kids. I shared stuff about myself and by finding our commonalities, they learned better. I try to tailor their learning experiences based on their interests," he added. 
Last fall DiMaria had to pivot during his required practicum at Anne Frank Elementary in Northeast Philadelphia, a school where the children hail from more than 40 countries. 
"There were a lot of nuances of language in my class at Anne Frank. One girl spoke Ukrainian, and two others spoke three languages, so comprehension was a challenge I had to address. I developed personalized instruction for math and reading for them," he said. 
In order to become a successful Division III student athlete, he said, he internalized achieving balance.  
"My coaches were always willing to work with us to manage classes and being on the team. They know it's professionalism over baseball," he said. "Being a college athlete really helps when you market yourself for a job. You learn leadership, you always had to be on your 'A' game, and it shows."  
Head baseball coach Joe DiMento is one of DiMaria's mentors, he said. 
"Coach DiMento had been so good to us. We've gone through adversity together, and I always appreciate him for sticking with the team," he said, recalling when Abington baseball upset a nationally ranked team. 
His teammates and coaches supported each other during difficult times, especially for DiMaria and his peers who endured the pandemic during their college years. 
"It helped us learn the proper skills and tools to deal with it. We are a close group and never stopped talking," he said. 
I chose Penn State Abington because I wanted to major in elementary education, I was recruited to play baseball here, and I love the community of Abington. The campus feels like home.

—Joe DiMaria , Class of 2023
DiMaria is waiting to find out where he will teach in September, and he said he is hoping for a position as a third-grade teacher. ;
"I love third-graders, and I like that point in time with learning. It's multiplication, which is one of my favorite things, and they are working on paragraph building," he said.
Meanwhile, he is coaching at Thoroughbred Baseball Academy in Horsham and returning to his longtime summer job at the Willow Grove YMCA.
"I started working at the YMCA in high school at their sports camps. This summer I will be overseeing specialty camps and the leaders in training program. It all ties into teaching," he said.
DiMaria has wanted to be an educator since he was a child, and his third-grade teacher at Overlook Elementary in Abington was a critical influence, he said.
"Mr. Wilkins is the kind of person I see myself being," said DiMaria. "He struck a great balance between fun and education and set us up for success with things like the No Fuss Homework Club and the Orange Olympics. We earned rewards educationally."
Overall, DiMaria's love of teaching and baseball, and the opportunity to combine those passions at Abington, has provided him with perspective.
"You can have the biggest job in the world, but you need to enjoy it," he said. "My college years worked out perfectly. I got the best of all worlds."
About Penn State Abington
Penn State Abington provides an affordable, accessible and high-impact education resulting in the success of a diverse student body. It is committed to student success through innovative approaches to 21st-century public higher education within a world-class research university. With more than 3,100 students, Penn State Abington is a residential campus that offers baccalaureate degrees in 25 majors, undergraduate research, the Schreyer Honors College, NCAA Division III athletics and more.