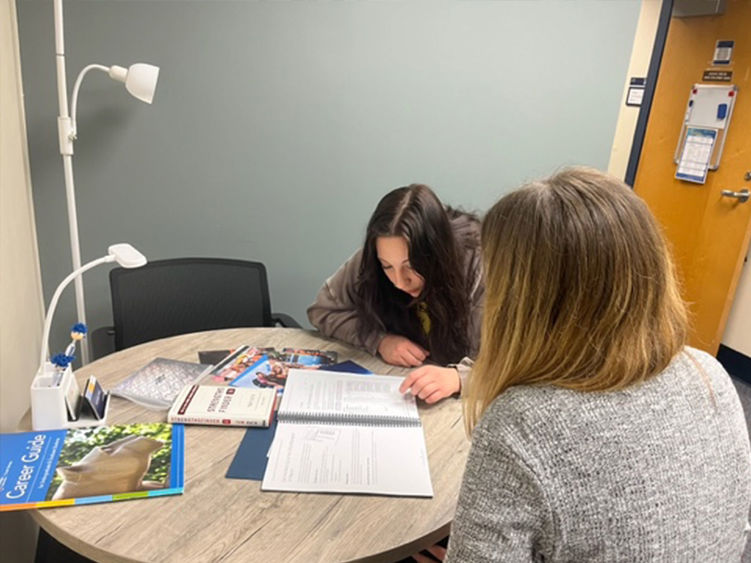 ABINGTON, Pa. — Penn State Abington students are eligible to take a variety of assessments at no charge that can provide them with insight into their strengths, allow them to refine their goals, and support them in choosing more satisfying majors and careers. The assessment results are reviewed with Career and Professional Development (CPD) staff, who offer guidance in interpreting and applying the findings in students' academic, professional and personal lives. 
The primary assessment is the CliftonStrengths by Gallup, which identifies 34 talent themes and strategies for individuals to apply them. It is administered to all students enrolled in the required first-year seminar and those in leadership roles including resident assistants and orientation leaders. Other undergraduates may contact CPD to schedule assessments.  
For student Giselle Garbaccio, the assessment provided her with a tool to understand herself in a deeper way. 
"The CliftonStrengths assessment really helped me understand what strengths I possess and how that can help me with not only my career goals, but also how I go through life," she said. 
Jennifer Rae, a career counselor in CPD, supports students in evaluating their results, which are rooted in positive psychology. 
"The greatest value in assessments is increasing a student's self-awareness about their interests, values, strengths, and personality so that they can then make informed decisions about their careers and use talents that come naturally to them. It isn't meant to be a 'test,' but it can be incredibly helpful for students to clarify their goals," she said. 
Rae urges students to include their top five CliftonStrengths on their resumes and LinkedIn profiles. 
"Think about your strengths and how you can connect them to your major and your career, and then show recruiters how you can use those strengths to be successful," she said. 
"The CliftonStrengths assessment really helped me understand what strengths I possess and how that can help me with not only my career goals, but also how I go through life."

—Giselle Garbaccio , Penn State Abington student
CliftonStrengths helps students focus on excellence, according to Tina Vance-Knight, the director of CPD who initiated bringing the assessment to Abington. 
"We want students in majors that align with their strengths, which is the beauty of the assessment coming to life. It can serve as a confidence booster because people often don't take time to reflect on our strengths. We tend to marinate on the negatives," she said. 
While discussing CliftonStrengths results with a group of first-year students, Rae asked them redefine how they think about the concept of talent and talent themes. 
"Talent is a natural way of thinking, feeling, and behaving. Behavior patterns can make you effective, thought patterns can make you efficient, beliefs empower you to succeed, attitudes can sustain your efforts to succeed," she said. 
CPD used the assessment results to create a profile of current first-year students. The class of 2027's top five strengths are restorative (adept at problem-solving), adaptability (team-building), competition (measuring their progress against others), futuristic (inspired by the future), harmony (building strong relationships). 
Several other assessments are available at no charge to Abington students including the Myers-Briggs Type Indicator, which defines qualities that affect a person's worldview, and MyPlan, a self-paced assessment that walks students through career development levels including skills, interests, values and personality. Students are required to meet with a career counselor before scheduling any assessments. 
The costs of the assessments are covered by grants from Abington Chancellor Margo DelliCarpini and the Student Initiated Fee.  
About Penn State Abington 
Penn State Abington provides an affordable, accessible and high-impact education resulting in the success of a diverse student body. It is committed to student success through innovative approaches to 21st-century public higher education within a world-class research university. With more than 3,100 students, Penn State Abington is a residential campus that offers baccalaureate degrees in 25 majors, undergraduate research, the Schreyer Honors College, NCAA Division III athletics and more.