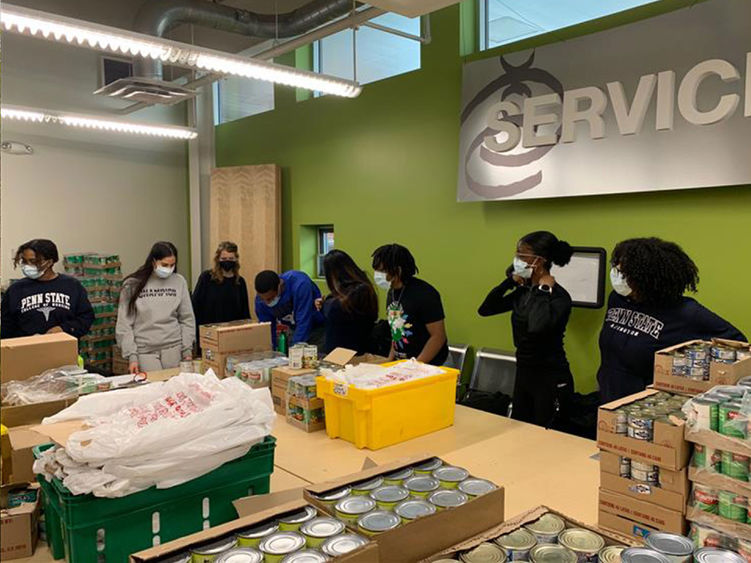 ABINGTON, Pa. — Thirteen Penn State Abington students recently visited Washington, D.C., for an Alternative Spring Break (ASB) program full of community service, advocacy on Capitol Hill, and a bit of sightseeing.
The students assembled more than 980 meals at the Capital Area Food Bank for senior citizens and homebound persons and prepped an additional 540 meals at Bread for the City for those in need.
An annual tradition at Abington, ASB projects are off-campus, educational service opportunities. Students travel to a community where they work and serve to foster a dialogue around issues of social justice.
"Fifteen people made over 900 grocery bags for seniors [at Capital Area Food Bank] and that was really cool," said Busolami Olayinka-Yusuf, a sophomore in the psychology and social sciences major. She is a service associate for Student Engagement and Leadership (SEAL) and helped plan ASB, which was sponsored by Abington's Office of Diversity, Equity, and Inclusion and SEAL. "I was inspired to plan this trip because I wanted to serve outside of our community and get out of our Abington bubble," she said.
This year, the scope of ASB broadened to include discussions about increased federal aid for college students and improved access to higher education. The students spent time with a member of U.S. Sen. John Fetterman's team and with Rep. Madeleine Dean (D-PA 4th District), who represents Abington and most of Montgomery County in Congress.
"My favorite parts of the trip were meeting Congresswoman Dean, supporting Black businesses by buying books at Busboys and Poets, and my favorite service location was Bread for the City because we bonded while packing grocery bags for the community," Olayinka-Yusuf said.
The students attended a panel discussion at the National Coalition for the Homeless. Four speakers who experienced homelessness and other challenges shared their stories and messages about what sustained them through hard times. The panelists also challenged narratives that homelessness is the fault of the person experiencing it by offering examples of how circumstances beyond their control impacted their lives.
A visit to the Smithsonian National Museum of African American History and Culture and an evening tour of the monuments in the nation's capital were also part of the experience.
About Penn State Abington
Penn State Abington provides an affordable, accessible and high-impact education resulting in the success of a diverse student body. It is committed to student success through innovative approaches to 21st-century public higher education within a world-class research university. With more than 3,100 students, Penn State Abington is a residential campus that offers baccalaureate degrees in 25 majors, undergraduate research, the Schreyer Honors College, NCAA Division III athletics and more.