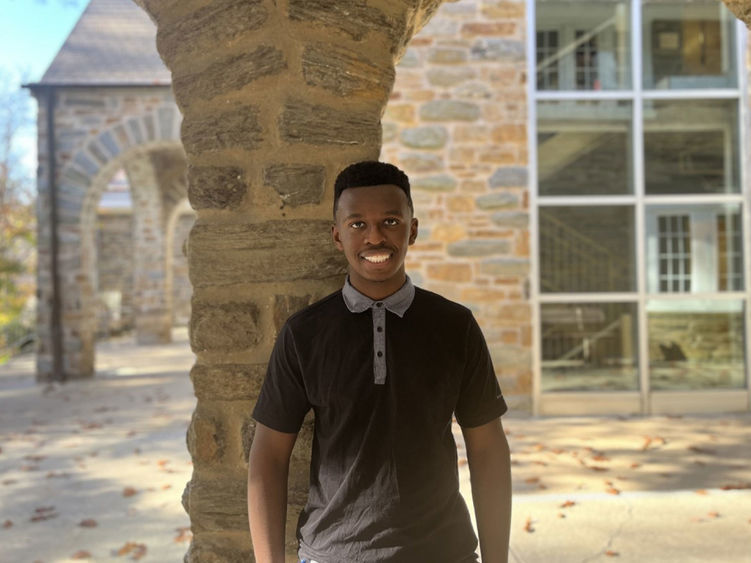 ABINGTON, Pa. — Two initiatives for transfer students eased Mark Tyler's transition this fall from community college to Penn State Abington: a $2,000 RaiseMe scholarship and the STEM Inc. Inclusion and Innovation program. 
Tyler, a biology major, earned the RaiseMe funds thanks to his good grades at Bucks County Community College. His academic achievements also led to his selection for the STEM Inc. summer program, which is exclusively for transfer students and offers mentoring, support, and exposure to academic and student life offerings. 
"The transition to one of the most well-known universities in America seemed daunting, and the expectations for a STEM major there were going to be much higher. I wasn't sure what to expect at Abington, so it was important that I obtained an understanding of the next step in my educational path," Tyler said.  
Students like Tyler who qualify for STEM Inc. receive scholarships and opportunities for on-campus jobs. He participated in campus tours during the summer and met with STEM faculty, admissions staff, and advisers. 
"It made me feel like Penn State was more than a university but rather a family, which solidified my decision to attend. It gave off the feeling that Abington cared about the students and had our best interests in mind," said Tyler, adding that he plans to attend medical school. 
Through STEM Inc., he learned about the undergraduate research program at Abington, known as ACURA. Students earn credits while working with faculty mentors on research projects, which they present at a fair each April. His experience led to a job as a paid research assistant for Ahmed Nuriye, assistant professor of chemistry. 
"We are working to synthesize a novel compound. Working with a chemistry professor on a research project so few have conducted in the science community gives off the feeling that I'm contributing to the world," Tyler said. 
He was impressed by the willingness of Abington faculty to meet the needs of their students. 
"One of my classes is larger and, to my surprise, the professor sends individual emails to remind us of any updates," he said. 
Working with a chemistry professor on a research project so few have conducted in the science community gives off the feeling that I'm contributing to the world.

—Mark Tyler , Penn State Abington student
Abington is the most diverse campus in the Penn State ecosystem with almost 50% of the population comprised of students of color, and the impact isn't lost on Tyler. 
"Abington has students from all cultural backgrounds and lifestyles. I believe that a true community grows when it welcomes people that can share new ideas and values. It's been a pleasure forming friendships with people I feel comfortable sharing my views with," he said. 
As he prepares to complete his first semester at Abington, Tyler wanted to share his advice for new students. 
"Do your best to get involved and make friends. College goes by really fast so make connections," he said. 
Qualified transfer students can earn up to $7,000 in RaiseMe scholarship funds over two years. They can start earning micro-scholarships while at specific community college for grades, participation in co-curricular activities, and volunteering in the community. When students transfer to a Penn State Commonwealth Campus, these micro-scholarships will be converted to Penn State scholarships. 
About Penn State Abington 
Penn State Abington provides an affordable, accessible and high-impact education resulting in the success of a diverse student body. It is committed to student success through innovative approaches to 21st-century public higher education within a world-class research university. With more than 3,100 students, Penn State Abington is a residential campus that offers baccalaureate degrees in 24 majors, undergraduate research, the Schreyer Honors College, NCAA Division III athletics and more.