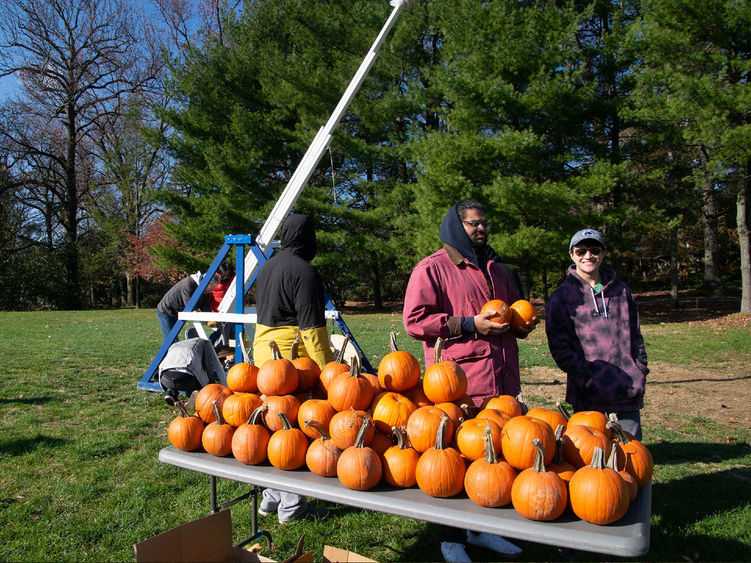 Penn State Abington engineering students celebrated the fall season by launching pumpkins with a trebuchet they built using skills acquired during their coursework. A trebuchet is a type of catapult that uses a long arm to throw a projectile.   
Isaiah Wilson, a sophomore in the engineering with multidisciplinary engineering design option (MDE), explained that the design allows the trebuchet to launch projectiles of greater weights further distances than that of a traditional catapult. 
"We added a crank to keep the arm down instead of using our own brute force to keep the arm in place before we launched. The crank shaft is based off of a principle I learned in my engineering mechanics class. It's about 200 pounds of force displaced," he said. 
"Overall, the design worked pretty well, and we hope to make it stronger next year. We want to design it to safely chunk the pumpkins," Wilson said. 
Another student mentioned that the addition of a release mechanism and a safety belt makes the trebuchet more effective. 
"We did testing and brainstorming sessions before we built it. It's a big improvement. The release mechanism keeps three people from holding it in place while one person ties the pumpkin in," he said. 
The campus Engineering Club with guidance from Marcus Besser, associate teaching professor of engineering, organized the annual Pumpkin Chunkin on a field across from the Rydal Building. 
Penn State developed the engineering major with MDE option at Abington in response to the evolving needs of companies in the Philadelphia region and beyond. The major incorporates advanced coursework in electrical engineering, computer engineering, mechanical engineering, and engineering design to produce innovative engineers specializing in systems design and integration. 
About Penn State Abington 
Penn State Abington provides an affordable, accessible and high-impact education resulting in the success of a diverse student body. It is committed to student success through innovative approaches to 21st-century public higher education within a world-class research university. With about 3,100 students, Penn State Abington is a residential campus that offers baccalaureate degrees in 24 majors, undergraduate research, the Schreyer Honors College, NCAA Division III athletics and more.