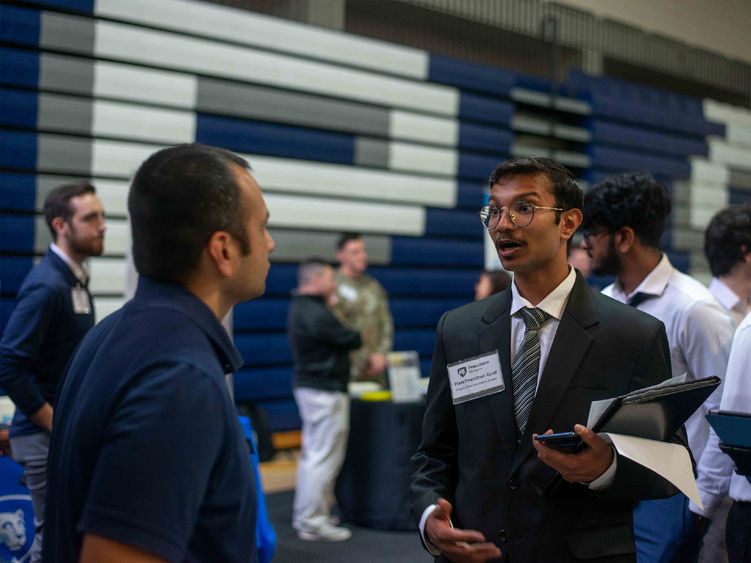 ABINGTON, Pa. — Penn State Abington students who attended workshops and networking practice events to prepare for the annual Career and Internship Fair reported positive interactions with recruiters at the event. 
"I had great conversations with a lot of employers about how to connect with them and about my resume. It was really helpful to learn how to interact with them," said Harshvardhan Goel, a sophomore majoring in project and supply chain management.
Goel refined and retooled his resume with guidance from the experts in Abington's Career and Professional Development prior to the career fair. 
"We had so much preparation for the fair. I went to the Resumania workshop, and they told me how to correct my resume. Now it feels perfect. I asked some of the employers what they thought of my resume, and they told me it was really good. I highly recommend everyone to go to Career and Professional Development and use that resource," he said. 
Jessica Peskin, a senior who is majoring in biology, called the experience incredible. 
"The fact that they host the fair earlier in the school year is good. It gives students time to meet with employers and network before graduation," she said. 
Almost 400 students and alumni met with more than 75 recruiters at the fair, which is staged by CPD each fall and spring. Employers praised the students for being prepared. 
"The students' 30-second pitches were on par, and they've been fantastic. Everyone was dressed so well and presented themselves really professionally. The real world is all about networking, so to have students get that experience here is really helpful. It's also great to see so many first-year students starting early and making connections," said Stacy McClelland, group talent acquisition manager at Enterprise Holdings.
In the runup to the career fair, CPD organized events so students in their first through senior years develop skills to succeed in the professional world. Career Week, which is held just prior to the fair, immerses students in resume reviews, networking practice, and the opportunity to purchase discounted professional attire at the Career Closet. 
CPD and the Office of Diversity, Equity, and Inclusion hosted a diversity employment event sponsored by Enterprise Holdings. Students networked with recruiters ranging from the state Department of Revenue to the Nasdaq stock exchange and KPMG. They prepared for this event at a practice session with Abington faculty and staff earlier in the week. 
"We want to make the students comfortable with the concept of networking and learning how to talk in interviews," said Michelle Daly, employer engagement coordinator in CPD.
Junior Maria Rodriquez represented Nasdaq, where she interned last summer, at the diversity event. 
"I'm helping recruit students for internships and helping them learn how to express themselves when interacting with employers," she said. 
The etiquette dinner, sponsored by alumni Stan and Lois Singer, walked students through  scenarios that often occur at business lunches and dinners. The students sat at tables adorned with cloth tablecloths and napkins and were served a four-course meal. Throughout the meal, alumni and Tina Vance-Knight, CPD director, offered advice and answered questions. 
"We want to give you the skills to sit at any table, anywhere. Career development is about preparation that when met with a little luck leads you to success," Knight said. 
About Penn State Abington 
Penn State Abington provides an affordable, accessible and high-impact education resulting in the success of a diverse student body. It is committed to student success through innovative approaches to 21st-century public higher education within a world-class research university. With more than 3,000 students, Penn State Abington is a residential campus that offers baccalaureate degrees in 24 majors, undergraduate research, the Schreyer Honors College, NCAA Division III athletics and more.