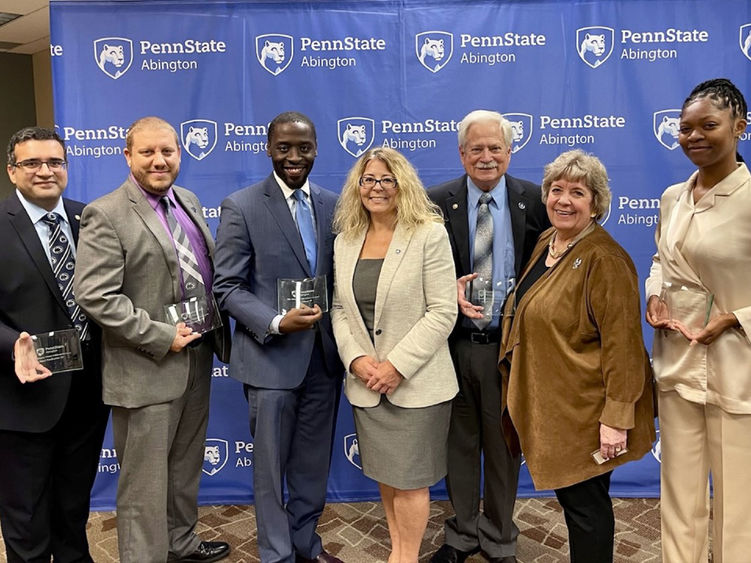 ABINGTON, Pa. — The Penn State Abington Office of Development and Alumni Relations has announced the winners of its annual alumni awards, which recognize the service, accomplishments and philanthropic investments of Abington alumni and friends for enriching the campus and student experience. 
"We are so proud and grateful for the time, talent and treasure that this group of individuals has devoted to improving the lives of our students and countless people in the Philadelphia region and beyond," said Margo DelliCarpini, Abington chancellor.
The winners will be honored by DelliCarpini at an on-campus event on Oct. 6. 
The Penn State Abington Alumni Achievement Award recognizes alumni who have demonstrated excellence in their field, contributed significantly to their profession, and gained exemplary reputation among colleagues. These alumni have brought credit upon Penn State through their professional, civic or scholastic achievements.  
Isaiah Thomas, class of 2007 
Philadelphia City Council member at-large Thomas grew up in Philadelphia, which ignited his passion for his city and education. He earned his bachelor's degree from Abington and a master's degree from Lincoln University. He has worked in the nonprofit, public, and private sectors in positions that impact the issues citizens face on a daily basis. In City Council, he has introduced legislation including the driving equality bill, the Black workers matter package, and the local procurement bill. His nonprofit, The Thomas & Woods Foundation, provides free summer programs for children ages 6 to 16 years old.  
Ninad Pendharkar, class of 2003 
After graduating from Penn State Abington, Pendharkar completed his medical degree from the Penn State College of Medicine in 2007 and his residency in dermatology in 2011 at the Penn State Milton S. Hershey Medical Center. In 2015, he graduated from the Smeal College of Business Executive MBA program. He works for Dermatology Associates of York, caring for patients with a wide range of dermatologic conditions. He has served on the Penn State Abington Alumni Society Board. 
The Penn State Abington Young Alumni Award recognizes a graduate of the last 15 years who has proven to be a rising star in their field. These alumni have brought credit upon Penn State through their exemplary professional, civic, or scholastic achievements.  
Shania Bennett, class of 2020
Bennett graduated from Abington with her bachelor of science degree in criminal justice. As an undergraduate, she was elected committeeperson for the 48th Ward, 12th Division in South Philadelphia. She is one of the youngest elected officials in Pennsylvania history. Bennett is the founder of Reach 4 Peace, an anti-violence initiative that supports creating safe, healthy, and hopeful communities for at-risk youth. She is the neighborhood advisory coordinator at the Greater Philadelphia Community Alliance, where she works to provide housing, utility, and benefits access services. She plans to join the police department in 2022. 
Dane Zdunowski, class of 2005 
Zdunowski earned a bachelor's degree in Spanish from Penn State, followed by a master's degree from Northeastern University in higher education administration. He initially focused on academic advising and now works for Jenzabar as a customer success manager, assisting colleges and universities with their student information system needs. He served on the Penn State Abington Alumni Society Board as both president (2018-20) and immediate past president (2020-22) and on the Alumni Council for the Penn State Alumni Association.  
 
The Penn State Abington Donor Appreciation Award recognizes alumni and friends who have made a significant financial contribution to Penn State Abington.   
Joseph W. (class of 1971) and Jo Anne Lurquin 
Joe Lurquin earned his associate degree from Abington and his bachelor's from the College of Engineering at University Park. During the past two decades, he chaired three capital campaign committees and served on the Abington Advisory Board. Joe and Jo Anne established two scholarships, and in 2021, they signed a five-year pledge to establish the Penn State Abington Engineering Excellence Fund. In recognition of this commitment, the Abington engineering facility was named the Joseph W. and Jo Anne Lurquin Engineering Lab. The pair has supported numerous annual giving appeals, and they have included the Abington campus and the University in their estate plans to create a scholarship for engineering students.  
About Penn State Abington 
Penn State Abington provides an affordable, accessible and high-impact education resulting in the success of a diverse student body. It is committed to student success through innovative approaches to 21st-century public higher education within a world-class research university. With more than 3,000 students, Penn State Abington is a residential campus that offers baccalaureate degrees in 24 majors, undergraduate research, the Schreyer Honors College, NCAA Division III athletics and more.