Record-setting support from alumni and friends will boost student success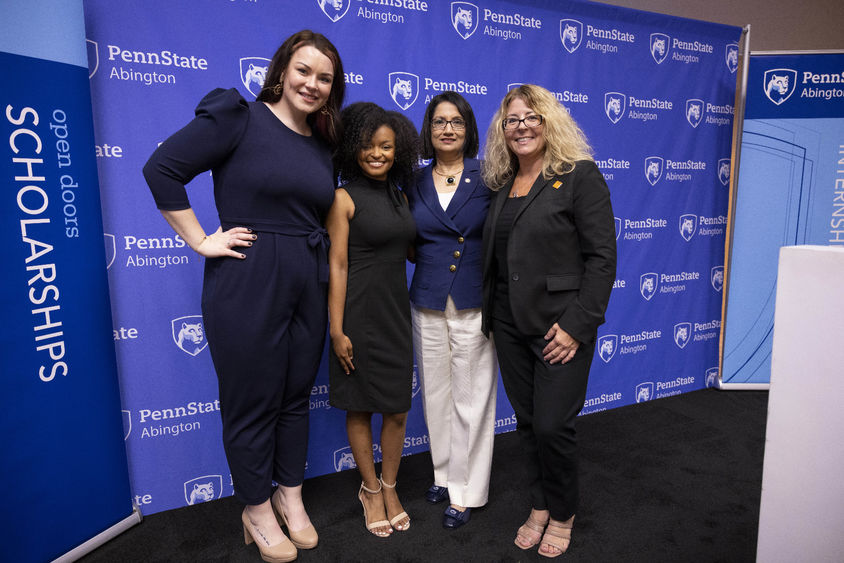 ABINGTON, Pa. — Penn State Abington held a special event celebrating its donors, faculty, staff and students for exceeding its campus goal in the University-wide campaign, "A Greater Penn State for 21st Century Excellence." Officials announced that Abington achieved a record-breaking six-year total of more than $27.5 million during the campaign, propelled by the broad support of 3,300 gifts from nearly 2,000 alumni, friends, foundations and corporate partners.
The total represents a new fundraising high for Abington and a "transformative investment," according to Abington Chancellor Margo DelliCarpini, in its mission to educate, inspire and empower students from the greater Philadelphia area and beyond.
University President Neeli Bendapudi and leaders from across the commonwealth assembled at the campus to recognize the milestone. More than 100 volunteers, supporters and staff gathered alongside members of the broader Abington community in the Lares Student Union Building, where a dynamic four-hour program of discussion groups, engagement sessions and a cocktail reception highlighted the far-reaching impact of philanthropy.
"I am proud to be here to express my gratitude to the dedicated volunteers and supporters of Penn State Abington whose generosity has delivered the resources that are launching students to success," said Bendapudi. "It is truly inspiring to see how support from alumni and friends is unlocking the potential of hardworking students and expanding opportunities through an impressive range of scholarships, hands-on programs, enhanced infrastructure and new initiatives."
The campaign, which began in 2016, was focused on the three key imperatives of a 21st-century public university: keeping the doors to higher education open to hardworking students regardless of financial well-being; creating transformative experiences that go beyond the classroom; and impacting the world by serving communities and fueling discovery, innovation and entrepreneurship.
Over the course of the celebration, speakers and presentations highlighted a variety of campaign gifts and priorities at Abington. Chief among them was a 2018 commitment of $17.3 million — the largest in Abington's history — from 1973 Penn State graduate and international business leader Stephen Taub to support student scholarships and global engagement opportunities. Taub was subsequently honored as Penn State's 2019 Philanthropist of the Year in recognition of his exceptional generosity in the promotion and support of the University.
Giving to Abington by alumni and friends was complemented by support from foundations and trusts. The Charlotte W. Newcombe Foundation awarded $165,000 to the Abington campus, which, when matched 1:1 by University funding, resulted in a total impact of $330,000 in scholarships. These were specially crafted to support some of Abington's most financially vulnerable adult learners, who comprise about 25% of the student population and who must often work to support themselves and their families and struggle to balance the demands of family, school and employment.
In addition, the W.W. Smith Charitable Trust awarded a total of $301,500 to support full-time Abington students, and the Independence Blue Cross Foundation awarded Abington $52,886 during the six-year campaign through its Nurses for Tomorrow initiative, which assists nursing students in the Philadelphia region.
"Removing financial barriers to entry is the single most important thing we can do to broaden opportunity and ensure we are opening doors to an affordable world-class educational experience," said DelliCarpini. "In the course of this campaign, 25 donors created 30 new scholarship funds, in amounts ranging from $12,500 to $1.5 million. In fact, we more than doubled the endowment for Abington scholarships during this campaign — and the average dollar value of scholarships per student has doubled. More students will be able to choose Penn State Abington and more students will thrive here because of the visionary support from our alumni and friends."
Other priorities also received a significant influx of funding.
For the fourth consecutive year in 2022, the Leo and Peggy Pierce Family Foundation awarded a $15,000 grant to advance the campus' goal of reducing food insecurity among its students.
Gift commitments totaling $12 million, including funding from Taub's gift, will create transformative experiences such as study abroad and internships, which have proven to help students persist toward graduation and launch successful careers.
$650,000 was raised in endowments for economic development internships, which will allow students to intern with regional startups and early-stage companies that are getting ideas off the ground, starting new product lines and creating jobs in the Philadelphia area. The total includes 1:1 matching support from the University's Economic Development Incentive Matching Program.
Gifts to the Penn State Abington Emergency Assistance Fund will provide urgent relief to students facing sudden crises, such as housing insecurity, abrupt loss of income or the death of a parent or guardian.
The event featured remarks from Penn State Abington student Molaea-Rene Goodman, a fourth-year psychological and social sciences major, who spoke about how philanthropy impacted the trajectory of her education.
"Scholarship support has given me the opportunity to thrive academically without financial burdens impacting myself and my family," said Goodman. "I can show up prepared and motivated when I am on campus because I don't have financial anxiety stemming from the cost of tuition, and that makes all the difference."
Faith Attig, president of the Abington Student Philanthropy Council, credited donors with demonstrating how to incorporate giving into one's lifestyle. 
"The Student Philanthropy Council teaches others how rewarding helping our campus and the community can be," said Attig.
With the record-breaking success of "A Greater Penn State for 21st Century Excellence," which raised $2.2 billion from 2016 to 2022, philanthropy is helping to sustain the University's tradition of education, research and service to communities across the commonwealth and around the globe. Scholarships enable our institution to open doors and welcome students from every background, support for transformative experiences allows our students and faculty to fulfill their vast potential for leadership, and gifts toward discovery and excellence help us to serve and impact the world we share. To learn more about the impact of giving and the continuing need for support, please visit raise.psu.edu.