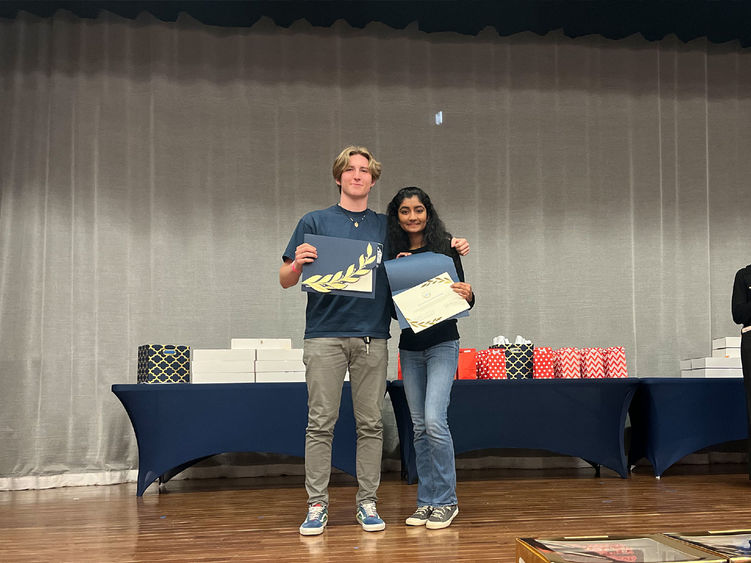 ABINGTON, Pa. — The annual Penn State Abington Living Leadership Awards celebrate students who go above and beyond to create peer-to-peer engagement. 
"The Living Leadership Awards ceremony showcases the talent and leadership of our students, student employees, and student organizations and how they contribute to making Penn State Abington a dynamic and inclusive community," Beth Bradley, associate director of Student Affairs and director of Student Engagement and Leadership, said.
Individual Awards 
Emerging Leader: Juan Serano 
Acknowledges a first-year student who has exhibited initiative, commitment, and dedication to an organization and/or the campus community. This student is a rising leader who has the potential to become a strong leader on campus. 
Developing Leader: Pegasus Yang 
Recognizes a sophomore or junior who has exhibited initiative and commitment to their organization and/or the campus community. The recipient has demonstrated a willingness to grow their leadership skills through regular, active participation in campus organizations, leadership trainings and workshops, service, and civic engagement initiatives, and so forth.
Exemplary Leader: Valara Cheristin 
Recognizes a senior who has demonstrated consistent leadership and ample involvement during their time at Abington. The nominee will have been actively engaged on campus in co-curricular, athletic, or academic activities, made a difference in others' lives, and achieved academic excellence.
Outstanding Student Employee: Iyasha Westfield 
Presented to a student employee who goes above and beyond their responsibilities. The recipient displays a strong work ethic academically as well as in their department of employment, and exhibits productivity, motivation, dedication, and self-reliance. Recipient must have a cumulative GPA of 3.0 or above and be in good standing with the University. They must have been employed in their department for at least one semester. 
Student Organization Awards 
Academic Achievement Award: Pre-Health Organization 
Presented to an academic student organization that has demonstrated outstanding commitment to improving the out-of-class experience by engaging in activities that create relationships and educate and build the campus community. 
Innovative Event: The Engineering Club 
Recognizes a student organization that brought a fresh take on events. By embracing creativity, they were able to hold an engaging event for the campus community. 
Living the Mission: South Asian Student Organization 
Presented to a recognized student organization that embodies its mission and objectives. This organization displays dedication, persistence, and passion for their cause. Every member is dedicated to the mission and understands why they are involved. This award recognizes organizations who in multiple, creative ways support their mission. 
About Penn State Abington 
Penn State Abington provides an affordable, accessible and high-impact education resulting in the success of a diverse student body. It is committed to student success through innovative approaches to 21st-century public higher education within a world-class research university. With more than 3,000 students, Penn State Abington is a residential campus that offers baccalaureate degrees in 23 majors, undergraduate research, the Schreyer honors program, NCAA Division III athletics and more.