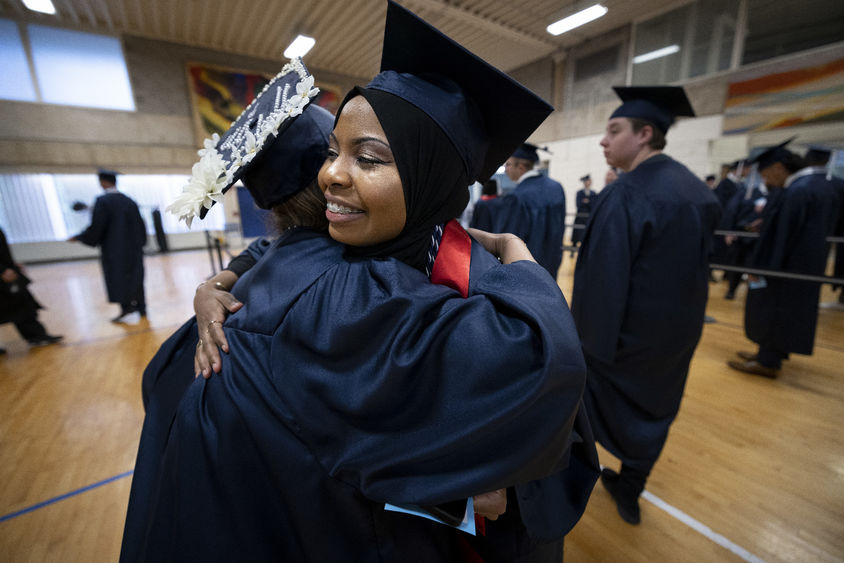 Penn State Abington celebrated more than 300 graduates from the classes of 2020 and 2022 during two ceremonies on May 6. Since the pandemic precluded hosting commencement in 2020, those graduates were invited to return to campus to celebrate this spring. 
Paige Mazzacano, who earned a degree in corporate communication in 2020, spoke on behalf of her classmates.  
"The last two years have tested all of us on many levels: professionally, personally and academically. We have learned a lot about ourselves and our inner strength to overcome battles." she said. 
"If I give you one piece of advice, it would be: Take advantage of every opportunity that comes your way. It may not be the path you envisioned to begin your career, however, you never know what doors will open throughout your journey," Mazzacano said. 
Class of 2022 valedictorian Sorelle Sax, whose degree is in rehabilitation and human services, said that each person navigated a unique journey and how her own path included prioritizing her mental health. 
"Upon transferring to Abington, I thrived on the small class sizes and the ability to make more impactful connections with my professors. I learned from some of the most talented professionals in the field. I was able to do all of this while focusing on my mental health. I no longer felt like a flower deprived of sunlight and without room to grow. Rather, I began to absorb the nourishment provided by my professors and the Abington community, and as a result, I blossomed," she said. 
With COVID still casting a shadow over, Abington Chancellor Margo DelliCarpini reminded the graduates that their college experience prepared them to understand and to lead in the post-pandemic world. 
"It's important to recall our successes and use the future as a platform to be more engaged and involved. As we continue to progress toward normalcy, being intentional about engagement is critical. Engaging with your friends and families and loved ones, of course, but also engaging with communities and causes that you can lend your expertise and support to, fulfilling the obligation to give back, to reach a hand out, and help bring up those who come after you," she said. 
Ameen Akbar, Abington Class of 1999 and the keynote speaker, fondly recalled his days at Abington and the impact several faculty and staff had on his life. 
Three students earned the designation of student marshal. Greggory Sywulak, Leah Hess, and Danielle Hur led the processionals into the commencement ceremonies due to their academic achievements. Among the others who were honored: 
Seven students graduated summa cum laude (in the top 2 percent of their graduating class), 12 graduated magna cum laude (in the top 4%), and 16 cum laude (top 6%. 

Two students, Megan Sullivan and Sywulak, also became graduates of the Schreyer Honors College at Penn State, which is widely recognized as one of the foremost undergraduate honors programs in the United States, and they received Schreyer Scholars Medals. 

Five students earned dual degrees: Erica Denshuick, criminal justice and rehabilitation and human services; Yihang Liu, business and information sciences and technology; Ty Morris, psychological and social sciences and criminal justice; Tony Nguyen, art and information sciences and technology; and Caitlin Wert, English and accounting. 
See the videos of the Abington morning ceremony here and the afternoon ceremony here. Go to Penn State Abington Facebook and Instagram for more images from Spring 2022 commencement.
About Penn State Abington 
Penn State Abington provides an affordable, accessible, and high-impact education resulting in the success of a diverse student body. It is committed to student success through innovative approaches to 21st-century public higher education within a world-class research university. With more than 3,000 students, Penn State Abington is a residential campus that offers baccalaureate degrees in 23 majors, undergraduate research, the Schreyer honors program, NCAA Division III athletics and more.