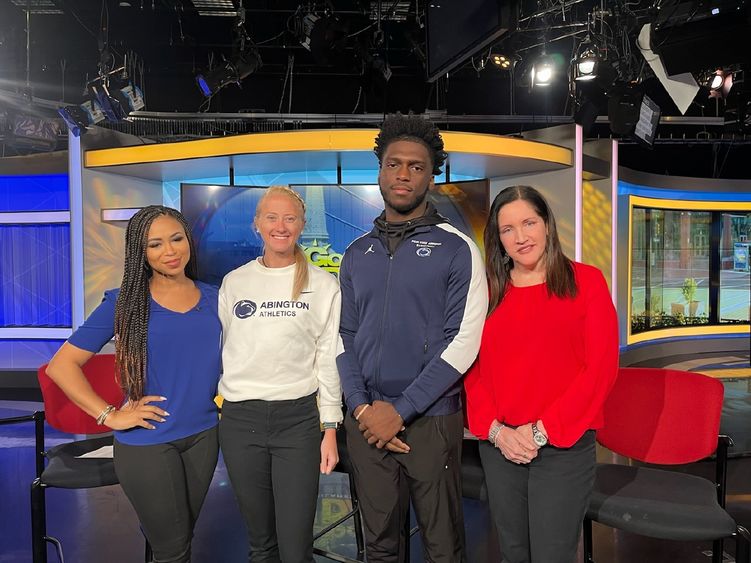 ABINGTON, Pa. — In the wake of a spate of suicides nationally among college athletes, two Penn State Abington student athletes and the director of the campus's Counseling and Psychological Services (CAPS) discussed mental health on Fox 29's Good Day Philadelphia with reporter Alex Holley.
Seniors MaryKate Smith and Mohamed Mansaray were accompanied by Karen Gould, one of the licensed psychologists at Abington. 
Smith, a four-year softball and soccer player and CAPS peer counselor, spoke about the demands athletics places on youth in American culture and how it intensifies as they get older.
"The pressure has always been with student athletes since we were young. Add in the college stressors ... the higher intensity of play, the level of competition, dealing with academics, and dealing with your future career," she said. 
For Mansaray, a four-year basketball player and team captain, his father's death in 2020 brought him to a difficult point in life.
"I was kind of lost, and you are still expected to perform and be in school. But I have a good family structure being from West Africa, and good teammates and resources at school like CAPS, which was very beneficial," he said. 
Gould, the founding director of CAPS at Abington, outlined the many services available to students facing challenges including individual and group therapy with licensed counselors and the recent addition of the peer counseling program.
"We really believe the peer counseling will be paramount in terms of having students connect with each another and relate to one another. We are continuing to grow it," she said.
About Penn State Abington
Penn State Abington provides an affordable, accessible and high-impact education resulting in the success of a diverse student body. It is committed to student success through innovative approaches to 21st-century public higher education within a world-class research university. With more than 3,000 students, Penn State Abington is a residential campus that offers baccalaureate degrees in 23 majors, undergraduate research, the Schreyer honors program, NCAA Division III athletics and more.