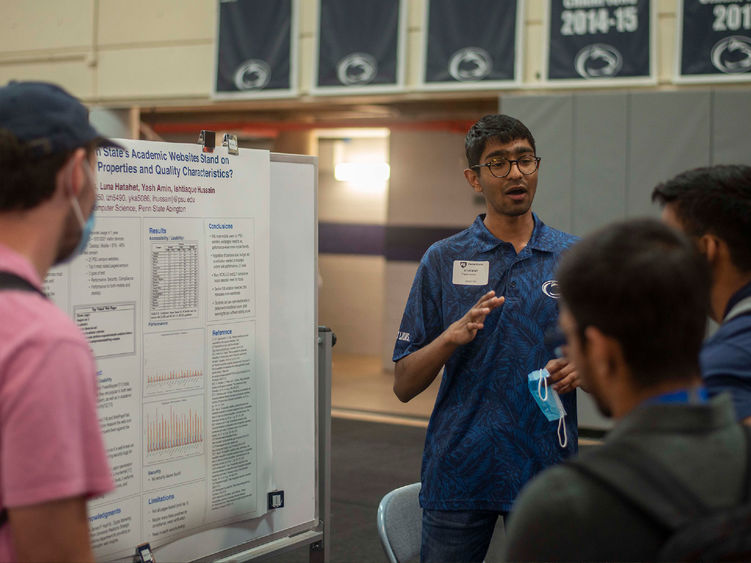 ABINGTON, Pa. — Thirty-five Penn State Abington students exhibited their findings this week from yearlong — or longer — research projects at the first in-person poster fair since the start of the pandemic. The annual Abington College Undergraduate Research Activities (ACURA) event showcased ventures developed with faculty mentors and included a maker fair. The projects may be viewed online. 
The purpose of undergraduate research is to develop critical thinking and creativity in Abington student scholars. ACURA provides up to three semesters of collaboration between faculty and students so they can explore their interests through scientific experimentation, inquiry-based research or creative works. Students earn credit for ACURA and participate in the annual research competition. The format of the fair provides students with an opportunity to hone sought-after professional presentation skills. 
Ann Schmiedekamp, professor of physics and ACURA coordinator, announced the 2022 winners, who were chosen by a panel of faculty judges representing the three academic divisions at Abington. 
Division of Arts and Humanities 
First place: What's in a Recipe? The Barclay Manuscript by Saranya Ananth, Kathryn Brodeur, Fabiana Cajamarca, Leah Davis and Emily Lang. Faculty advisers: Marissa Nicosia, associate professor of Renaissance literature; Christina Riehman-Murphy, open and affordable educational resources librarian; and Heather Froehlich, literary informatics librarian, Penn State University Libraries. 
Division of Science and Engineering 
Division of Social Sciences 
The University Libraries judging team honored these projects for excellence in information literacy:
Division of Arts and Humanities
Beating Writer's Block: How to Write a Story Based on Real Life by Samhita Chitturi. Faculty advisor: Linda Miller, distinguished professor of English.
Division of Science and Engineering
Defects Detection and Classification on Metallic Surfaces by Kseniia Gromova and Youxin Zhuo. Faculty advisor: Vinayak Elangovan,assistant professor of information sciences and technology and computer science.
Division of Social Sciences
Autistic Traits, Alexithymia and Facial Emotion Recognition of Human and Anime Faces by Bridger Standiford. Faculty advisor: Kevin Hsu, assistant professor of clinical psychology. 
About Penn State Abington 
Penn State Abington provides an affordable, accessible and high-impact education resulting in the success of a diverse student body. It is committed to student success through innovative approaches to 21st-century public higher education within a world-class research university. With more than 3,000 students, Penn State Abington is a residential campus that offers baccalaureate degrees in 23 majors, undergraduate research, the Schreyer honors program, NCAA Division III athletics and more.