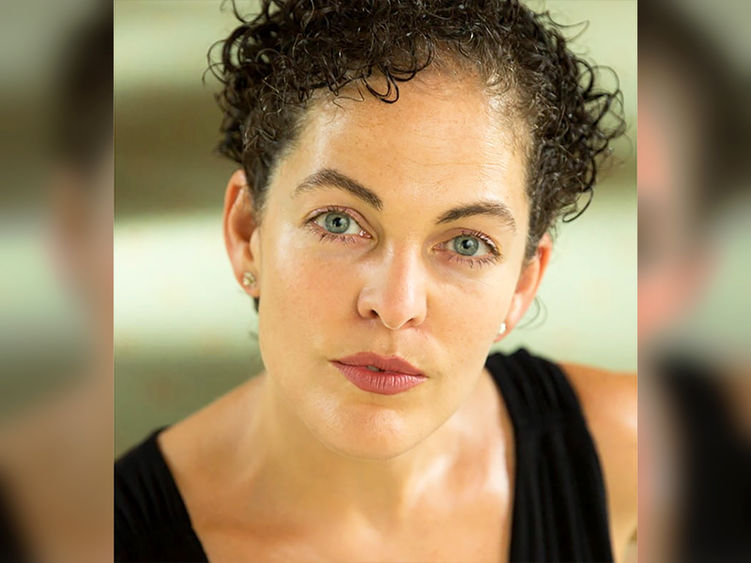 ABINGTON, Pa. — Shara McCallum, the Penn State Laureate and Edwin Earle Sparks Professor of English, visited Penn State Abington this week, sharing her creative process and reading from and providing insights into her latest book of poetry, "No Ruined Stone."  
McCallum described herself as a "poet masquerading as a novelist" while writing "No Ruined Stone." The book is a novel-in-verse that offers a speculative account of a segment from the life of famous Scottish poet Robert Burns and his imagined Jamaican granddaughter through a chorus of intergenerational voices. 
Born in Jamaica to a Black father and Venezuelan mother, McCallum has found herself navigating the world in ways like Burns' fictional granddaughter. In 2015, she traveled to Scotland to research the book. There, she interacted with people holding an idealized version of Burns, best known for his poem, "Auld Lang Syne."  
"There is a difference between the ideals we hold and our lived experiences," she told the audience gathered in Lubert Commons in the Lares Building.  
"I wrote this as a historical novel. The historical record is full of omissions, which are harmful to me and people like me. Creative writers have no restrictions, and at the end of the day, I hope it feels real," she said. 
McCallum discussed a character in the book, Isabella, who passed for white when she arrived in Scotland and how it relates to her own life. 
"I'm fierce about claiming my Blackness. I was asked to pass for white when I got here. People challenge my Blackness," she said.  
Finally, McCallum offered a peak into her creative process. 
"Silence is the most important for me. I write in spurts at the crack of dawn. I try to write when I'm not pressured. Remember: silence, read, write, repeat," she said, before offering to meet with a student after the event to address a specific question about writing. 
McCallum has authored six books, and her poems and essays have been published in journals, anthologies and textbooks throughout the United States, the Caribbean, Latin America, Europe and Israel. 
She received the prestigious silver Musgrave Medal from the Institute of Jamaica, which honors Jamaicans who demonstrate excellence in the fields of literature, the arts and science. She also is the recipient of the OCM Bocas Prize for Caribbean Literature for her book "Madwoman"; a Witter Bynner Fellowship from the Library of Congress; a poetry fellowship from the National Endowment for the Arts; the Oran Robert Perry Burke Award for Nonfiction; and the Agnes Lynch Starrett Prize for her first book, "The Water Between Us." 
The Penn State Laureate is a full-time faculty member in the arts or humanities who is assigned half time for one academic year to bring greater visibility to the arts, humanities and the University, as well as to their own work. 
About Penn State Abington 
Penn State Abington provides an affordable, accessible and high-impact education resulting in the success of a diverse student body. It is committed to student success through innovative approaches to 21st-century public higher education within a world-class research university. With more than 3,000 students, Penn State Abington is a residential campus that offers baccalaureate degrees in 23 majors, undergraduate research, the Schreyer honors program, NCAA Division III athletics and more.