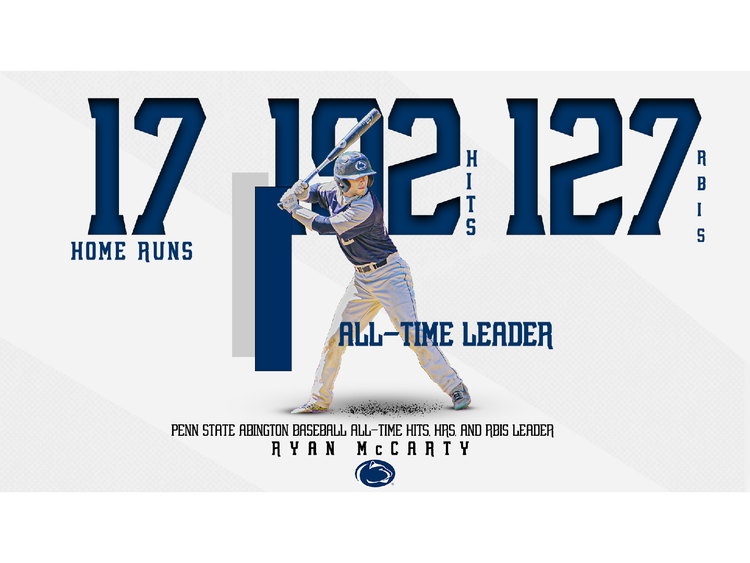 GREENSBORO, N.C. — The Penn State Abington baseball team set school records for runs and hits in a game while senior Ryan McCarty posted a memorable weekend in a 36-9 win over host Guilford College.
The Nittany Lions took both games against the Quakers and notched 62 runs and 55 hits across 18 innings. The 36 runs and 32 hits on Sunday shattered previous school marks of 28 runs and 25 hits.
McCarty, a corporate communication major, had another multiple home run, four-run, four-RBI performance while going 3-for-5. He was 7-for-12 (.583) with a double, four home runs, eight runs scored and eight RBIs in the two games. Over the weekend, he broke three Abington career records, setting new marks in hits (192), RBIs (127) and home runs (17). McCarty already owns the all-time records for runs scored (141) and doubles (51), and his current career batting average of .402 is tops as well.
Sean Doherty started off things for the Nittany Lions in the top of the first, hitting a single to drive in McCarty, who had walked. Jaden Himmelreich followed up Doherty with a three-run double for a 4-0 lead.
 
Guilford scored two runs in the bottom of the first, but the Nittany Lions continued their hot streak by scoring six runs in the second and nine more in the third for a 19-2 lead. Montana Milward had the big hit in the second with a two-run single. McCarty and Anthony Bencardino hit back-to-back solo shots at the start of the third, with McCarty taking another at the end of the inning. Himmelreich added a two-run single, and Chase Swain had a bases-clearing double.
 
Abington added a run in the fourth and then six more in the sixth as Josh Baar came off the bench and blasted a three-run home run. Milward hit a three-run shot in the seventh, and Eric Rollins went deep for a two-run homer in the ninth.
 
Himmelreich and Milward tied single-game marks by knocking in six runs apiece. Himmelreich was 3-for-4 and scored four times while Milward went 4-for-6 and crossed home plate three times. Baar was 3-for-4 with three RBIs while Doherty, Swain and Christian Reyes had three hits apiece. In total, 15 players notched at least one hit on the afternoon. Greg Wiley went five innings and earned his first collegiate win.
The wins over Guilford marked the debut of Abington head coach David Miller, a former Major League Baseball player.
About Penn State Abington
Penn State Abington provides an affordable, accessible and high-impact education resulting in the success of a diverse student body. It is committed to student success through innovative approaches to 21st-century public higher education within a world-class research university. With about 3,700 students, Penn State Abington is a residential campus that offers baccalaureate degrees in 23 majors, undergraduate research, the Schreyer honors program, NCAA Division III athletics and more.