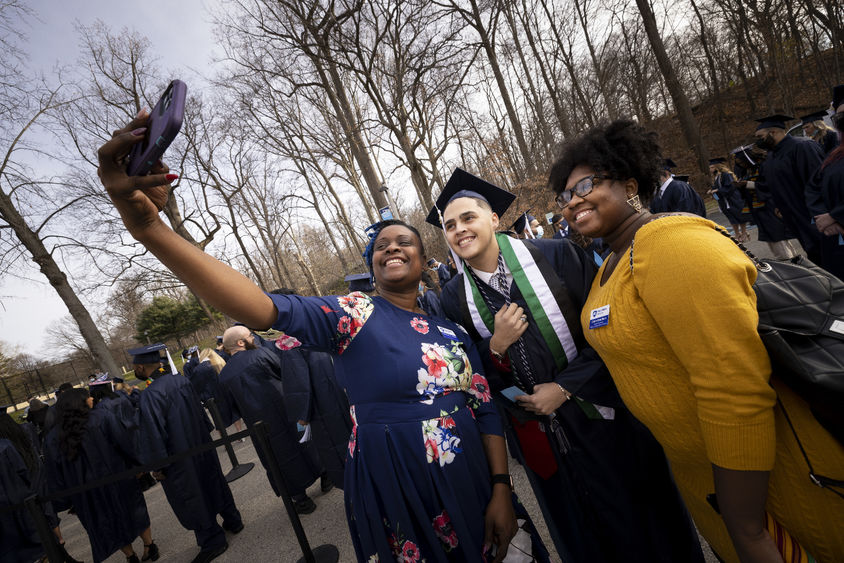 ABINGTON, Pa. — More than 200 graduates were awarded bachelor's degrees during the summer/fall 2021 commencement at Penn State Abington on Dec. 17.  
Chancellor Margo DelliCarpini capped off her first full year leading the campus by hosting the ceremony, which was held in the campus Athletic Building,  
"You give me faith in the future, one that has been fundamentally changed from when you started on the path to your degree. … I am confident that Penn State Abington has prepared you to apply your knowledge and skills to a world that needs your creative thinking and fresh energy to make change and address the grand challenges and opportunities that exist," she said. 
"My hope for you as you leave Abington College is that you hold close our shared core values: inclusiveness, academic excellence, and community engagement. These values have prepared you to be an engaged and critical thinker and to create space at the table for diverse opinions and thoughts and develop better solutions to challenges. Our diversity strengthens us," she continued.
"You understand the importance of community, the power of partnership and collective impact, and the obligation to give back, to reach a hand out, and help bring up those who come after you," she said.    
"Today represents the beginning of your bright futures, of the start of the next exciting and fulfilling stage of your lives, of your ability to go out and make a difference," she concluded. 
Carly Martinson, who earned her degree in accounting, was named the summer/fall 2021 student marshal in honor of her academic achievements. Martinson served two high-profile internships during the pandemic, and she has secured a position as an associate at PwC, the multinational audit and assurance, consulting and tax service provider. 
State Rep. Benjamin V. Sanchez, 153rd Legislative District, presented the Pennsylvania Legislative Award Citation to new graduate John Mitchell. The history major was nominated by faculty for the prestigious accolade.   
Mitchell was lauded for academic excellence and community involvement as well as for mentoring other students.
One nominator said: "John can be consistently seen facilitating conversations between students and working towards progressive causes, particularly with regard to diversity and equity on campus as well as the Abington community at large. John is a proactive citizen who is worthy of such a humbling award." 
About Penn State Abington  
Penn State Abington provides an affordable, accessible and high-impact education resulting in the success of a diverse student body. It is committed to student success through innovative approaches to 21st-century public higher education within a world-class research university. With about 3,700 students, Penn State Abington is a residential campus that offers baccalaureate degrees in 23 majors, undergraduate research, the Schreyer honors program, NCAA Division III athletics and more.