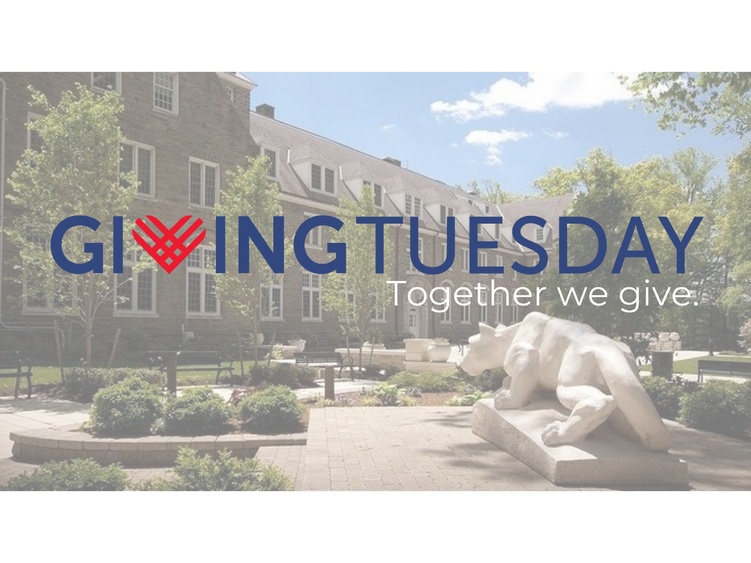 This GivingTuesday, Nov. 30, alumni and friends are invited to make a gift to support Penn State Abington's three priorities: scholarships, athletics, and the library's Open Educational Resources initiative. The sites are open now through midnight on Nov. 30. The global day of giving is held annually on the Tuesday after Thanksgiving to facilitate philanthropy during the holiday season.  
Support for the Abington General Scholarship Fund is used to award scholarships to students who qualify for financial aid. Gifts of all sizes to this fund are pooled and awarded as scholarships by the office of financial aid staff. 
While each Abington student's story is different, the average financial gap exceeds $8,000 a year. By providing scholarship funds, we can reduce the barriers to earning a Penn State degree. The financial support students receive from the Penn State community instills a greater sense of belonging — and motivation — for students to cross the finish line and earn their degrees. 
"Making a gift to the Abington General Scholarship fund allows donors to contribute to a common fund from which substantial scholarships are awarded to academically strong students with financial need. Together, our gifts transform students' lives," Karen Weiss Jones, director of development at Abington, said. 
Abington student-athletes perform at the highest levels both in the classroom and in their respective sports. Your gift to the Penn State Abington Athletics Fund will be used to: 
purchase updated equipment 

support the purchase of premium apparel  

help with facility upgrades 
Abington became a NCAA Division III member in the 2012-13 academic year. The campus is home to thirteen varsity sports: women's basketball, cross country, lacrosse, softball, soccer, tennis, and volleyball; and men's baseball, basketball, cross country, golf, soccer, and tennis. 
Librarians at Abington have been working with faculty to create more open (no cost) digital and interactive textbooks. In just three years, Abington's open education resources program has saved students an estimated $90,000 in textbook costs. This directly reduces the financial burden on students.  
For Penn State Graduates of the Last Decade — our GOLD alumni — there is a way to make your  GivingTuesday gift go twice as far. Any gift made by a GOLD Penn Stater to a GivingTuesday campaign will be matched 1:1 by the University, up to $100. Our GOLD alumni include anyone who has received a Penn State degree in the last ten years (2012 – 2021). 
Matching dollars will be awarded after GivingTuesday concludes and donors' graduation years are verified.  
Any alumni who make their first gift of at least $25 to the University to a GivingTuesday campaign will have their contribution boosted with an additional $25 from the Peter Weiler Family Endowment in Advancement and Philanthropy. 
The sites for GivingTuesday donations are open now and will remain so until midnight on Nov. 30. 
Gifts made on GivingTuesday 2021 will advance "A Greater Penn State for 21st Century Excellence," a focused campaign that seeks to elevate Penn State's position as a leading public university in a world defined by rapid change and global connections. With the support of alumni and friends, "A Greater Penn State" seeks to fulfill the three key imperatives of a 21st-century public university: keeping the doors to higher education open to hard-working students regardless of financial well-being; creating transformative experiences that go beyond the classroom; and impacting the world by serving communities and fueling discovery, innovation and entrepreneurship. To learn more, visit greaterpennstate.psu.edu. 
About Penn State Abington 
Penn State Abington provides an affordable, accessible and high-impact education resulting in the success of a diverse student body. It is committed to student success through innovative approaches to 21st-century public higher education within a world-class research university. With about 3,700 students, Penn State Abington is a residential campus that offers baccalaureate degrees in 23 majors, undergraduate research, the Schreyer honors program, NCAA Division III athletics and more.