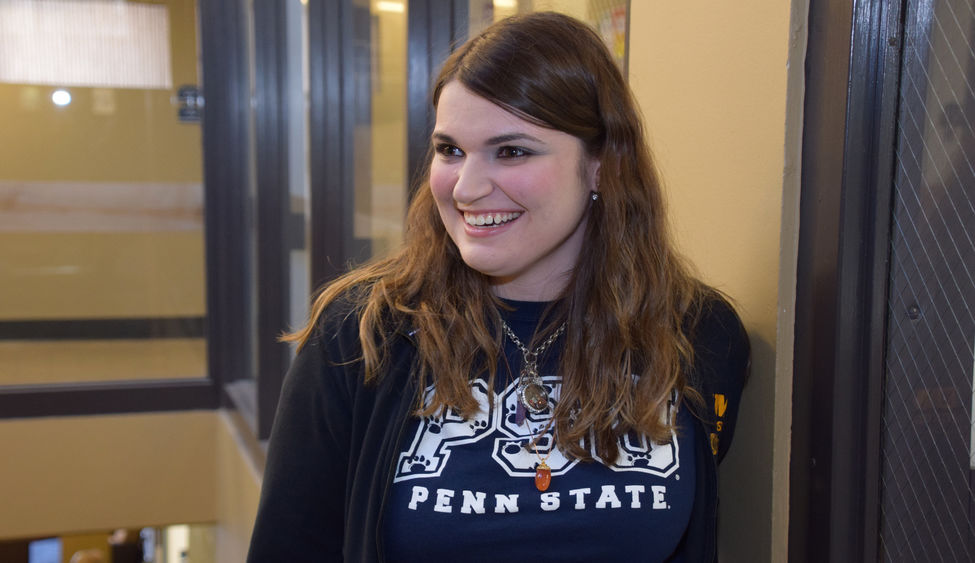 ABINGTON, Pa. — Amy Pertuset secured her first professional position at one of the most well-known companies in the world, The Walt Disney Co., right after graduating from Penn State Abington in 2016.  
She completed her information sciences and technology (IST) degree and moved to Connecticut to work at Disney's ESPN as a WatchESPN livestreaming technology and operations analyst.  
"I monitored the technical operations of WatchESPN for both domestic and international video streams, and I had to understand user metrics to determine if there are any problems with streams that are available on WatchESPN," she said. 
Pertuset returned to the Philadelphia region two years ago after she was offered a job as a broadcast systems specialist for another Disney property, Philadelphia television station 6ABC-WPVI.  
"The producers, the editors, and the IT team all have a common goal, which is to put a quality product on the air. We need to be able to get things up and running in seconds," she said. 
Pertuset is the only woman on her IT team, which is comprised of a slightly more than a dozen people, but she is used to working in a male-dominated field.  
"I don't find it intimidating, and I don't feel I am treated differently. I feel as though my gender never dictates how my projects work or how I interact with my teammates and co-workers. I have plenty of opportunities to showcase my technical knowledge and skills," she said. 
Pertuset keeps a busy schedule, having earned a master's degree in data analytics from Penn State World Campus. She is in the process of completing a second master's degree in project management, also through World Campus. 
"Having a Penn State degree and a tech degree with diverse background means you are prepared to work anywhere."

—Amy Pertuset
As an Abington student, Pertuset was a member of the Community Outreach Workers and Lion Ambassadors. She recommends getting involved on campus, specifically because of the impact it can have on your career.  
"My first boss said he looked at extracurriculars to see how I would function in a fast-paced environment. It showed I had the ability to balance a lot," she said. "Belonging to these organizations helped me get more comfortable with public speaking, and they are a form of networking." 
Pertuset's internship at an IT consulting company added dimension to her skills set.   
"I worked on the hardware side for desktop and server systems, virus removal, and remote support for clients with issues connecting on their network, ensuring their systems are secure," she said. "I got used to the front end of customer service and did site visits there, too. I started at ESPN knowing what I was capable of, and it enabled me to move to another position there." 
She added another layer to her academic experience with study abroad, traveling to China for 10 days with other Abington students and faculty for a course with a required international travel component.  
"We worked with students at a Chinese university to set up a network simulation," she said. "It opened my eyes to a different culture and made me realize that the world is even bigger than it seems." 
Pertuset praised the diverse and demanding nature of the IST program. 
"The IST major is very immersive and applies new technologies so you are learning what is current in the industry. We worked on team projects, which gives a great representation of what it's like out in the world," she said. "There are a lot of different job opportunities are out there. I work in broadcasting with a tech background so it shows you don't have to just work in a tech company. There are so many different routes you can take. Having a Penn State degree and a tech degree with a diverse background means you are prepared to work anywhere. I have pretty wide and diverse options."
About Penn State Abington
Penn State Abington provides an affordable, accessible and high-impact education resulting in the success of a diverse student body. It is committed to student success through innovative approaches to 21st-century public higher education within a world-class research university. With about 3,700 students, Penn State Abington is a residential campus that offers baccalaureate degrees in 23 majors, undergraduate research, the Schreyer honors program, NCAA Division III athletics and more.