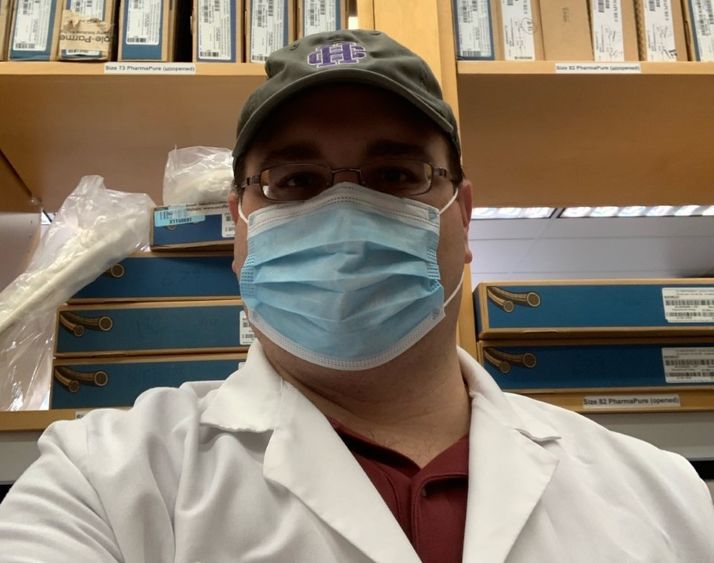 ABINGTON, Pa. — Toma Lazar started his undergraduate career as a biology major but switched to computer science. He then earned a second bachelor's degree in philosophy as well as a master's degree in business and one in information science.
Lazar worked in the technology sector for a few years. Feeling dissatisfied with IT, he decided in the fall of 2019 to pursue his first passion — science. On May 7 he will graduate from Penn State Abington with a degree in biology with the genetics and developmental biology option. He boasts a 4.0 grade-point average.
"I'm really happy about how this has turned out. People say they've never seen me so happy," he said.
Lazar recently completed a nine-month paid co-op experience in gene therapy, which is the genetic modification of cells to treat diseases by repairing or reconstructing defective genetic material. The co-op, which was full-time, affirmed his interest in pursuing a research career in the pharmaceutical industry.
He worked in Baltimore for Catalent Pharma Solutions, which he initially connected with at the semiannual Career Expo presented by Abington's Career and Professional Development.
Lazar was a downstream process development co-op. Downstream process development is the concentration and purification of biological materials used to make pharmaceuticals. He worked on projects that targeted a variety of diseases including cystic fibrosis, cancer, meningitis, and metachromatic leukodystrophy, or MLD.
"It was special to apply what I learned in classroom, and at the co-op I learned the difference between the academic setting and the real world."

—Toma Lazar, Penn State Abington senior
He worked with professional scientists, often pulling 12- and 14-hour days in the lab with them.
"There were a bunch of different teams working with different projects. It was interesting working with professionals. They were pretty committed to teaching me so I could learn the skills and processes," he said. "It helped that I had a basis for lab work already."
Lazar also was able to experience a real world part of the professional environment that most students don't see in the classroom or a college lab: client meetings.
"We met with clients and put together presentations to show the clients the results. You share with the client that you did a certain process," he said.
"It was special to apply what I learned in classroom, and at the co-op I learned the difference between the academic setting and the real world. We asked questions like: 'Why did we get the results we got? Is this actually the best result we can expect?'" Lazar said.
After spending years in college, Lazar encourages adult students to take the first steps in returning to school.
"It becomes very rewarding to put yourself out there. It is a risk, but you're not going to reap the benefit if you don't try," he said.
About Penn State Abington
Penn State Abington provides an affordable, accessible and high-impact education resulting in the success of a diverse student body. It is committed to student success through innovative approaches to 21st-century public higher education within a world-class research university. With about 3,700 students, Penn State Abington is a residential campus that offers baccalaureate degrees in 23 majors, undergraduate research, the Schreyer honors program, NCAA Division III athletics, and more.