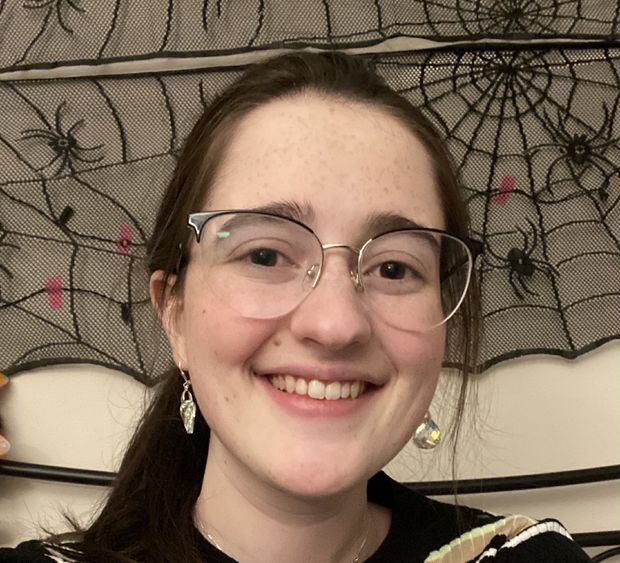 ABINGTON, Pa. — Penn State Abington senior Ariel Hooks' undergraduate career is peppered with accomplishments. She is a Schreyer Honors College scholar, a double major in history and English, and at the May 7 commencement will graduate one year early with highest distinction.
Hooks is president of both the Abington Review, the campus literary and arts magazine, and the Abington chapter of Sigma Tau Delta, the international English honor society. For the past two years, she has also worked 10 hours a week on campus at the Center for Student Achievement as a writing tutor.
"I've always had the expectation from myself to be a good student. I really like a challenge. I hope to apply that same tenacity to grad school," she said.
Hooks is the 2021 recipient of the Thomas R. and Eileen Walton Smith Award for Achievement in the Arts and Humanities for her honors thesis "I Didn't Mean To Get You All Riled Up, or The Gruesome Tale of Buster Malone: Pikachu's Last Survival."
A compilation of short stories about Generation Z's fascination for nostalgia, "Buster Malone" was hailed by the Smith Award judging committee as "polished, relevant, innovative, and thought-provoking, ushering in nuanced approaches to traditional genres in ways that are relatable to the current generation of students at Abington and beyond."
Many of these stories discuss, either overtly or subtly, issues of gender, sexuality, stereotypes and mental health in order to navigate modern society's perception of such topics.
"Buster Malone is this faceless person who asks us to think really deeply about societal issues that come up in each story," Hooks said.
"I wanted to be creative with my thesis because it reflects me. I don't think I would have been able to complete my thesis anywhere besides Penn State Abington. The professors and the Abington Review helped me hone my writing, and I always felt supported," she said.
"I'm grateful to have gone to a school where I could build close relationships with professors and other students."

— Ariel Hooks, senior at Penn State Abington
Hooks said she is thankful to the donors who established the Smith award. "They recognized the power and influence that the arts and humanities have on young minds. It's important work," she said.
Hooks cites Liliana Naydan, associate professor of English and American Studies, and Hooks' thesis adviser, as a mentor.
"Dr. Naydan got me thinking about literature in ways that I hadn't thought of before. She introduced me to some of my favorite authors," Hooks said.
Hooks calls her time at Abington "a happy accident."
"I'm grateful to have gone to a school where I could build close relationships with professors and other students. Having a wide range of courses to choose from was good for me, too. I really love Penn State Abington," she said.
This fall Hooks plans to attend law school, ultimately focusing on the entertainment industry.
About Penn State Abington
Penn State Abington provides an affordable, accessible and high-impact education resulting in the success of a diverse student body. It is committed to student success through innovative approaches to 21st-century public higher education within a world-class research university. With about 3,700 students, Penn State Abington is a residential campus that offers baccalaureate degrees in 23 majors, undergraduate research, the Schreyer honors program, NCAA Division III athletics, and more.