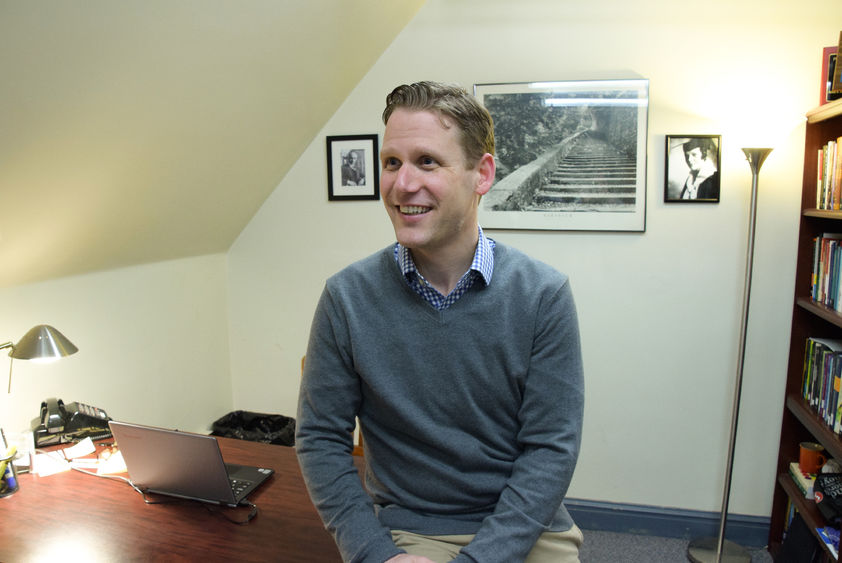 ABINGTON, Pa. — The Penn State Abington community lost the beloved Ross Brinkert, associate professor of corporate communication, last summer to an aggressive form of brain cancer. After the initial grief, thoughts turned to honoring the man who made such an outsized impact on students.
Brinkert's colleagues in the corporate communication program and Office of Global Programs have launched a crowdfunding campaign, which runs through April 30, to raise $20,000 to create a permanent fund in his memory, the Dr. Ross Brinkert International Travel Award, to provide financial support for Abington students who want to study abroad.
Brinkert believed in the value of study abroad through programs such as Abington's embedded study, which links short-term international travel to a specific course. He helped to develop embedded programs at Abington by building relationships with overseas partners and opening doors for corporate engagement.
Tina Vance Knight, director of Career and Professional Development at Abington, accompanied Brinkert and a group of students on one such program.
"I witnessed Ross' care and desire to see students grow, learn, and develop global skills and competencies when we traveled with a group of students to Japan in 2018. Ross designed a program that was thoughtful, strategic and very impactful — it was truly a life-changing experience for all of us," she said.
Brinkert believed that the opportunity to study abroad should be more affordable and would give students the confidence to succeed both inside and outside the classroom. He championed embedded travel programs because he believed they enhanced the college experience and gave students a real-world perspective.
"Dr. Brinkert believed that there were lessons to be learned outside the four walls of the classroom, not only in our community but also by traveling," Claire Stephans, a former student, said.
Angela Jeon-Huh, director of global programs at Penn State Abington, said international travel and engagement are critical especially when students are preparing to work in the global marketplace.
"Having an international education experience is part of a comprehensive education. It allows our students to reflect and have a self-awareness of their identity and who they really want to become," she said. "By challenging boundaries, you grow. You become more aware of your strengths and weaknesses, and you become a stronger person."
Financial concerns are often the primary obstacle for students interested in studying abroad, and the number of students applying for scholarships increases each year. By embedding travel experiences in academic coursework, the cost of travel is reduced, making international education more affordable for Abington students.
Gifts from alumni, friends, faculty, staff and students to the Dr. Ross Brinkert International Student Travel Award will collectively support the campus community's global engagement vision for students at Penn State Abington, a vision that opens doors to life-changing opportunities and cultivates conscientious global citizens.
Learn more about Ross Brinkert here.
Those interested in making a gift to the Dr. Ross Brinkert International Travel Award can find more information here.
About Penn State Abington
Penn State Abington provides an affordable, accessible and high-impact education resulting in the success of a diverse student body. It is committed to student success through innovative approaches to 21st-century public higher education within a world-class research university. With nearly 3,500 students, Penn State Abington is a residential campus that offers baccalaureate degrees in 23 majors, undergraduate research, the Schreyer Honors College, NCAA Division III athletics and more.