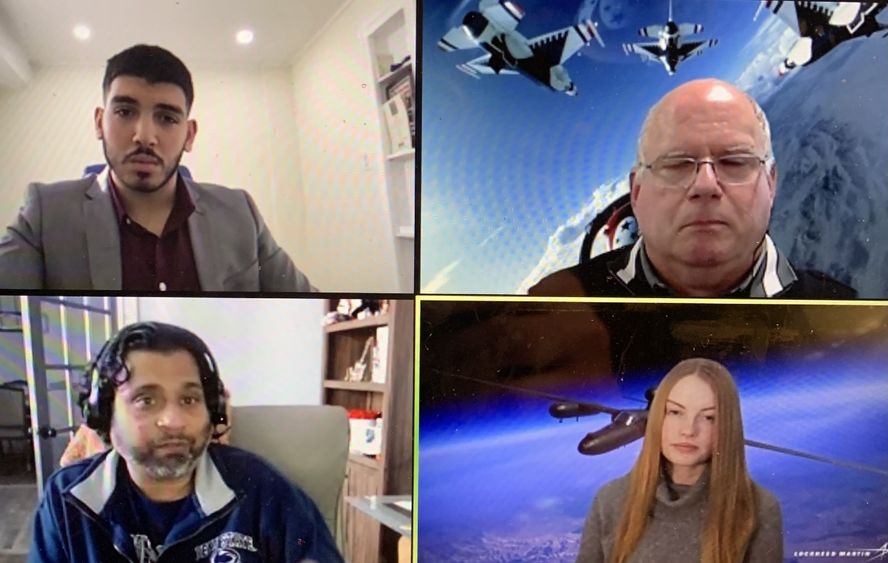 The pandemic hasn't thwarted the Penn State Abington Center for Career and Professional Development (CPD) in their mission of preparing students for their careers. Almost a year into the crisis, CPD continues to leverage virtual meeting technology to present events and one-on-one trainings to support students.
One of the latest CPD programs focused on developing networks and disseminating career advice to engineering majors during a panel discussion featuring three Penn State engineering alumni.
"Students gain so much from interactions with our alumni on career panels. It encourages students to work with us to develop networks for jobs within their majors," Amanda Mallon, assistant director and internship counselor in CPD, said.
The first hour of the event consisted of the panelists sharing their backgrounds and answering questions posed by the president of the campus's Engineering Club, Mohamed Elsayed. During the second segment, students rotated through breakout rooms to spend time with each of the professional engineers.
The panel was comprised of three engineers who are working in various industries and who are at different stages of their careers.
Emily Nix is employed by the global security and aerospace company Lockheed Martin in its Engineering Leadership Development Program. Nix, a 2019 graduate, told the students that her passion for the field dates back to high school where she loved math, science, and problem solving.
"I realized that engineering would be a good career path. I could interact with different people and still make a difference," she said.
Nix encouraged the group to get involved in campus activities.
"I joined many clubs and took on leadership roles and built my communications skills. It makes you more well rounded," she said.
Nix recommended researching a company before a job interview and narrowing your focus to an industry you are passionate about.
"I get to collaborate with a lot of different people, and that's the cool part of being an engineer," she said.
William Riehl, whose degrees are in civil and railroad engineering, is vice president of structures for Genesee Wyoming Railroad Services. He encouraged students to build their resumes by maintaining high GPAs.
"It demonstrates that you put in an effort in your major and that you are dedicated to your work," he said.
Once employed, Riehl reminded them to work to the best of their abilities and put in the hours to show they are willing to go an extra step.
"Show your employers that you are not only working to get a paycheck, but to gain experience as well and that will make you an even more valuable employee," he said.
He reminded them to "work their networks" and seek out student chapters of professional organizations.
"Poke around on their websites, reach out to members, pair up with a mentor, and that will lead you to other people in the network," he said.
Mark Singh, a software engineer for NSM Insurance Group, searched for a field at Abington that included math and complemented his love of playing computer games. His interests went hand in hand with the Information Sciences and Technology major.
"Get comfortable talking to people. It is important to communicate with co-workers," he said.
He advised CPD as a first stop to find a mentor, and CPD's Mallon recommended LionLink, a portal where students can search for Penn State mentors by career field.
Check out the latest events from the Abington Center for Career and Professional Development on Engage.
About Penn State Abington
Penn State Abington provides an affordable, accessible and high-impact education resulting in the success of a diverse student body. It is committed to student success through innovative approaches to 21st-century public higher education within a world-class research university. With nearly 3,500 students, Penn State Abington is a residential campus that offers baccalaureate degrees in 22 majors, undergraduate research, the Schreyer Honors College, NCAA Division III athletics, and more.