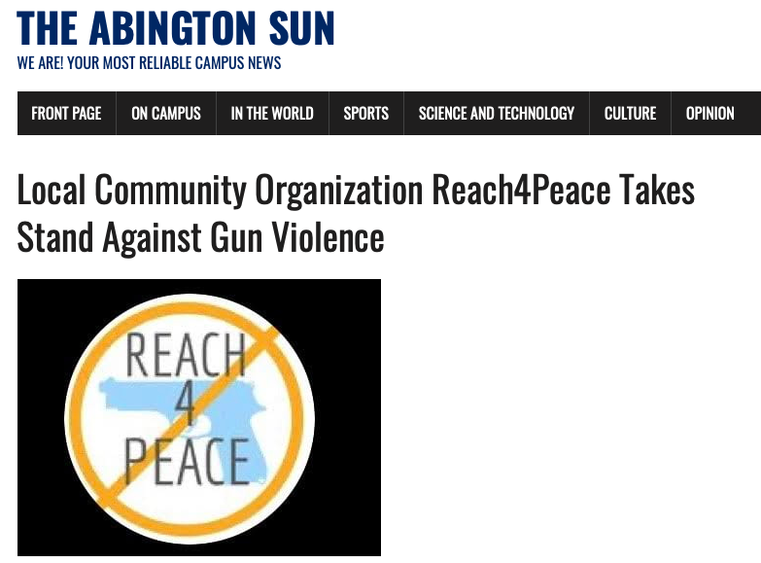 ABINGTON, Pa. — Penn State Abington student journalists recently launched The Abington Sun, a news site that examines issues from on campus and around the world and hosts sections devoted to sports, culture, science and technology, and opinion.
Writing is developed through ENGL 215/415, although any student is welcome to submit pieces for consideration. There are a more than a dozen students contributing content this semester, according to Stephen Cohen, the lecturer in English who teaches the course.
"Everyone writes, researches, and produces content, and editors apply for those positions. Students will edit videos and photos once COVID is over. They are also doing research on current issues such as the politics of impartiality and the ethics of attribution," he said.
"We can't focus on Abington as much right now because of COVID-19 so the scope of the content is wider. They are finding plenty of issues and topics to write about," Cohen said.
The Abington Sun also offers students another opportunity to write, just in a different style than is offered by The Abington Review, the campus literary and arts magazine.
The seeds for The Abington Sun were sown last fall when 18 students enrolled in the course, which counts toward the writing minor. They researched other student-run digital publications and conceptualized the news site.
"The course is structured so that during the first few weeks we create a code of ethics and talk about the genres of hard news and features. For many it's their first exposure to this type of writing," Cohen said.
"Working on The Abington Sun has been great for rounding out my skills. ... It will be helpful when finding a job and great for my resume."

— John Mitchell, Penn State Abington senior
Senior John Mitchell, a history major with minors in English and writing, serves as one of three editors of The Abington Sun.
"We have pitch meetings on Tuesdays where students present their justification for wanting to write a story. Editors are assigned sections, and Thursdays are spent on content writing and then editing work with the reporters," Mitchell said, with the site generally being updated on Mondays.
"Working on The Abington Sun has been great for rounding out my skills, doing things like accepting or declining pitches for stories. It will be helpful when finding a job and great for my resume," he said.
Sophomore Michael Quinn is a sports journalist for The Abington Sun. He is enrolled in the 2+2 program, spending his first two years at Abington before transferring to University Park for the journalism major. He started out writing for The Abington Sun last semester and now edits as well.
"We have a really good news site, and we produce good content. There are a lot of different sections, and people love writing about different topics," he said.
Cohen said they are slowly ramping up efforts to promote the site, and they will ratchet that up each semester.
"The core of this, though, is working with students on a product that they have ownership of and that they have pride in completing. It's something that they own," he said.
"I have big dreams for this," he added. "I'd like to see a sister space housing and archiving digital art projects."
About Penn State Abington
Penn State Abington provides an affordable, accessible and high-impact education resulting in the success of a diverse student body. It is committed to student success through innovative approaches to 21st-century, public higher education within a world-class research university. With nearly 3,500 students, Penn State Abington is a residential campus that offers baccalaureate degrees in 22 majors, undergraduate research, the Schreyer honors program, NCAA Division III athletics, and more.