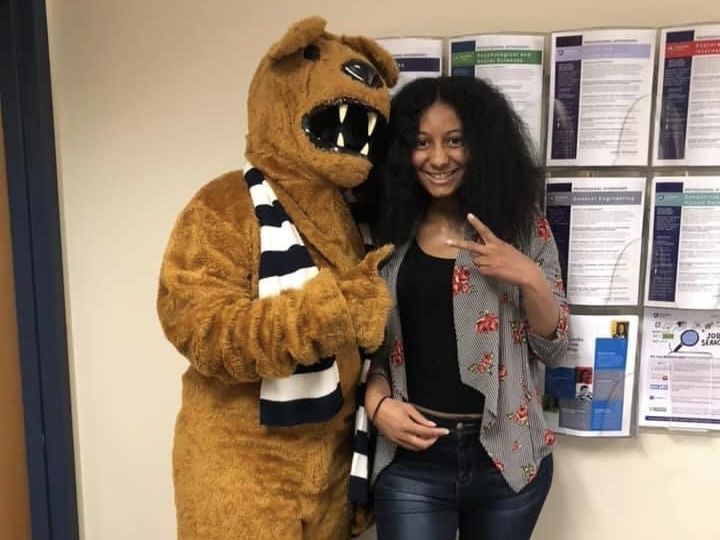 ABINGTON, Pa. — It's difficult to imagine that Kyra Fripps was once considered reserved — even shy — when she first arrived at Penn State Abington. As she prepares to graduate on Dec. 19, a look back at her college career reveals a student who thrived in the classroom and blossomed through the myriad of activities in which she became involved.
"I definitely feel like I've become more confident, and my communications skills have improved. When I started college, I was really scared to even make a phone call. I didn't socialize much. I was shy and didn't really talk. I decided to get involved in different organizations and break out of my shell," she said.
It's more like Fripps shattered her shell. She is a high-achieving student, participates in academic enrichment activities, serves as a student organization leader, and just completed a three-year stint working for the college's Center for Career and Professional Development (CPD).
"I wanted experience in the business realm and to gain more connections so I started as an intern in CPD. I learned more about what the business world was like, and I attribute my success to those connections," the accounting and business health services major said.
According to Tina Vance Knight, director of CPD, Fripps's personal and professional growth has been extraordinary.
"Kyra has served in many forward-facing roles, including being the face of many of our social media videos, serving on the Chancellor's Search Committee, opening many of our virtual webinars and networking events, and representing CPD during countless class visits. Most importantly, she is always the first to raise her hand to help students with resume reviews, career advice, and guidance," Vance Knight said.
"Kyra also expanded her skills set by changing roles several times, moving from an employer engagement assistant to peer career adviser to the lead on our social media and marketing team. She is always willing to take on new challenges, assist her peers, and help to move the CPD office forward," she said.
Through Vance Knight's recommendation, Fripps was selected for the prestigious role of student ambassador to the Chancellor's Search Committee as the college interviewed candidates for its leadership position earlier this year.
"I sat in on the interviews, answered questions, and helped develop questions and decide who moved on in the interview process," Fripps said.
"Look at every day as an interview. Don't just log off from your classes. Find a job, and join a club."

— Penn State Abington senior Kyra Fripps' advice for students
Fripps didn't slow down during her final semester at Abington, taking advantage of an opportunity to participate in a business competition. As part of the team Nittany Consultants, she and three other students claimed second place against competitors from five other universities. They were tasked with solving a real business opportunity for an existing company.
Fripps said the competition taught her the importance of communication, diversity, and marketing.
"Communicating as a team was a key aspect in winning this competition. We could identify each other's strengths and weaknesses and properly allocate responsibilities, decide when and how we wanted to meet as a team, and decide the deadlines we wanted to set for completing the project," she said.
"It was important to be a part of a diverse team not only because each of us were of different ethnicities, genders, and cultures but also because we each had different experiences, talents, and skills that we could bring to the table. Effectively communicating within a diverse team helped us prevail in crafting our own ideas and opinions," Fripps said.
During the fall semester, she also managed social media as the executive assistant to the chief executive officer of the Golden Baton Group, a black-owned business that supports aspiring and emerging leaders.
Fripps also managed to find the time to be active in several student organizations on campus throughout her career at Abington. She was a board member with Sister2Sister, which focuses on improving graduation rates and developing community among women of color. In the past, she was also a member of student organizations such as the Abington Christian Fellowship and the Black Student Union.
One of her commitments over the past three years has been serving as treasurer of the Abington Anime and Gaming Association, which has more than 200 members.
"It's a place for students to destress after a hard week of classes," Fripps said. "It's a really diverse and open and welcoming place to people who are interested in anime and gaming. You can make friends whether you are new or hard core."
As Fripps winds down her career at Abington, she has advice for other students.
"Don't be afraid to connect with other people. Look at every day as an interview, and always be prepared. Make the most of your experience at Abington. Don't just log off from your classes. Find a job and join a club," she said.
About Penn State Abington
Penn State Abington provides an affordable, accessible and high-impact education resulting in the success of a diverse student body. It is committed to student success through innovative approaches to 21st-century public higher education within a world-class research university. With nearly 4,000 students, Penn State Abington is a residential campus that offers baccalaureate degrees in 22 majors, undergraduate research, the Schreyer Honors College, NCAA Division III athletics and more.