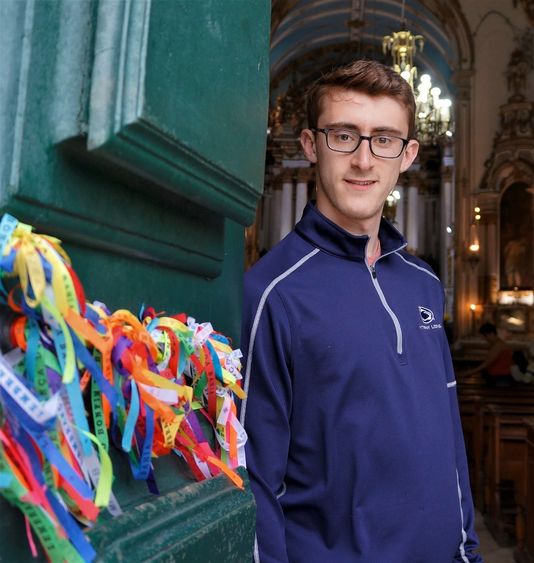 As president of the Penn State Abington Student Government Association (SGA), Elliot Copeland represents more than 3,700 undergraduates to the faculty and administration. He leads an organization that provides support and advocacy, enhances the college experience, and builds a more connected and cohesive community.
Copeland's personal experience as a nontraditional student drove him toward this leadership position.
"I ran on the platform of affordable education including affordable course materials across all campuses," he said.
Copeland knows how critical affordability is at Abington, a campus where many students work while attending school. Thirty-eight percent of Abington students are eligible for federal Pell grants, which are need-based, and 76% receive financial aid.
He first enrolled at Abington in 2016 but found it cost prohibitive. He worked for a few years to save money and then returned to campus.
"I worked as a caterer and as a lifeguard. I also had an internship on a statewide political campaign. It was so much fun, and I got the opportunity to meet people from around the state. A few people I met turned out to be really great mentors," he said. "These experiences helped me with my college career as well."
"At Abington, students are heard at all levels of decision-making."

-- Elliot Copeland, Penn State Abington student Government Association president
Academically, he was a little intimidated about returning to the classroom.
"When I was coming back, I was concerned about being a nontraditional student. There were little things, like 'Could I still write a good essay?' I reached out to Chris Walters, senior coordinator for student success, and he helped me my first semester back. I highly recommend connecting with him," Copeland said.
Now a sophomore, he is a commuter student who exudes confidence in his choices including taking advantage of opportunities to participate in student government. Last year, he was named an inaugural SGA senator.
The purpose of the SGA senate is to ensure that more student voices are heard. They meet biweekly to pass legislation and discuss student-specific topics. Different segments of the community are represented by two senators each:
Lions Gate student apartment residents
Off-campus housing residents
Commuters
International students
In addition, the academic divisions at Abington -- Arts and Humanities, Science and Engineering, and Social Sciences -- are represented by two senators each.
The SGA also includes three standing committees: Governmental Affairs, Academic Affairs, and Student Affairs. Copeland wants students to understand that the SGA is not political.
"It is strictly nonpartisan. We want student voices heard by administration, faculty, and staff. At Abington, students are heard at all levels of decision-making," he said.
Copeland's daily schedule is jam-packed with classes, meetings such as those for the budget committee, and office hours that include fielding questions about items such as the Student Activity Fee.
"My email inbox load has tripled since I was sworn in as president. But it means that the SGA at Abington is communicating with the people it needs to communicate with. It makes me feel good even though it's a little challenging," he said.
As SGA president and with the knowledge he gained as a nontraditional student, Copeland offers advice to Abington students during the pandemic.
"Remember that this is temporary. Everything will return to normal eventually. Stay in touch with friends and family. You can get lonely otherwise," he said. "Our SGA cabinet meets weekly, and we even noticed that if we miss a meeting, we feel disconnected."
"There's only so much you can control, so if you can't control it, learn to accept it," Copeland continued.
He also offers guidance to nontraditional students.
"The professors are incredibly nice at Abington. Coming back has given me a different perspective now that I have work experience. I think it really helped me develop a better understanding of who I am," he said. "Don't be afraid to come back to college. Penn State Abington is such a great, welcoming community."
Connect with Elliot Copeland, the Penn State Abington Student Government Association president: [email protected]
About Penn State Abington
Penn State Abington provides an affordable, accessible and high-impact education resulting in the success of a diverse student body. It is committed to student success through innovative approaches to 21st-century public higher education within a world-class research university. With nearly 4,000 students, Penn State Abington is a residential campus that offers baccalaureate degrees in 22 majors, undergraduate research, the Schreyer Honors College, NCAA Division III athletics and more.