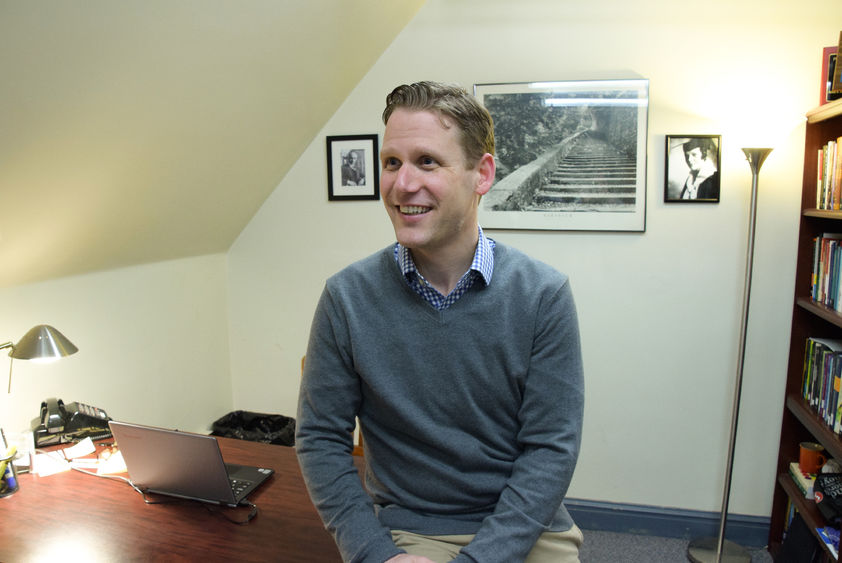 ABINGTON, Pa. — The Penn State Abington community is mourning the passing of Ross Brinkert, associate professor of corporate communication, on Aug. 20. He was 49 years old.
In the words of his friend and colleague Salar Ghahramani, associate professor of business law and international law and policy, Brinkert "was the archetype of grace, integrity, courage, kindness, humility and humanity."
"Ross remained present, purpose driven, and grateful, living every moment deliberately. He never complained of the challenges he faced. Instead, he would say it was all humbling," Ghahramani said. "Simply put, Ross leaves a legacy of beauty, having positively touched so many lives across generations and backgrounds."
Tina Vance Knight, director of Career and Professional Development at Abington, said Brinkert was a mentor and a friend.
"He modeled and exemplified all of the characteristics of an amazing educator. I witnessed Ross's care and desire to see students grow, learn, and develop global skills and competencies when we traveled with a group of students to Japan in 2018. Ross designed a program that was thoughtful, strategic, and very impactful — it was truly a life-changing experience for all of us," Vance Knight said.
"Perhaps the qualities I admired most in Ross was the way he engaged students, staff, and faculty with a selflessness and kindness that is truly unmatched," she continued.
Aisha Boursiquot, a 2018 graduate, also traveled to Japan with Brinkert for the study abroad component of a corporate communication course.
"Dr. Brinkert was so supportive and understanding. He was always positive and full of light," she said.
A native of Canada, Brinkert earned his bachelor's degree in communication studies from Concordia University in Montreal and a master's degree in applied communication and a doctorate in communication sciences, both from Temple University.
Brinkert was an award-winning educator and scholar. When he arrived at Abington in 2005, he helped launch the corporate communication major and was its first full-time faculty member. His discretion and integrity caused Penn State Abington faculty to place him in a position of trust by electing him as the faculty ombudsperson for the campus.
Brinkert recently completed a four-year term as the chair of the Organization Studies Research Network. He was a past co-chair of the National Communication Association Training and Development Division. He held appointments as editor of the Organization Studies Research Network and chair of the International Conference on Knowledge, Culture, and Change in Organizations.
His scholarly writing was centered on increasing engagement by organizational leaders and, in turn, increasing engagement among those they serve. Brinkert wrote about how organizations and individuals can transform conflicts from threats into opportunities, how organizations can benefit from gratitude communication, and how professionals at various career stages can best represent themselves. His scholarly work was strengthened by considerable applied experience in supporting organizations, leaders, and emerging leaders in more effectively presenting to, influencing, and relating to others.
Brinkert was the co-author of the book "Conflict Coaching: Conflict Management Strategies and Skills for the Individual," and the author of articles that appeared in journals such as Conflict Resolution Quarterly, Journal of the International Ombudsman Association, and Group Facilitation. He was the co-author of a new strategic communication textbook and author of a new book on gratitude communication in the workplace.
In addition to teaching, he worked with Abington students on undergraduate research projects and as a thesis supervisor or honors supervisor to Schreyer Honors College students.
Brinkert, who died of glioblastoma, an aggressive form of brain cancer, is survived by his wife and two daughters.
A memorial service is planned for a later date. Donations in memory of Brinkert may be directed to an educational fund for his daughters at https://www.ugift529.com/ Ugift Code: 98P-V2T; or to the Abington General scholarship fund, or a fund of your choice, by using Abington's campus online giving page.
About Penn State Abington
Penn State Abington provides an affordable, accessible and high-impact education resulting in the success of a diverse student body. It is committed to student success through innovative approaches to 21st-century public higher education within a world-class research university. With nearly 4,000 students, Penn State Abington is a residential campus that offers baccalaureate degrees in 22 majors, undergraduate research, the Schreyer Honors College, NCAA Division III athletics, and more.