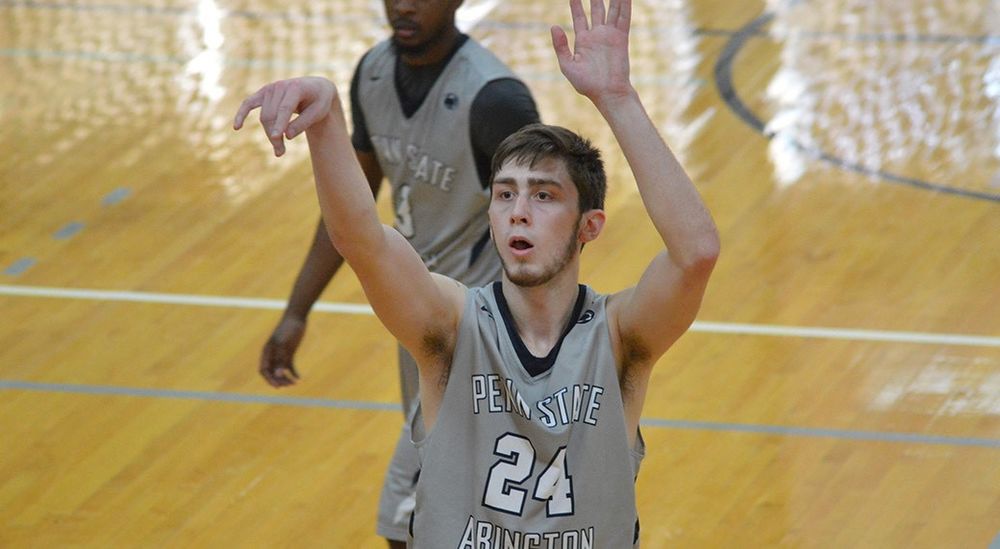 Dedication and perseverance were hallmarks of John Ryan's career at Penn State Abington. The student-athlete worked and studied through a host of injuries, and his positive attitude let nothing stand in his way.
Ryan became a four-year starter in Abington's NCAA Division III basketball program despite having back surgery the summer prior to his freshman year. He overcame multiple injuries, an appendectomy, and he ultimately needed a second back surgery that ended his senior season at Abington.
"My teammates and coaching staff were super supportive," Ryan said.
Ryan graduated in May with a degree in criminal justice after being bedridden while waiting for and eventually having a second back surgery. This resulted in him falling short of the 1,000-point milestone by 11 points and 500 rebound mark by 15, but he managed to maintain a GPA over 3.0.
According to head basketball coach Jon Tanous, Ryan was a model student-athlete, and his work ethic and relentless drive brought him success both on and off the court.
"I will never forget his first practice as a college basketball player. He was recovering from his first back surgery, which sidelined him during his senior year of high school. John had to sit out during our first few weeks of practice," Tanous said. "On top of that, he did not have the opportunity to get in shape during the summer or in the preseason leading up to our Oct. 15 practice date. His first collegiate practice was around Nov. 1. After that practice, there was no doubt within our coaching staff that John was the best and most dominating player on the court as a freshman."
"John's everyday positive mentality and his perseverance will allow his story of success to continue through the rest of his life."

-- Jon Tanous, head basketball coach
Tanous played an important role in Ryan's success.
"All great coaches connect on a personal level. It helped me a lot having a head coach who also cared about academics. Coach Tanous researched different things about career paths and held academic meetings all of the time. You could go to any person on team for help. We were there for each other," Ryan said.
"We have a great group of guys in our program that care more for others than they do for themselves. They really come together when things get tough for the team or for an individual," Tanous said. "We have built a program based on family where each guy supports their brother especially when they are down. Their bond is tight on and off the court because they care deeply for each other."
Ryan advises student-athletes to learn to manage their time well.
"Being a student-athlete from high school and then going to college, it's crucial to keep on track. And to be a good student-athlete, you need to build a strong relationship with professors," he said. "You have more freedom in college, but it can be a good thing and a bad thing."
"Overall John's greatest contribution in his time at Penn State Abington is how he helped change the culture of our men's basketball program during his four years," Tanous said. "He was always a positive voice in our program especially for younger members. John's everyday positive mentality and his perseverance will allow his story of success to continue through the rest of his life."
Ryan recently accepted a position as a supports coordinator for the Lenape Valley Foundation, a private nonprofit provider of crisis, information and referral, treatment, case management, residential, consultation and psycho-educational services.
About Penn State Abington
Penn State Abington provides an affordable, accessible, and high-impact education resulting in the success of a diverse student body. It is committed to student success through innovative approaches to 21st-century public higher education within a world-class research university. With nearly 4,000 students, Penn State Abington is a residential campus that offers baccalaureate degrees in 22 majors, undergraduate research, the Schreyer Honors College, NCAA Division III athletics, and more.