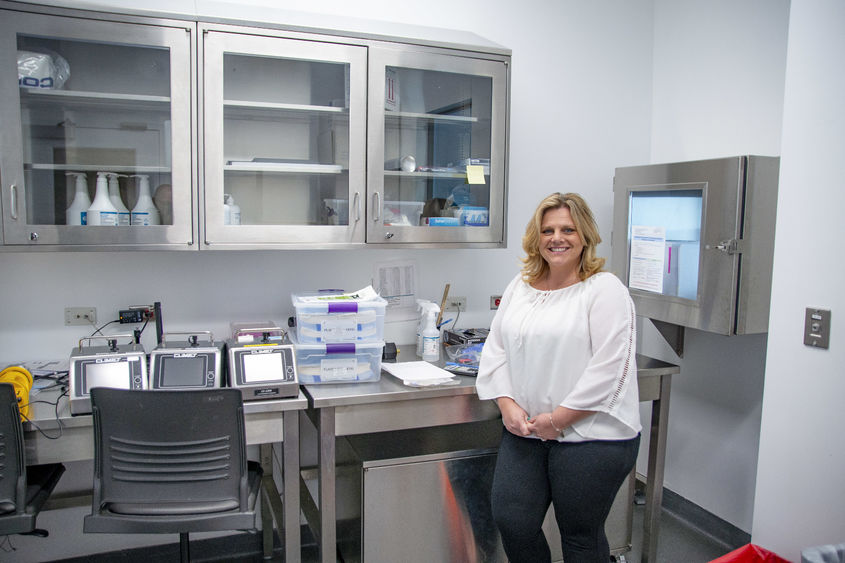 ABINGTON, Pa. — Twenty-seven years after she graduated, Theresa Anne Colligon, Penn State class of 1993, still carries a torch for Penn State Abington.
Colligon's currently works as director of operations in the Clinical Vaccine Production Facility at the Center for Cellular Immunotherapies at the University of Pennsylvania in Philadelphia.
She is a member of the Southern New Jersey Chapter of the Penn State Alumni Association and participated in the 2019 philanthropy panel discussion at Abington.
Colligon, who earned a degree in biology, recently talked about her experiences at Abington — then known as Penn State Ogontz — and its impact on her life.
Penn State Abington (PSA): How did your college experience mold you into the person you are today?
Colligon: I made friends from so many different cultural backgrounds. ... Our little group grew over the two years at Ogontz, and we were able to head to the main campus together.
PSA: How did your experience at Penn State Abington help in the development of your career?
Colligon: The smaller classes gave me time to really get to know the instructors. Talking about the different careers, and the night-class instructors who were folks from the field dealing with everyday problems, projects and more, was very helpful. I was very proud of my training, and I know that carried over into interviews once I graduated.
PSA: Tell our readers about your career path.
Colligon: Upon graduation, I took a job in a tissue culture lab. After just under two years, I took an opportunity at the University of Pennsylvania in a cancer research lab. I relied on so much of what I learned at Ogontz to establish myself as a sound technician. I remained in that position for over 10 years. At that point, I was a lab manager who started to dip into the funding of a research lab and management of those funds. I stepped out of the lab after about 15 years and started doing more of the administration of, and management of, the projects. That turned into an amazing gig as the director of operations for the Clinical Vaccine Production Facility in the same department and center that I started. It's now been 24 years. 
PSA: Did you have a mentor on campus? 
Colligon: I had two. Dr. Neil Mercando, who was just amazing to talk to and bounce things off of. He had so many cool ideas that left very big impressions on me. And Patricia Clayton, who was so much more than a physical education teacher. She helped us grow up, navigate school stress and relationships, encouraged us to participate and get involved, and showed up when there was an award or special event that we were included in.
PSA: What activities were you involved in on campus? 
Colligon: Lion Ambassadors, Student Government, our co-ed service fraternity Sigma Phi Omega, Special Olympics, THON, and any other activity that we could help out with. We all joined forces from upstairs in Lares and made our days there as good as they could be.
PSA: Did you work and attend school? 
Colligon: I worked in a local doctor's office part-time doing filing in the evenings.
PSA: Were you a first-generation college student (first in your family to attend a four-year institution)?
Colligon: I was. My parents truly supported my desire to attend Penn State. My parents sacrificed, found ways, and helped me with loans in my last two years to give me this amazing, life-changing experience. We are very excited to be able to do this for our son now.
PSA: Do you have a favorite memory of your college years? 
Colligon: Some of my favorite memories are of the people I met who are still in my life today. 
About Penn State Abington
Penn State Abington provides an affordable, accessible and high-impact education resulting in the success of a diverse student body. It is committed to student success through innovative approaches to 21st-century public higher education within a world-class research university. With about 3,700 students, Penn State Abington is a residential campus that offers baccalaureate degrees in 21 majors, undergraduate research, the Schreyer honors program, NCAA Division III athletics, and more.