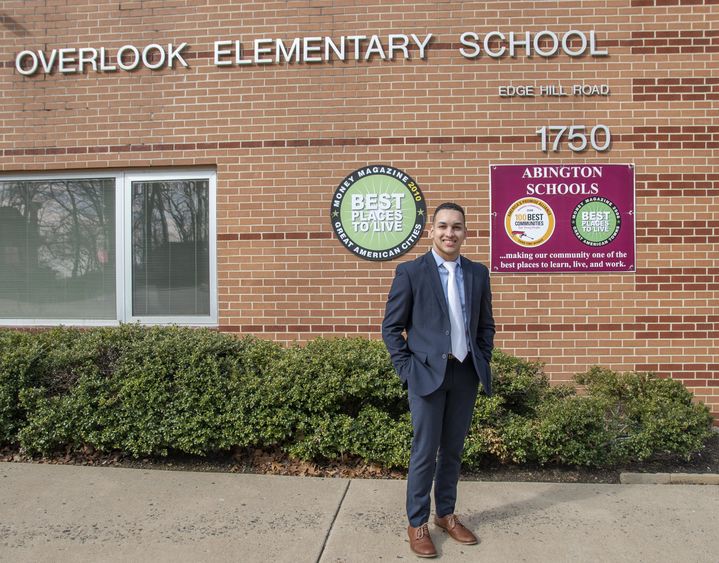 When Samuel Gonzalez was named Head Orientation Leader and elected vice president of the Student Government Association (SGA) at Penn State Abington, he didn't realize how those experiences would help him in his budding teaching career.
"A lot of the skills I use in the classroom, I learned from my leadership positions at Abington," Gonzalez, who is student teaching 24 second graders this semester, said. "It empowered me, and now I am empowering my students every single day in the classroom."
"I managed the student orientation program at Abington, and it was all about planning. I'm using the same skills when I write 18- to 20-page lesson plans every week for my class," he said. "Just like with student orientation at Abington, every moment with my second-graders needs to be intentional."
From the SGA, he learned how to communicate with others, especially those with divergent perspectives.
"All people don't think like you. And 24 little minds don't all have the same understanding just like college students all have different mindsets," he said. "Being vice president in the SGA allowed me to figure out how to deal with different mindsets, and now I can relate better to my students."
Gonzalez will graduate in May with a degree in elementary and early childhood education, which prepares teachers to bring the different cultures, life experiences, and community influences of the students into the classroom. Gonzalez implements this mission every day with his students at Overlook Elementary in the Abington School District.
"Students need to see themselves in the curriculum. I use real world examples in math and reading so they can formulate their opinions and voice them in the classroom community," he said. "Students will find that their lives are connected to their education and relevant in our classroom. They will be able to take this skill with them to junior high, senior high, and college."
"It comes down to having high expectations for my students. If they don't learn it from me, they may not learn it from a caring place," he continued.
"Coming from North Philadelphia and making it to Penn State, that was the dream. ... The skills I acquired at Penn State Abington, I will use in my career and the rest of my life."

-- Samuel Gonzalez, senior at Penn State Abington
Ann Martinelli, associate teaching professor of education at Abington, is one of Gonzalez's mentors.
"Sammy is a driven student who is goal oriented. He is passionate about educational practices and is willing to go above and beyond to make a difference in the lives of all children," she said. "Sammy is not afraid of learning and applying new teaching strategies. He seeks ways to improve his craft. He is a leader in education and will make a lasting impact wherever his journey takes him."
Gonzalez's plan for his journey is to teach for a decade or so and then become a principal.
"I want to use my voice at the principal level to create a school that provides teachers with the best environment to provide the best educational experience to the students," he said.
As Gonzalez prepares to graduate from Abington, he looks back and realizes that he learned more than he expected.
"I feel very prepared. Coming from North Philadelphia and making it to Penn State, that was the dream. The opportunities that opened up to me just from the experiences I have had are amazing," he said. "The skills I acquired at Penn State Abington, I will use in my career and the rest of my life."
About Penn State Abington
Penn State Abington provides an affordable, accessible, and high-impact education resulting in the success of a diverse student body. It is committed to student success through innovative approaches to 21st-century public higher education within a world-class research university. With about 3,700 students, Penn State Abington is a residential campus that offers baccalaureate degrees in 21 majors, undergraduate research, the Schreyer honors program, NCAA Division III athletics, and more.