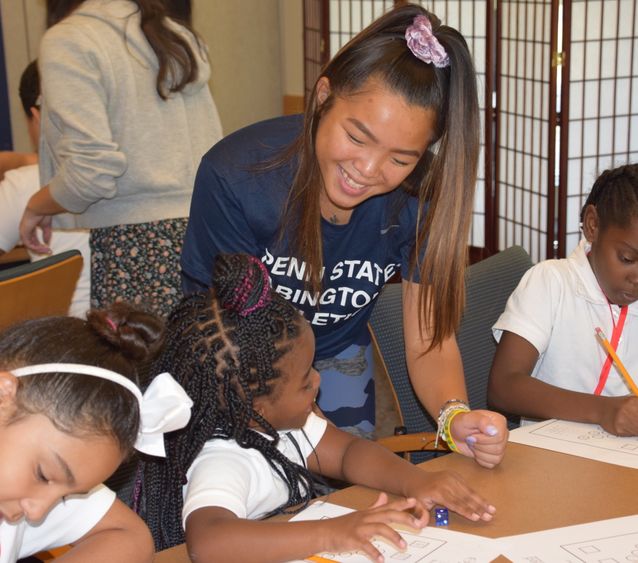 ABINGTON, Pa. — Penn State Abington education majors and about 120 enthusiastic second graders welcomed "My Quiet Ship" into port at Abington last week.
The book "My Quiet Ship" and its author, Hallee Adelman, were the centerpiece of an annual program that brings the college and elementary students together for several hours of mutual learning. It gives the children an enrichment experience on a college campus, and the Abington elementary and early childhood education students practice techniques to engage the youngsters in content.
With the Abington students taking on the bulk of the classroom management role, Adelman and several young volunteers read the empowering book "My Quiet Ship" to the group. Quinn, the main character in the book, builds a hideaway (his quiet ship) when he hears his parents arguing until he musters the courage to discuss the problem with them.
Adelman, who brought signed copies of the book for the children to take home, encouraged the second graders to enthusiastically engage in the writing process.
"What's most important when you are writing is that the reader feels your heart," she told them.
After the children's session with Adelman, it was time for the Abington students to show off their teaching skills. The second graders were broken up into four groups by school, and hands-on lessons were taught by sophomore education majors in math, science, art and literacy.
Meanwhile, Adelman, who is also a teacher and filmmaker, delivered a professional development session to about 30 junior education majors. Their wide-ranging discussion covered topics such as connecting with the children, multiculturalism, accountability and behavior challenges.
"If a class isn't managed well all of those authentic pieces you want to share can get blocked," Adelman advised. "Lessons and learning won't be fully realized."
Ann Martinelli, associate teaching professor and program chair of elementary and early childhood education, said Adelman's visit allowed the education majors to see true teaching in action.
"Teacher candidates were able to apply classroom management strategies and guide second graders through an engaged author program," Martinelli said. "Many of the strategies modeled by the author can be easily transferred to their future teaching."
An official from one of the visiting elementary schools said the program helps the children cultivate a love of reading and writing.
"As we build our students up to become better writers and help them learn to understand the importance and power that the written word holds, experiences like the one you provided for our students are so invaluable," said Mike Tauber, assistant principal at Anne Frank Elementary School.
The four elementary schools that visited — McClure and Anne Frank in Philadelphia; Faust in Bensalem, Buck County; and Overlook in Abington, Montgomery County — have been dubbed community partnership schools by Penn State Abington.
These schools work closely with Abington faculty and students, and they collaborate over the course of the year. For example:
The Abington students donate time and talent, spending time at the elementary schools observing and teaching mini-lessons.
The children come to the Abington to learn about science, about writing from popular children's authors, and Abington students teach lessons to them. Equally important, the children are exposed to a college campus — likely a first for many.
Abington faculty host professional development with experts in literacy, diversity and other specialties for the education majors and invite teachers from the partnership schools to the trainings, too.
Elementary and early childhood education faculty established community partnerships with elementary schools located in the Philadelphia, Bensalem and Abington school districts that reflect the ethnic and socioeconomic diversity of the region.
Combining theory and practice, elementary and early childhood education majors apply culturally responsive pedagogy in these practicum experiences. Culturally responsive pedagogy is a style of teaching in which the students' cultural strengths are identified and nurtured to advance academic achievement.
About Penn State Abington
Penn State Abington provides an affordable, accessible and high-impact education resulting in the success of a diverse student body. It is committed to student success through innovative approaches to 21st century public higher education within a world-class research university. With about 3,700 students, Penn State Abington is a residential campus that offers baccalaureate degrees in 21 majors, undergraduate research, the Schreyer honors program, NCAA Division III athletics and more.