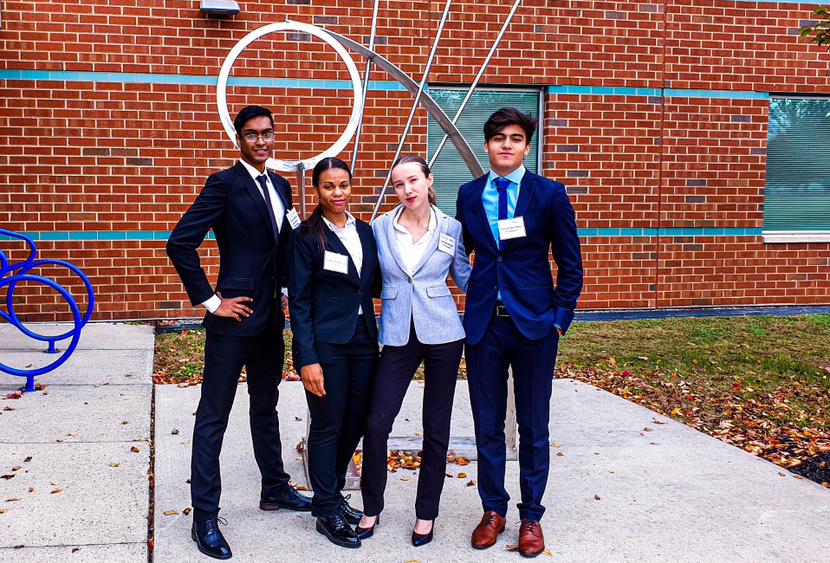 ABINGTON, Pa. — Students from Penn State Abington captured first place at the Council for Retail and Sales (CRS) Collegiate Challenge 2019 Powered by Walmart. The winners, who defeated seven teams from other universities and Penn State campuses, shared a $1,000 prize from the retail giant. 
CRS tasked each team with providing recommendations on how to grow Walmart's e-commerce sales. Each team had a $500,000 budget, and four executives from the company judged their recommendations. The students had four weeks to perform research, develop the executive summary/business plans, and practice their presentations.
Thomas Stone, assistant teaching professor of business, served as a coach for the two Abington teams that participated.
"A business competition simulates what happens in the real business world," Stone said. "You are handed an ambiguous business problem, and you use theories, models, and tools from academic training and apply them to real business."
The winning Abington team is comprised of Hridoy Shawkat Ali, Farrukh Karimov, Makeeda Murray and Callista Weigel.
"I now have solid firsthand experience in a real world problem-solving environment."

— Hridoy Shawkat Ali, Penn State Abington business student
Weigel, a sophomore business major, saw this as an opportunity to hone her business and presentation skills.
"This experience was a great way to practice real-world business situations that relate to my major. It was an opportunity to speak with people who have succeeded in retail management as well as an opportunity to meet with potential employers," Weigel said.
Ali, the captain of the winning team, is a first-year student who plans to double major in economics and mathematics. 
"I think our success was due to the team's overall synergy and cohesion," he said. "The representatives from Walmart stated that we did solid research and had data to back up our claims.
"The experience gained from the competition has provided me with a strong foundation upon which I can build my skill set to achieve my broader, long term goals," Ali continued. "I now have solid firsthand experience in a real-world, problem-solving environment."
Two students from the second Abington team won best presenter awards. Moshe Adika was hailed for best delivery and Moira Connelly for best performance in the extended one-on-one question and answer session.
"It was one of the most incredible experiences that I have had throughout my college experience," Adika, a finance major, said. "It was the best thing for me to prepare for the business world."
Connelly, who will intern at Pricewaterhouse Coopers next summer, said the process boosted her confidence.
"In future interviews, I can not only do well but also ask and answer questions in a way that is noticed by executives," the finance major said. 
An added benefit to those participating was that people from businesses other than Walmart attended the competition. Weigel, for example, had the opportunity to speak with a business owner about a paid internship for next summer.
Stone said a business competition forces the students to use all of their skills, including soft skills.
"If they don't have those soft skills, they are going to have a hard time advancing in their profession five or six years down the road," he said. "Even if you don't win, having this experience on your resume shows that you are cut out for the type of work you will be doing in the business world."
About Penn State Abington
Penn State Abington provides an affordable, accessible and high-impact education resulting in the success of a diverse student body. It is committed to student success through innovative approaches to 21st-century public higher education within a world-class research university. With about 3,700 students, Penn State Abington is a residential campus that offers baccalaureate degrees in 21 majors, undergraduate research, the Schreyer honors program, NCAA Division III athletics and more.