With the help of student researchers, Jivaka.net catalogues Buddhist temples in Philly area with a focus on health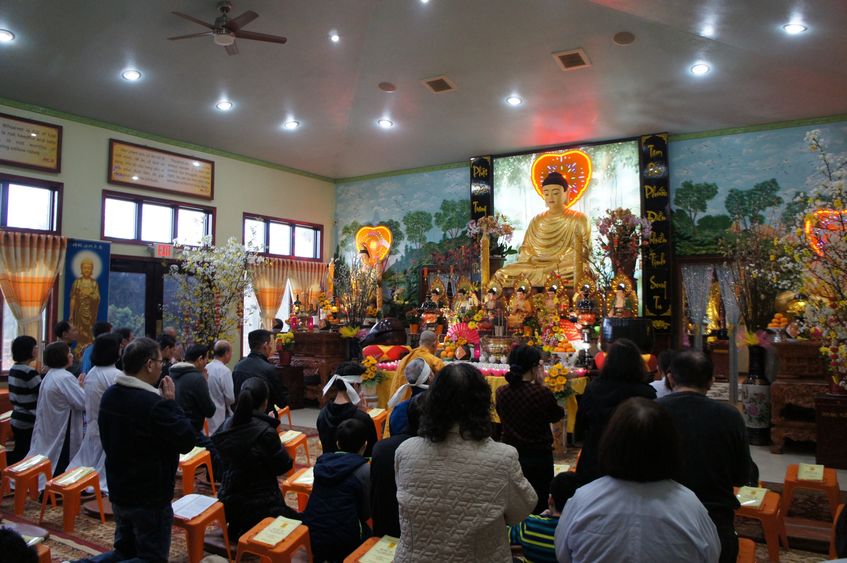 ABINGTON, PA. — Jivaka.net — the recently-released project of C. Pierce Salguero, associate professor of Asian history and religious studies at Penn State Abington — is the product of a years-long survey of Buddhist temples and centers located in the Philadelphia area.
Much of the research legwork for the site was completed by undergraduate students working with Salguero. His work was partially funded by the Schreyer Institute for Teaching Excellence through its Teaching Transformation and Innovation grant program, as well as by the Penn State Center for Student Engagement in Philadelphia and small grants from Abington College.
Salguero said despite the popularity of meditation in English-language popular media, the actual lived Buddhist experiences of those of Asian heritage living in the U.S. often gets left out. With a special focus on the intersection of Buddhism and healthcare, Salguero and his students documented more than 40 Buddhist institutions on the website through participant-observation ethnography. The work goes a long way toward filling in some of the large gap of knowledge of Asian cultures living in eastern Pennsylvania.
Many of Salguero's students actually share heritage and language with those who attend the temples, allowing them to play an "indispensable role as cultural liaisons who facilitate cultural awareness, help their classmates to navigate the temple spaces, and even translate interview questions for their group," Salguero said.
"The students' expertise and their ability to communicate with temple members makes it so that the work they are doing in this class really is making a major contribution to the field of Buddhist studies," Salguero said.
Each year Salguero works with students who are funded by the ACURA program at Penn State Abington, which stands for Abington College Undergraduate Research Activities. This pool of funding supports undergraduate students who are engaged in scientific experimentation, inquiry-based research and exploration of the arts over the course of a year.
Other students contribute as a part of his class RLST 105: Buddhism in the Western World. This too, Salguero said, allowed him to turn a common humanities trope on its head: Instead of him standing in front a class and pontificating on eastern spiritual and philosophical matters from a Western academic perspective, students actually go into the community and see lived Buddhism on the ground.
"If we're privileging text books in such a way that they're overshadowing the actual experience of Asian and Asian-American people in Philadelphia, to me that doesn't make any sense at all for our students," he said. "To flip it around and look at lived Buddhism and how it's impacting people's lives, then we have to shift out of the literature and into an ethnographic mode."
The participant-observation ethnography method used by student researchers to document the temples follows a three-step process. The first step in cataloging any temple is to verify its location. A student or two might travel to a location where they believe there is a temple and take a photo of the exterior from the street.
Then comes the second layer: an initial interview. Students will go the temple when it's open (often on a weekend) and find someone — a monk or a priest perhaps — to get basic information on the temple and its congregation. This second stage normally takes two or more site visits in order to gather information from multiple parties. It's also during this stage the students will focus in on how the temple facilitates healthcare practices for members of its community.
The third stage consist of video shot by Salguero and documentary filmmaker Lan. A. Li, of Columbia University. The results of their collaboration, seven short documentary videos exploring different aspects of the intersection of Buddhism and medicine in the Philadelphia area, are available on the project website along with background information and most of the data from the project.
The cost of Li's videos was covered by a grant from the Schreyer Institute for Teaching Excellence. Deena R. Levy, instructional consultant and assistant research professor at the Schreyer Institute, said projects such as Salguero's aligns with the grant's mission to support innovations in teaching and learning and also have a demonstrable impact on student learning.
"This project not only allows students to get involved firsthand in the local community and apply course content to authentic contexts, but it also extends that learning experience to other Penn State students and faculty by creating a video repository of the interactions," Levy said. "We were very happy to help support it. Creating a visible artifact of the student engagement and learning via the website, which is also a community resource, serves as an example of the varied and creative ways Penn State faculty are impacting their students and community, and inspiring other faculty in their teaching and learning endeavors."
Salguero and his students are filling a massive gap in how American popular media usually represents the connections between Buddhism and health, which is dominated, he said, by a focus almost exclusively on meditation. While meditation and contemplative practices often play a central part of Buddhist lifestyle, Salguero's students have also documented elaborate ceremonies and communal meals — familiar activities to many religions. For example, one of Li's films shows the Songkran (Thai New Year) Festival at Wat Mongkoltempunee in Bensalem, Pennsylvania. Here participants in the festival are shown cooking a communal meal and offering food to the monks in a crowded, busy temple bustling with activity. The films also depict traditions more unfamiliar with western audiences, such as the washing of a statue of Buddha for the Thai New Year.
Jivaka.net (the name comes from the name of the Buddha's doctor, who is revered in Buddhist scripture) now serves as a record of not only a wide array of Asian-American cultural and religious institutions in the Philadelphia area, but documents the field work of undergraduate students who got a first-hand, engaged experience of surveying Buddhist temples. The website is organized around themes like healing rituals, traditional medicine such as herbs or acupuncture, and the intersections with mainstream health that emphasize the role of Buddhism in the area's health landscape. Sections are accompanied by the videos, detailed descriptions, relevant entries in other parts of the website and lists of further academic reading.
Perhaps most useful for local Philadelphia residents, the website has a Google Maps plugin marking the location of each catalogued temple. A search function on this page helps people find exactly what they're looking for. For example, typing in "Chinese" brings up multiple entries such as Fa Yuan Chan Temple along Castor Avenue in Philadelphia, a temple which has Burmese and Mandarin Chinese representation.
The Philadelphia area is fertile ground for studying Asian populations and their cultures. The U.S. Census Bureau estimates that 7.4 percent of the residents in the greater Philadelphia metro area are of Asian descent, compared to a national average of 5.2 percent. There were numerous waves of immigration to the city during the 20th century and the number of immigrants is only expected to grow. Salguero wrote that 36 of the 44 sites he and his researchers have visited were founded to primarily serve Asian immigrant populations.
In the near future, Salguero will be expanding the project to include a number of international sites, starting with Thailand, Vietnam, Korea and Japan. In the meantime, the Jivaka project is ongoing as Salguero and his students work to fill out the temple entries, gather more information and locate new temples.