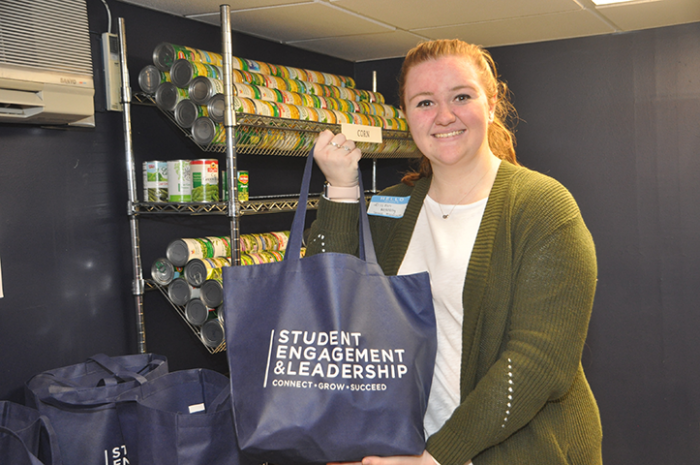 Four foundations awarded Penn State Abington more than $125,000 to support student scholarships and the LionShare food pantry.
The W.W. Smith Charitable Trust granted $66,000 for student scholarships. This builds on a history of funding to Penn State totaling almost $5 million since 1984.
Scholarships will be available to qualified full-time Abington students with unmet financial need who are residents of Bucks, Chester, Delaware, Montgomery or Philadelphia counties or Camden, New Jersey. The scholarships will be awarded in the 2019-20 academic year.
The W.W. Smith Charitable Trust is a private foundation established by William Wikoff Smith in 1977. The trust makes grants in the Philadelphia region to support basic needs, college scholarships, maritime heritage preservation, and medical research.
The Charlotte W. Newcombe Foundation awarded a grant of $35,000 to Abington as part of the Newcombe Scholarships for Mature Students program. This award builds on a history of funding to Penn State since 1982.
Abington will match the funds 1:1, for a total impact of $70,000 in scholarships during the 2019-20 academic year.
The goal is to support some of Abington's most financially vulnerable learners, adults who comprise about 20 percent of the student population. Often without family members able to provide assistance, many adult students work to support themselves and their children; commute from Philadelphia to Abington; and struggle to balance the demands of family, school and employment.
The Newcombe Foundation, an independent foundation based in Princeton, New Jersey, was founded in 1979. It continues the lifelong interest of Charlotte W. Newcombe in supporting students pursuing degrees.
Abington is the recipient of a $15,000 grant from the Leo & Peggy Pierce Family Foundation to support student interns for the LionShare food pantry during the 2019-20 academic year.
The Leo & Peggy Pierce Family Foundation seeks to end hunger and food insecurity in the five-county Philadelphia region and Indian River County, Florida. The foundation makes grants to support activities that address hunger and food insecurity through direct service programs and/or advocacy efforts. This is Abington's first grant from the foundation.
The Independence Blue Cross Foundation (IBX) has awarded $11,204 to the Penn State Abington RN to B.S.N. program. The Nurses for Tomorrow Scholarships from IBX are available to nursing students. This is the third grant from IBX to Abington for nursing scholarships.
About Penn State Abington
Penn State Abington provides an affordable, accessible, and high-impact education resulting in the success of a diverse student body. It is committed to student success through innovative approaches to 21st century public higher education within a world-class research university. With nearly 4,000 students, Penn State Abington is a residential campus that offers baccalaureate degrees in 20 majors, undergraduate research, the Schreyer honors program, NCAA Division III athletics, and more.
About "A Greater Penn State"
These grants will advance "A Greater Penn State for 21st Century Excellence," a focused campaign that seeks to elevate Penn State's position as a leading public university in a world defined by rapid change and global connections. With the support of alumni and friends, "A Greater Penn State" seeks to fulfill the three key imperatives of a 21st-century public university: keeping the doors to higher education open to hardworking students regardless of financial well-being; creating transformative experiences that go beyond the classroom; and impacting the world by fueling discovery, innovation and entrepreneurship. To learn more about "A Greater Penn State for 21st Century Excellence," visit greaterpennstate.psu.edu.