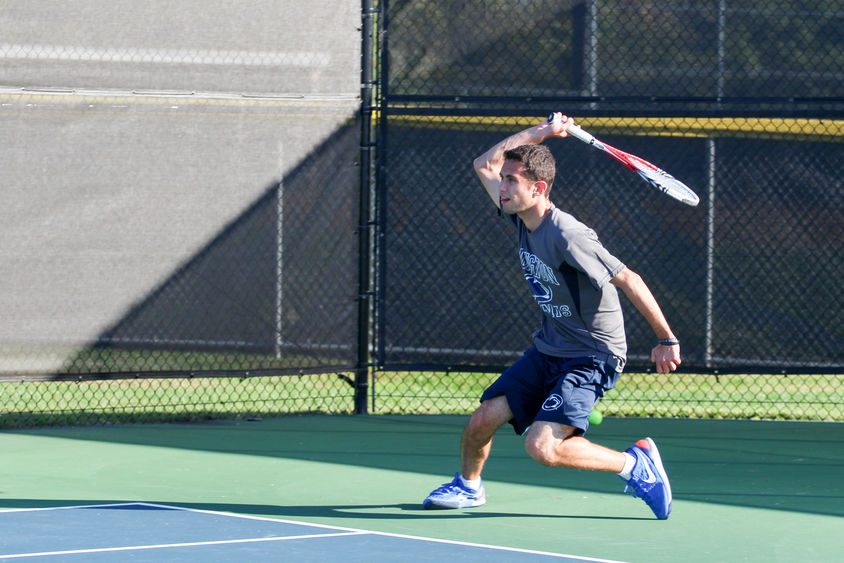 The Philadelphia Inquirer named Penn State Abington junior Michael Litz to its Academic All-Area Men's Tennis Team. It is the first such honor of Litz's career.
In order to be eligible for Academic All-Area, an athlete must be in at least his or her second year at the institution and hold a cumulative grade point average of 3.20 or better. The team is then voted on by the sports information offices of the 30 area institutions from the Philadelphia metropolitan area.
A finance major, Litz was named the North Eastern Athletic Conference (NEAC) Player of the Year for the third straight season. He captured the conference's No. 1 singles individual title for a third consecutive year and led the team to a runner-up finish. He had a 10-1 record in singles play and a 9-5 mark in doubles action.
This week, the NEAC named Litz its 2018-19 Male Student-Athlete Advisory Committee (SAAC) Member of the Year.
The annual SAAC awards were established to recognize the multiple contributions of SAAC members throughout the NEAC. Each school has an opportunity to nominate one male and one female SAAC member from their institution based on leadership roles within the group, dedication to community service and involvement on campus. All nominations were reviewed and voted on by the SAAC advisors from each of the NEAC's 12 full-member institutions.
Litz served as the president of the Penn State Abington SAAC and the NEAC SAAC Chair. He also began a three-year term as the NEAC representative on National Division III SAAC in January. He was a leader in organizing Penn State Abington's first Special Olympics event this past year where the institution welcomed over 40 Special Olympians to campus to play various sports. Ninety-five percent of Abington's student-athlete population participated and plans are in the works to make it an annual event.
"Mike has done an outstanding job this year as our SAAC President," Caytlin Friis, Penn State Abington SAAC adviser and head softball coach, said. "He has gone above and beyond with setting up partnerships in our community, most notably with the Special Olympics, and he has been a wonderful leader the past two years. I look forward to seeing what more Mike is able to accomplish in the future."
Litz is a Lion Ambassador and serves on the Student Activity Fee Allocation Committee at Abington. He also acts as the student-athlete representative on the NEAC Strategic Planning Committee.
In addition to his various service efforts, Litz has had tremendous success on the court as a member of Abington men's tennis team. Earlier this spring, he became the first tennis player in conference history to earn NEAC Men's Tennis Player of the Year honors three times. Litz was also recognized with the 2019 Penn State Abington Outstanding Male Student-Athlete Award and the 2019 Al Miles Award, which is Abington's annual tennis award.
"Mike has shown tremendous growth as a leader over the course of the past year," said Stephanie Dutton, NEAC assistant commissioner and SAAC adviser. "He has played a pivotal role in the changes we continue to implement with SAAC at the conference level, and he is an outstanding representative for our student-athletes at the national level as a NCAA Division III SAAC representative. Mike is committed to doing what it takes to make sure the voices of student-athletes are heard and he exemplifies what it means to be a well-rounded Division III student-athlete."
SAAC also honored recent Abington graduate Samantha Friend, who earned honorable mention for SAAC Female Member of the Year.
Friend wrapped up her collegiate career as the Penn State Abington SAAC vice president, helping student athletes coordinate a variety of activities throughout the year. They were engaged throughout Division III Week in April with events that included a night of games for student-athletes and a visit from Jarrod Spencer from Mind of the Athlete. A psychological and social sciences major, Friend stayed busy on the field as a dual-sport student-athlete on the women's soccer and softball teams. Friend was also recognized on campus as the recipient of the 2019 Fred Striet Memorial Award Winner, which honors a student-athlete who demonstrates leadership, character, growth and perfection through sport.
About Penn State Abington
Penn State Abington provides an affordable, accessible, and high-impact education resulting in the success of a diverse student body. It is committed to student success through innovative approaches to 21st century public higher education within a world-class research university. With nearly 4,000 students, Penn State Abington is a residential campus that offers baccalaureate degrees in 19 majors, undergraduate research, the Schreyer honors program, NCAA Division III athletics, and more.